This article is about the pro-bending team. For the village located in the mountainous area of the southern Earth Kingdom, see Tu Zin.
The Golden Temple (Tu Zin) Tigerdillos[1][2] are a pro-bending team that entered the semifinals of the preliminary rounds before the official Championship Tournament in 170 AG.
History
After the Hundred Year War, three citizens of Tu Zin formed a pro-bending team, which they called the Tigerdillos.[2]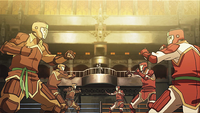 In 170 AG, the Tigerdillos managed to enter the semifinals of the preliminary rounds before the tournament and they were regarded, according to Shiro Shinobi, as the Fire Ferrets' toughest competitor to that point. During the match, the Tigerdillos quickly knocked the Ferrets zones back and the first round ended in their favor. In round two, the Ferrets forced the Tigerdillos back enough to win the round and tie the match. In the final round, the Tigerdillos managed to knock both Hasook and Bolin out of the ring, but Mako faced the Tigerdillos one-on-one and knocked them out of the ring through a "hat trick" and clinched the match for the Fire Ferrets.[1]
Trivia
The match between the Golden Temple Tigerdillos and the Fire Ferrets was also the first pro-bending match that Korra ever watched after her arrival in Republic City.
References
Ad blocker interference detected!
Wikia is a free-to-use site that makes money from advertising. We have a modified experience for viewers using ad blockers

Wikia is not accessible if you've made further modifications. Remove the custom ad blocker rule(s) and the page will load as expected.