Gene Yang
Talk

0
9,323pages on
this wiki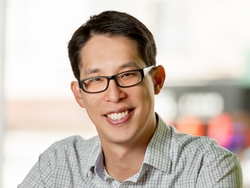 Gene Yang
Biographical information
Further information
Gene Luen Yang
(born August 9, 1973 in Alameda, California)
[1]
[2]
is an American comics artist whose graphic novel
American Born Chinese
was named a 2006 finalist for the National Book Award in the young people's literature category
[3]
and was awarded the 2007 Members' Choice Award from the Asian American Literary Awards. This was the first graphic novel to be nominated for a National Book Award.
[4]
It has also won the 2007 Michael L. Printz Award for young-adult literature,
[5]
a first for a graphic novel.
[6]
Yang is also the author of The Promise, a trilogy of comics published in 2012 that cover "untold chapters in the story of Team Avatar" to bridge Avatar: The Last Airbender with its spin-off, The Legend of Korra.[7] He is also the author of The Search trilogy, a series which revolves around solving the mystery surrounding Zuko and Azula's mother, Ursa.[8] With the conclusion of The Search, Yang continues his work in the Avatar universe with The Rift trilogy, which will revolve around Aang as he begins the process of creating Republic City. The first book in the series is due to be released March 5, 2014.[9]
Biographical information
Yang's drawings are created with what Scott McCloud refers to as a "cheap tool bravado", using everything from brushes to Sharpie markers to Pigma Micron pens to ballpoint pens.[10] His artwork has been shown in San Francisco's Cartoon Art Museum.[1] Following American Born Chinese, Yang wrote The Eternal Smile, a collection of three short stories in comics, done in collaboration with Derek Kirk Kim. His latest book is Prime Baby, originally serialized in The New York Times Magazine.[11] In 2011, Yang released "Level Up", with art by Thien Pham.
Yang currently lives with his family in the San Francisco Bay Area, where he teaches computer science at Bishop O'Dowd High School.[12] His father is an electrical engineer from Taiwan and his mother a programmer who grew up in Hong Kong and Taiwan.
References
↑ 1.0 1.1 Contra Costa Times staff (January 29, 2006). "Sunday A&E big calendar". Contra Costa Times, Pg. F4
↑ Jeff Yang (October 25, 2006). ASIAN POP: See you in the funny pages. San Francisco Gate.
↑ Julie Bosman (October 12, 2006). National Book Award Finalists Chosen. The New York Times.
↑ Michael L.. American Library Association and Printz Award. Retrieved on January 23, 2007.
↑ Cecelia Goodnow (January 22, 2007). The Oscars of kids books Newbery and Caldecott Medals awarded in Seattle. Seattle Post-Intelligencer. Retrieved on January 23, 2007.
↑ Avatar: The Last Airbender - The Promise Part 1. Dark Horse Comics. Retrieved on November 9, 2011.
↑ EXCLUSIVE: Yang Continues "Avatar: The Last Airbender" in The Search. Comic Book Resources. Retrieved on June 25, 2012.
↑ Phegley, Kiel (2013-07-24). "SDCC EXCLUSIVE: YANG TAKES "AVATAR: THE LAST AIRBENDER" TO "THE RIFT"". Comic Book Resources. Retrieved on July 24, 2013.
↑ McCloud, Scott (2006). Making Comics, New York: Harper Collins Publishers. ISBN 0-06-078094-0. Pg. 211
↑ Yang, Gene Luen. Prime Baby. The New York Times. Retrieved on June 4, 2011.
↑ Yang, Gene Luen (2006) American Born Chinese, New York: First Second