Gemsbok bull
Comment

1
8,277pages on
this wiki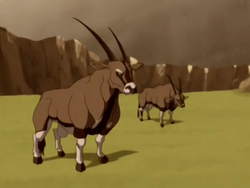 Gemsbok bull
General information
Chronological information
The
gemsbok bull
[1]
is an
ungulate
that has the stocky body of a domestic bull. It is a hybrid of a bull and a gemsbok.
[2]
A group of gemsbok bulls lived at the Ba Sing Se Zoo with many other types of animals, though their living conditions were poor and the animals themselves were very unhappy. Aang came across the zoo during his stay in Ba Sing Se, and seeing the poor conditions, helped the zookeeper, Kenji, establish a new and more expansive zoo in the Agrarian Zone. Aang used his bison whistle to lure the bulls, together with the other animals from the zoo, outside the city walls, where he had built a brand new pen for them to live in.[2]
The gemsbok bull's body is very muscular and its head is bovine-esque. It resembles an antelope, such as the bontebok or the springbok, in color pattern and horn shape. Its upper parts are light brown, while its underparts and legs below the knee are cream colored. A border of dark brown marks the transition areas around its knees and its belly. One dark stripe extends from under each eye toward the muzzle, with a third stripe in the middle. A dark stripe extends down its underside from under its chin. The gemsbok bull's long black horns are only slightly curved.
Connection
Edit
The coloration patterns of these bovines somewhat resemble a gemsbok.
References
Edit
↑ Avatar: The Last Airbender — The Art of the Animated Series, Spotlight: The Hybrid Animals.
↑ 2.0 2.1 "Tales of Ba Sing Se". Joann Estoesta, Lisa Wahlander, Andrew Huebner, Gary Scheppke, Lauren MacMullan, Katie Mattila, Justin Ridge, Giancarlo Volpe (writers) & Ethan Spaulding (director). Avatar: The Last Airbender. Nickelodeon. September 29, 2006. No. 15, Book Two: Earth
See also
Edit