Gaoling
is a large town
located
within a mountain range in the southern
Earth Kingdom
. It is home to both the wealthy
Beifong family
and
Earth Rumble VI
. An old, well-established town, Gaoling has a broad spectrum of people residing in it, ranging from the very rich to the very poor.
[1]
The town was untouched by the Hundred Year War due to its lack of strategic importance. This is made evident by the attitude of many of its residents.
History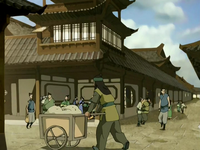 Aang, Katara and Sokka visited this town in the spring of 100 ASC, and attended an Earth Rumble tournament in hopes of finding an earthbending master for Aang. The search was successful and Toph Beifong joined the group to teach the Avatar earthbending, defying her father and mother by doing so.[1]
Layout and description
Gaoling lies in a valley with steep rock hillsides surrounding it. Most of the citizens inside the town are middle-class people whose families have lived in the town for many generations. On the outskirts of the town are very large, expansive estates where the wealthiest families such as the Beifongs live.[2]
Locations
Master Yu's Earthbending Academy
Main article: Master Yu's Earthbending Academy
Built by Master Yu as a school for his students, the Earthbending Academy is a large building with a walled central courtyard. Before each class, Master Yu puts out different sized rocks in the courtyard for the students to practice earthbending with. This large courtyard is an ideal place for the young earthbenders to train as here, they can sling rocks around without accidentally hurting any passersby.[1]
Beifong Estate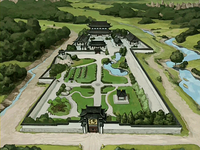 The Beifong Estate is a large home owned by the one of the richest families in the southern Earth Kingdom. The estate has a large garden surrounding it as well as the symbol of a flying boar over the front gate. It is guarded by at least two guards whose uniforms are similar to an earthbender soldier's, save that they are colored with white and green instead of the usual green and brown.[1]
Earth Rumble stadium
A large underground wrestling stadium, known as Earth Rumble VI, is owned by its host, Xin Fu. It consists of a large rectangular stone platform for earthbenders to battle on. Around this are rows of seats for spectators. The stadium is lit with glowing green gemstones hanging on the ceiling. Residents pay admission to see powerful earthbending masters battle it out in the ring.[1]
Trivia
Gaoling (高陵) meaning "tall hill", is also a name of a county in Shaanxi, a central province in China. In the Avatar World, it is located in the south, which coincidentally goes with Toph's knowledge of Chu Gar Southern Praying Mantis Kung Fu.
Additionally, a gaol is an alternative spelling of the word jail – indicative of the extent of the Beifongs' over-protectiveness of Toph.
The clothing and hairstyles in Gaoling are heavily influenced by those from the Tang Dynasty of ancient China.
Notable figures
References