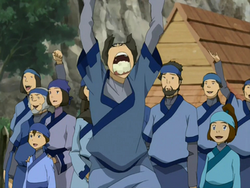 Foaming mouth guy
Biographical information
Physical description
Personal information
Chronological and political information
The
foaming mouth guy
was a resident of
Kyoshi Island
and possibly the biggest fan of the
Avatar
.
[1]
Whenever Aang landed on Kyoshi Island, the foaming mouth guy went into a screaming fit and started foaming at the mouth, followed by fainting and falling to the ground.[2] When Katara and Sokka later returned to Kyoshi Island without Aang, who was being held prisoner in Chin Village at the time, the foaming mouth guy repeated the performance, only to be embarrassed when he realized Aang was not with them. He got up, wiped the foam from his mouth and walked away from the crowd, his shirt pulled over his face in shame.[3]
Appearances
Edit
Avatar: The Last Airbender Edit
Book One: Water (水)
Edit
Book Two: Earth (土)
Edit
A fan favorite, the character was originally intended to simply faint in his scene, though an additional creative contribution from animator Ryu Gi Hyun took it further.[4]
He was also referred to as "crazy foaming mouth guy", "rabid fanboy", "foaming at the mouth guy" or just "foamy" in the fandom, as his real name was never revealed.
He was played by the same voice actor as the pirate barker, Oh.
A reference to foaming mouth guy was made when Sokka and Aang both foamed at the mouth in disbelief at Katara's desire to pull off a scam.[5]
References
Edit