Flying boar
Comments

7
8,266pages on
this wiki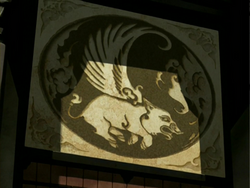 Flying boar
Chronological information
The
flying boar
is the symbol of the
Beifong family
.
While venturing through the Foggy Swamp, Aang envisioned a flying boar next to a laughing girl while separated from and searching for the rest of the group.[1]
The vision ultimately led Team Avatar to the Beifong estate, where they found Toph, Aang's eventual earthbending instructor. Her family's emblem was a flying boar.[2]
The flying boar appears as a wild boar with wings. It is seen to have light colored skin with white wings. It is presumed that the flying boar is hairless, or very short haired.
In some interpretations of Greek Mythology, the winged boar is associated with Chrysaor, son of Poseidon and Medusa, brother of Pegasus. Chrysaor, literally translates as "he who bears a golden armament", and is believed to have been a mighty king.
References
Edit
See also
Edit