"Mommy! Fluffykins got out of the house again!"
— Fluffykins' owner.[1]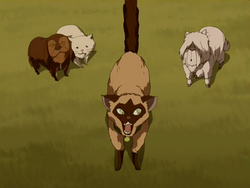 Fluffykins
Biographical information
Physical description
| | |
| --- | --- |
| Skin color | Light brown, dark brown features |
Chronological and political information
Fluffykins
was one of the two
cats
that were unintentionally led into the
new zoo
created by
Aang
in the
Agrarian Zone
of
Ba Sing Se
. She was owned by a young girl and her mother.
[1]
Aang, trying to help a poverty-stricken Ba Sing Se zookeeper, decided to construct new enclosures for his animals. Aang gathered the mass of animals and herded them in a chaotic stampede through the city toward the Inner Wall. Fluffykins, lured by the sound of Aang's bison whistle, joined the pack sometime during the mad rush, and was accidentally corralled into the same exhibit with the elephant mandrill.
Once inside the zoo, the cat was found by her owner, who energetically pointed at the cat and told her mother, "Mommy! Fluffykins got out of the house again!"[1]
She was similar in appearance to a Siamese cat.
Appearances
Edit
Avatar: The Last Airbender Edit
Book Two: Earth (土)
Edit
References
Edit
See also
Edit