"They're called fire lilies. They only bloom a few weeks a year..."
— Hama to Katara.[1]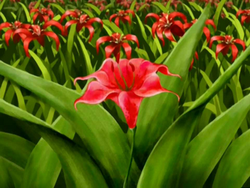 The fire lily is a famously beautiful flower which grows in the meadows of the Fire Nation. The vibrant red blossoms of this flower bloom just a few weeks every year around the middle of summer. Many "Fire Lily Festivals" are held throughout the Fire Nation every year during their blooming. A favorite subject of Fire Nation poets and artists, the exquisite flowers are a symbol of fiery purity and passion.[2] The flower carries a connotation similar to the panda lily in the Earth Kingdom. They are known to grow in grassy fields on the outskirts of Hama's village.[1]
Hama stated that fire lilies were her favorite part of living in the Fire Nation. When passing her waterbending knowledge onto Katara, she demonstrated ambient water channeling by extracting water from the flowers through bending, consequently causing them to wilt. She later taught Katara a similar technique, known as bloodbending.[1]
References
Edit
See also
Edit