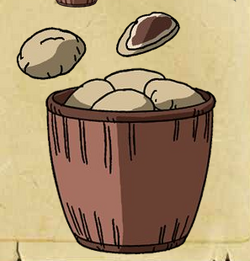 Fire gummies are a type of candy consumed in the Fire Nation. Like most foods in the Fire Nation, they have a little bit of fire-salt sprinkled on top and are extremely spicy.[1]
Fire gummies were sold in the Ember Island Theater, where Sokka asked Aang to buy him some during the play, The Boy in the Iceberg.[2]
Trivia
Fire gummies are similar to gummy bears in the real world, but resemble Daifuku, a common Japanese confection.
References
See also
Ad blocker interference detected!
Wikia is a free-to-use site that makes money from advertising. We have a modified experience for viewers using ad blockers

Wikia is not accessible if you've made further modifications. Remove the custom ad blocker rule(s) and the page will load as expected.