This article is about the creature. For the pro-bending team, see Fire Ferrets.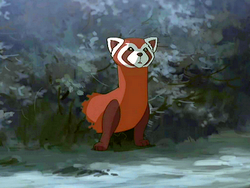 Fire ferret
General information
Chronological information
The
fire ferret
is an arboreal
mammal
indigenous to the
bamboo
forests of the central
Earth Kingdom
,
[1]
and is also found in
Republic City
. Fire ferrets can be domesticated and kept as pets, much like
Pabu
, who belongs to
Bolin
.
[2]
The fire ferret has long, soft, reddish-brown fur on most of its body and dark red-brown fur on its short legs. It has a light face with tear markings and robust cranial-dental features.
The light face has white badges similar to those of the red panda, but it is possible that each individual can have distinctive markings. Its roundish head has medium-sized upright ears and a black nose and its long bushy tail has alternating red transverse black rings, though the end of the tail is solid black.[2]
Behavior
Edit
Fire ferrets are known to be docile and friendly creatures. Once tamed, they can easily be kept as pets and are obedient and loyal to their owners, as exhibited by Pabu. Fire ferrets can also be trained to do certain stunts, as demonstrated in Pabu's circus acts.[2]
Connection
Edit
The fire ferret is a derivation of a red panda in size, fur patterns, and coloration in the face, body, and most distinctly the tail. It has most of the features of the red panda combined with the elongated body of a black-footed ferret.[3]
Its name uses the Chinese name for red pandas (

火狐

), which translates literally to "fire fox" in English.
The pro-bending team consisting of Korra, Mako, and Bolin, is called the Fire Ferrets.[4] The team was named after Bolin's fire ferret, Pabu.
References
Edit
↑ "When Extremes Meet". Michael Dante DiMartino, Bryan Konietzko (writers) & Joaquim Dos Santos, Ki Hyun Ryu (directors). The Legend of Korra. Nickelodeon. June 2, 2012. No. 8, Book One: Air
↑ 2.0 2.1 2.2 "The Revelation". Michael Dante DiMartino, Bryan Konietzko (writers) & Joaquim Dos Santos, Ki Hyun Ryu (directors). The Legend of Korra. Nickelodeon. April 21, 2012. No. 3, Book One: Air
↑ "A Leaf in the Wind". Michael Dante DiMartino, Bryan Konietzko (writers) & Joaquim Dos Santos, Ki Hyun Ryu (directors). The Legend of Korra. Nickelodeon. April 14, 2012. No. 2, Book One: Air
See also
Edit