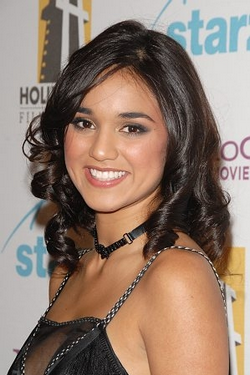 Summer Bishil
Biographical information
| | |
| --- | --- |
| First credit | Towelhead (2006) |
Further information
Summer Bishil
is an American television and movie actress who played
Azula
in the movie
The Last Airbender
. She first came to prominence in 2006 after playing the lead role of Jasira in Alan Ball's film,
Towelhead
, an adaptation of the novel of the same name. She completed filming Wayne Kramer's project,
Crossing Over
, starring Harrison Ford, Ray Liotta and Ashley Judd.
In 2007, Bishil was chosen by Variety Magazine as one of the 10 Actors to watch. At the 2008 Young Hollywood Awards, She was chosen as "One to Watch". She also appeared in Vanity Fair magazine in their young Hollywood portfolio.
Early years
Edit
Summer was born in Pasadena, California, to an American mother and a father who is a Saudi citizen of Indian descent. She is the youngest of three children, with one sister and one brother. Bishil lived in Pasadena until she was three, when her family moved to Saudi Arabia, then to Bahrain.
Bishil, her brother and mother returned to Southern California when she was fourteen, where she completed an independent study program for high school. Returning to the United States was not easy at first. "I initially had some tough times trying to assimilate. It really makes you think about who you are and where you're at."
In love with the idea of becoming an actress since the age of five, Bishil was 14 when she took her first acting class. Nine months later, a manager and agency signed her to a contract. Her first role was on a short-lived Nickelodeon show, Just for Kicks, followed by several appearances in children's shows before her break-through performance in Towelhead. Bob Strauss, who writes for several Los Angeles newspapers, states that Bishil, "...is one of the finest natural film actresses to emerge in years." Gary Goldstein of the Los Angeles Times in a September 12 review of the movie Towelhead, stated that, "...newcomer Summer Bishil turns in a gutsy, quietly riveting performance as Jasira."
Filmography
Edit
| Year | Movie | Role | Notes and awards |
| --- | --- | --- | --- |
| 2005 | Just for Kicks | Stacey | 1 episode |
| 2005 | Days of our Lives | Stacey | 1 episode |
| 2005 | Hannah Montana | Rachel | 1 episode |
| 2006 | Drake & Josh | Tabitha | 1 episode |
| 2007 | Return to Halloweentown | Aneesa | Aneesa |
| 2008 | Towelhead | Jasira Maroun | Lead role |
| 2009 | Crossing Over | Taslima Jahangir | Ensemble cast |
| 2009 | Three Rivers | Karen Rollins | Guest star |
| 2009 | Public Relations | Sara | Lead role |
| 2009 | Mooz-lum | Iman | Supporting role |
| 2010 | The Last Airbender | Azula | Supporting role |