This article is about the soundtrack of The Last Airbender. For other similar uses, see Soundtrack (disambiguation).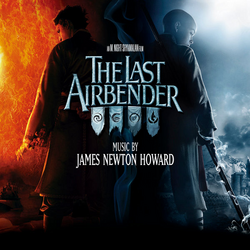 The Last Airbender is the soundtrack for the motion picture The Last Airbender. The original score was composed and conducted by James Newton Howard, and was released by Lakeshore Records on June 29, 2010, after already having been released on iTunes as of June 3.
Album information
The film was scored by James Newton Howard, who has collaborated with M. Night Shyamalan in scoring many of his previous films. Though not much has been revealed about the content of the album, some clips of the soundtrack can be heard on the official movie site. Taiko drums are also known to have been recorded for use in the film. Currently, the soundtrack is available for preorder on Amazon, at a price of $18.49, and for download at iTunes for $9.99. Despite several rumors to the contrary, none of the themes from the original series were used in the film, and the album consists entirely of new work.
Track listing
Airbender Suite (11:16)

Earthbenders (5:53)

The Avatar Has Returned (4:42)

The Four Elements Test (5:30)

Journey to the Northern Water Tribe (4:01)

Hall of Avatars (3:40)

Prologue (2:43)

The Blue Spirit (7:17)

The Spirit World (5:18)

We Could Be Friends (4:08)

We Are Now the Gods (5:46)

Flow Like Water (6:32)

External links