Admit mistakes when they occur and seek to restore honor.

This page requires editing to meet Avatar Wiki's quality standards.
On January 8, 2007, Paramount Pictures and Nickelodeon Movies announced that they had signed M. Night Shyamalan to write, direct, and produce a trilogy of live-action films based on the series. The first of these films was to be a faithful adaptation of the main characters' adventures in Book One. The film was in a dispute with James Cameron's film Avatar regarding title ownership, which resulted in the film being titled The Last Airbender.
History
According to an interview with the co-creators in SFX Magazine, Shyamalan came across Avatar when his daughter wanted to be Katara for Halloween. Intrigued, Shyamalan researched the series, and watched it with his family. "Watching Avatar has become a family event in my house ... so we are looking forward to how the story develops in season three", said Shyamalan. "Once I saw the amazing world that Mike and Bryan created, I knew it would make a great feature film." He added he was attracted to the spiritual and martial arts influences on the show.
Avatar: The Last Airbender co-creators Mike DiMartino and Bryan Konietzko came forward to voice their opinion within an interview regarding M. Night Shyamalan writing, directing and producing the film. The two displayed much enthusiasm over Shyamalan's decision for the adaptation, stating that they admire his work and, in turn, he respects their material. M. Night Shyamalan said he will write the second film while preparing to shoot the first. James Newton Howard, who has composed all of Shyamalan's films since The Sixth Sense, will compose the music for The Last Airbender.
In spring 2008, open auditions for the main characters were announced. Open tryouts for the part of Aang were held on October 18. On December 10, the names of potential actors were released. Shyamalan offered the role of Aang to Tae Kwon Do-trained Texan Noah Ringer, that of Sokka to Jackson Rathbone, Katara to Nicola Peltz, and Zuko to Jesse McCartney. In February 2009, Dev Patel replaced McCartney, whose tour dates conflicted with a boot camp scheduled for the cast to train in martial arts. Further casting choices were released in March 2009: Aasif Mandvi was cast to play Admiral Zhao, Shaun Toub to play Uncle Iroh, and Cliff Curtis to play Fire Lord Ozai. Keong Sim has been cast in the role of an "earthbending father" and Isaac Jin Solstein was cast as an "earthbending boy." Katharine Houghton got the role of Kanna, Seychelle Gabriel that of Princess Yue, and Suki's role was filled by actress Jessica Jade Andres.
Producer Frank Marshall stated the film release would possibly be moved to later in 2010 or even to early 2011. The budget for the films has been given in various sources as $250 million. Frank Marshall clarified that this amount was the budget for the entire trilogy[1], and that they were spending a greater than average portion of it on the first film to "create the world."[2] Paramount Pictures has budgeted an estimated $350 million for the entire trilogy. The first movie was expected to be made with $100 to $130 million.
In August of 2009, a leaked copy of a draft script appeared on the Internet. It contained information of a Dragon Spirit talking to Aang about the Fire Nation and the Hundred Year War. Producer Frank Marshall claimed, via Twitter, that the script did not seem to be real to him.[3] Soon later, KISS bassist, Gene Simmons, confirmed on his website that he was voicing the Dragon Spirit.[4]
Filming and sets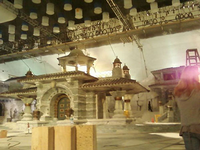 Filming began March 2009 in Ilulissat, Greenland, and returned in April to Philadelphia. One of the sound-stages used for filming is the 180,000-sq-ft former Budd Co. warehouse in East Falls. An exterior location at the Pagoda in Reading, PA was filmed on April 2nd and April 9th. On April 7th, filming took place at the Philadelphia Electric Company building. Producer Frank Marshall revealed that the inside of the building is being used as a set, and that they are incorporating all the old machinery of the power plant for filming. An abandoned automotive warehouse about 10 miles outside of Philadelphia is also being used for sets, which roughly 600 craftsman, techies and designers have worked on. io9, a science fiction blog website, was invited to the set of The Last Airbender in Philadelphia and reported on a number of different sets to be used in the movie[5]. One of the sets, inside an old airplane hangar about 15 miles outside of Philadelphia, which set remains unknown, is reportedly "the largest set ever constructed on the East Coast." July 2, 2009, saw the end of filming and beginning of post-production.[6]
Marketing
See also: The Last Airbender trailers
The teaser trailer for The Last Airbender was attached to the release of Transformers: Revenge of the Fallen on June 24, 2009. The trailer was also released exclusively on Entertainment Tonight on June 22nd. It was released onto the Internet June 23, when the movie's official website went online. It was also attached to the movie 'Shorts'.
The trailer shows the titular character, Aang as played by Noah Ringer, whose head is covered by the hood of a red robe. As he trains with his staff, the narrator explains who he is:
He is the last of his kind; all that remains of a once powerful nation. Some think he is a myth; some believe he is the chosen one who will bring balance to a world at war, and some will stop at nothing to destroy him.
Aang uses airbending to slowly blow out each of the candles until he thrusts his staff to quickly blow out the rest in a gust of air, before lifting the hood to reveal his face. Aang is subsequently seen bending powerful currents of air out of the temple door, trying to knock off the numerous Fire Nation soldiers who are scaling the cliffs below the Air Temple. The camera pans out to reveal a massive Fire Nation armada at sea, whose ships immediately catapult balls of fire toward the temple.
The cast had planned to release a new trailer in December as told by Frank Marshall on Twitter: "For those of you wondering about the Last airbender, all is well in post and we are working on a trailer for Christmas..."[9], but later, in December 3, he said (also on Twitter): "Not enough ILM shots finished, so the Last airbender trailer will not debut until Feb..".[10]
Paramount Pictures, purchased a time slot for a commercial during Superbowl XLIV (44), where they aired a 30sec teaser. The full trailer was released a few days after this and was attached to the film Percy Jackson. Paramount have since also aired a shorter commercial during TV coverage of the Vancouver Winter Olympics. Recently there was a third TV spot shown during the Nickelodeon Kid's Choice Awards 2010, showing new footage not shown in the other previews, including Katara waterbending and Aang in a battle with Zuko. There was a second full trailer with more footage than the first full trailer,this trailer can be viewed on YouTube. Also there is a third full trailer attached to the film 'Iron Man 2. 'This trailer can also be viewed on the official website. Lately there has been a new trailer viewed before the movie 'Shrek Forever After.'This trailer is like the Iron Man 2 trailer but with a bit of new footage and new transitions. A new Japanese trailer has been released and also a new French trailer. Both of the Japanese trailers and the new French trailer can be viewed on YouTube. Recently a new batch of TV Spots revealed that The Last Airbender would instead be released July 1st instead of July 2nd.
In 2009, an unofficial Last airbender fan site was published. As of the 21 of May 2009, it contained first-seen images of Zuko and Aang, as well as Photoshop mock-up of the Water Tribe seas in the banner.[11]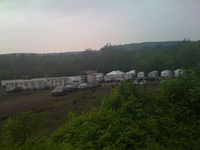 In the same year, rumors occurred of a leaked CGI teaser trailer for the film. Producer Frank Marshall cleared these rumors stating that that was a test for Nickelodeon and not the base for future promotional material, including theatrical and teaser trailers.[13]
In July of the same year, it was announced that Spin Master, a toy production company, would produce and distribute official toys based on the movie.[14] And that both a manga prequel and adaptation of the film will be published by Del Rey Manga.[15]
To further promote the film, Paramount Pictures and Nickelodeon Movies teamed with Embassy Suites (the upscale, all suites hotel chain) to bring guests who booked and completed a stay at any Embassy Suites property between May 3 and August 31 of 2010, a chance to win one of four incredible The Last Airbender-themed grand prizes. Each grand prize includes a six-day, five-night getaway for four at the Embassy Suites Waikiki Beach Walk resort in Hawaii, as well as the choice of one of four exhilarating Hawaiian adventure excursions representing the "Four Nations" themes as depicted in The Last Airbender. In addition to this, 50 runners-up received a Nintendo Wii Game System and accompanying The Last Airbender video game. All guests who booked their stay through the sweepstakes, received complimentary The Last Airbender prize packs upon check-in, each containing five unique toys representing the movie's central themes.[16]
Roundtable discussion
Main article: Roundtable Discussion with M. Night Shyamalan
On March 11th 2010 in New York City, M. Night Shyamalan had a private breakfast with a group of select journalists and had a roundtable discussion on developing this film and his plans for the sequels.
External links
References