Fat
Talk

10
9,295pages on
this wiki
"You should know the Master turns almost everyone away. What did you bring him to prove your worth?"
— Fat to Sokka.[1]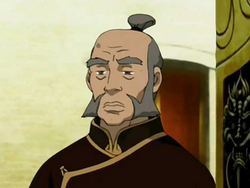 Fat
Biographical information
Physical description
Personal information
| | |
| --- | --- |
| Fighting style(s) | Swordsmanship |
Chronological and political information
| | |
| --- | --- |
| Profession | Butler, swordsmanship training assistant |
| | |
| --- | --- |
| Position | Assistant sword trainer |
Image gallery (2)
Fat
was a swordsman who served as
Piandao
's loyal, yet disgruntled butler.
[2]
A serious man, Fat did not find many things humorous. He prepared
meals
and beverages for Piandao and his students, whom he also assisted in training. He seemed to enjoy order and cleanliness.
History
Fat came to Piandao many years ago and proved his worth by cooking him a delicious dinner. Piandao trained Fat in exchange for some good, home-cooked grub, and the two have been together at Piandao's castle ever since.[2]
When Sokka showed up at Piandao's door step, Fat let the boy in, seeming to be very bored and annoyed. Fat later became very upset when Sokka destroyed his rock garden during a lesson. Although Fat bested Sokka several times when they were sparring, he was finally beaten when Sokka completed his training. When Sokka brought a meteorite to use as the metal for a sword, Fat helped Sokka break it up into manageable pieces in order to forge his very own sword.
When Sokka and his group were leaving, Fat stopped them just outside the castle gate, saying that Piandao had sent him a gift to remember him by. He handed Sokka some leaves and a small sack, inside of which was a white lotus Pai Sho tile.[1]
Appearances
Avatar: The Last Airbender
Book Three: Fire (火)
References