Justiceforall17/Zuko (A Different Dimension)
Talk

0
8,312pages on
this wiki
Justiceforall17/Zuko (A Different Dimension)
Biographical information
Nationality

Fire Nation

Physical description
Gender

Male

Personal information
Allies

Iroh, Ursa, Ozai, Mai, Aang, Katara, Sokka, Toph, Suki, Appa, Momo, Hakoda, Ty Lee, Order of the White Lotus, more...

Enemies
Personality
Edit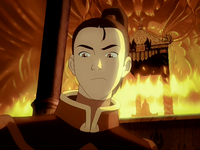 Zuko believes that a person becomes strong by having to struggle and fight for what they want. He has said that he does not want to have good luck, because he feels he can control his own fate. Zuko is clever yet hot-headed, often letting his temper get the best of him. He rarely thinks his situations through, causing him to get in trouble numerous times. These traits are criticized by his uncle Iroh, and he appears to be trying to get more control of himself and think things through more towards the end of season three.
Zuko has numerous contradictory traits, beliefs, and behaviors. For example, he is domineering and controlling, a result of being raised as Fire Nation royalty, and disdains working with people that he believes are inferior to him. Despite this, he adamantly refuses to view people as expendable. It was Zuko's belief that it is wrong to sacrifice able-bodied and willing troops as a diversionary tactic which almost led to his disowning when he voiced his opinion and angered his father.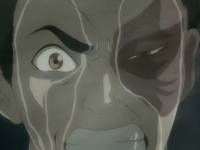 Zuko has nothing, something he cannot seem to accept. He also defended an Earth Kingdom village against a group of thugs who terrorized its people after having been appointed to protect them. Zuko begins becoming more patient, kind, precise, and calculating; These traits would become dominant after Zuko's fever dreams and hallucinations in "The Earth King", as afterwards he displayed a more optimistic attitude towards life and the world. However, he still feels angry and confused. In The Beach, Zuko's temper goes out of control; he becomes suspicious of Mai, and gets into fights with several people. Later, he states that he is angry with himself, saying he doesn't know right from wrong.
In "The Avatar and the Fire Lord", Zuko receives a letter, telling him that his great-grandfather's death would reveal his destiny. Zuko finds Sozin's last testament, and learns of his secret history with Avatar Roku. He comes to his uncle, demanding to know the meaning of the message. Iroh tells him that Avatar Roku is his mother's grandfather, and that Zuko's inner conflict is due to the good and evil natures that he inherited from Roku and Sozin respectively. Iroh then gives Zuko an ancient crown, worn only by the crowned prince of the Fire Nation.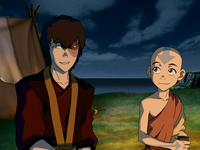 In "Nightmares and Daydreams" he became upset when he wasn't informed of a war meeting in which his sister was invited, and shown happiness when a servant later came and asked Zuko to head to the war room, as Ozai would not start the meeting without him. Much later, he told Mai that he found himself unhappy, even when his father treated him as the perfect son. He says that during the meeting, he had acted the perfect prince, the son his father always wanted, but he was not being himself.
During the events of Day of Black Sun, Zuko comes to realize that he must restore peace to the world by joining the Avatar and fighting the tyranny of his nation. He discards his previous beliefs in the Fire Nation's greatness and swears to his father that he will be defeated. He even, for the first time, begins to show a comical side to his personality. This is shown when he practices a speech to say to the Avatar to a frog. After questioning what Iroh and Azula would do in his situation, he tries to impersonate them. He later admits his wrongdoings to Team Avatar, and apologizes for the things he did to them.
Rather than trying to capture the Avatar for the Fire Nation's benefit, Zuko attempts to join him to end his nation's tyranny. While he used to attack Aang whenever they met, he instead defends him from the assassin that he hired to kill the Avatar. Zuko is even very happy when the Avatar finally accepts him as his Firebending teacher and group member. Though Zuko still has some issues to work through, he is far more composed and receptive. Since coming to terms with his own true feelings he has become a much more laid-back and empathic person. After joining the group he smiles a lot more than usual, even when jokes are made at his expense.
Abilities
Edit
Firebending
Edit
Throughout the series, Zuko has shown himself to be a highly skilled Firebender, and his skill has grown as the series has progressed.
As a child he could only create small bursts of flame, but by the time he was thirteen he was confident enough in his abilities to readily accept a challenge of Agni Kai, (he refused to fight, however, when he found out his challenger was his father).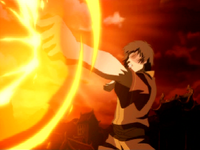 In "The Western Air Temple" he utilizes a wall of flame to stop a combustion attack, and is capable of dodging many of Toph's rocks which she hurls at him. Later, in "The Firebending Masters", Zuko temporarily loses his ability to Firebend due to his corresponding lack of rage, which had formerly been the source of his power while he was pursuing the Avatar. However, after viewing the multi-colored flames of the two dragons, he finds a new source of power in reverence for fire's power as a source of life and energy. He also learns "The Dancing Dragon", an ancient Firebending form that he performs alongside Aang. Learning this form appears to have influenced his style of Firebending to be more fluid, creating a more dance-like form as opposed to the rigid, militaristic forms commonly used by Fire Nation soldiers. His difference in style and skill is demonstrated in the conclusion of "The Boiling Rock, Part 2", where he briefly battles against Azula alongside Sokka. During the fight, he deflects many of Azula's fire-blasts with only his arms or his own fire, and trades fire balls with her. In "The Southern Raiders", Zuko faced Azula again and dueled her, apparently evenly, for several minutes. He fires several large, powerful fire blasts, and deflects many of her attacks. In "Sozin's Comet, Part 1: The Phoenix King" Zuko attacked Aang with powerful fire blasts, in order to make him fight back. When he chased him into a house, Zuko created several lashes of fire, used them to envelop his surroundings, then augmented the fire to take the shape of the hallway Aang was running through. With the power of Sozin's comet, Zuko's Firebending was tremendously enhanced. During "Sozin's Comet, Part 3: Into The Inferno" he fought Azula one final time in an Agni Kai, unleashing extremely powerful sheets of flame. This time Zuko held the upper hand, exchanging and blocking attacks with Azula without visible strain while Azula was pushed towards exhaustion, although it is unclear how much of this was due to Azula's mental instability at the time. He displayed several incredibly powerful techniques. He was able to block an enormous stream of fire with a short fire-blast, which spread to take the shape of a wall and split apart the stream. He unleashed an enormous charged-blast, which Azula was unable to block, forcing her to dodge. He propelled himself into the air, charged his fire, then sent down a fire attack as he came down. His final attack consisted of a fire tornado that he created with his feet while spinning which knocked Azula off her feet.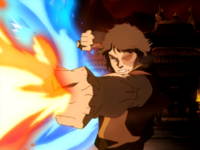 In "Zuko Alone", he used his Firebending in conjunction with his broadswords. He has also demonstrated use of Fire Daggers and limited use of Breath of Fire.
During his training with Iroh he attempted to learn how to create lightning. However, because of his inner turmoil, he was unable to achieve the required peace of mind, and his attempts to produce lightning would only explode in his face. Instead, Iroh taught him how to absorb and redirect lightning. He later employed this technique against his father during Day of Black Sun and against Azula to protect Katara in Sozin's Comet, Part 3: Into The Inferno. In the latter engagement Zuko redirected the blast despite not being in the proper stance as he had jumped into the lightning's path, but failed to redirect all of the lightning. Though Zuko seems to have overcome his inner turmoil, he was not shown creating lightning for the remainder of the series.
Other Skills
Edit
In addition to his Firebending, Zuko is a master of his dual Dao blades, a skill he picked up during his years at sea. He would use his Dao swords whenever he was in his Blue Spirit disguise, unable to Firebend, or when he needed to fight but also needed to conceal his Firebending. During "The Blue Spirit", he was able to defeat multiple foes using only his swords. He also dueled evenly with Jet and his dual hook swords in "City of Walls and Secrets", until the fight was broken up by the Dai Li and Jet was arrested. During "Zuko Alone" Zuko defeated several Earth Kingdom soldiers with his Dao swords and minimum effort, only resorting to Firebending when faced with a powerful Earthbender; even then he was able to hold off the Earthbender's attacks for several moments with only his blades. His skill was such that his father, Fire Lord Ozai, opted not to face against him during an eclipse, while neither of them could Firebend.
Zuko is physically very strong, fast and agile. He is capable of great physical feats, such as running across walls, climbing very quickly, and jumping large distances. He is apparently skilled in unarmed combat, able to break apart oncoming spears with his hands and legs, and disarm, subdue or defeat opponents. As shown in "The Avatar Returns", "The Blue Spirit", "The Siege of the North, Part 1", "Lake Laogai" "The Avatar and the Fire Lord" and "The Southern Raiders", Zuko is skilled at infiltration, and can sneak into heavily-defended fortresses. He is also skilled at stealth, and can conceal himself effectively for long periods of time. All of these skills would serve him while he was disguised as the Blue Spirit. Zuko was also a skilled tracker, able to track the airborne Avatar all across the world. Zuko is also a gifted Tsungi Horn player, although it is apparently not his favorite instrument.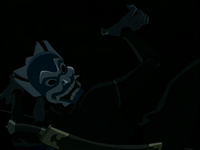 While not as naturally adept at strategy and academics as his sister, Zuko is quite intelligent. Throughout the series, he has demonstrated himself to be a skilled strategist, able to exploit any situation to his advantage. In "Winter Solstice Part 2: Avatar Roku", Zuko used his ship's damages as a smokescreen to conceal his movements from Zhao.[1] He was also able to form alliances with people with special skills, such as June, and use them to his advantage. However, he had a hot-headed nature that caused him to not always think his actions through. For example, he could exploit advantages in the Northern Water Tribe, and get into the Spirit Oasis to capture Aang, but he didn't figure a way back out which caused him to almost freeze to death.,[2] Zuko began to think things out more towards the end of the series, and he started to plan things out and think ahead to solve problems more often. When he and Aang needed to get in a specific room in the Sun Warrior ruins, Zuko was able to outsmart the Celestial Calendar, as it would only allow the room to open during a solstice..[3] This intelligence may come to serve him as he rules the Fire Nation.
While never implicitly shown other than briefly at the end of the series, it is heavily implied that Zuko is both a popular and good Fire Lord. As a Prince he is shown to be quite popular in Nightmares and Daydreams, with women swooning over him. His speech to redeem the name of the Fire Nation at his coronation is warmly embraced by the people..,[4]
In "The Desert", considered a traitor, Zuko's name was listed on a Fire Nation wanted poster as "祖寇" (zǔ kòu), which translate as 'ancestors robber". Later, in "The Tales of Ba Sing Se", his name is written as "蘇科" (sū kè) on his segment's title card, which translates as 'resurrected rule.' In "The Avatar and the Fire Lord", the word Sū is also used for his great grandfather Sozin's name on the boxes which held the diary scrolls. 'Fire Lord Sozin' is written as 烈火君蘇進 (liè huǒ jūn sū jìn). Sozin or Sū Jìn translates as 'resurrection enters'.
While living in the Earth Kingdom In Book 2, Zuko goes by the name 'Lee'.
Azula often refers to him as "Zu-Zu".
Relationships
Edit
Relatives
Edit
See Fire Nation Royal Family Tree
By the end of the series, Zuko does not say Toph, Momo, or Suki's names out loud. He says Aang, Katara, Sokka, and Appa's names.
Zuko was originally intended to be Katara's love interest. This was hinted at and made fun of during "The Ember Island Players".[5]
Due to his scar Zuko is permanently unable to open his left eye all the way, and always squinting in that eye. Even when the other is wide open. Also notable is that he only has one eyebrow.
Zuko can only grow hair around his scar.
Zuko is easily accepted by people in the Earth Kingdom as most people who see him believe he got his scar fighting against Fire Benders, and is thus on their side.
Zuko is a playable character in the "Avatar Legends of the Arena" online game, he is unlocked through the use of a "Secret Code". Aside from his appearance and name he is played just like any other character.
In the Pilot episode it's shown that Zuko was originally supposed to have a pet Hawk but it didn't make it into the show, his pet Hawk did make it into the show as a Messenger Hawk Sokka bought in "The Runaway", though it was only in that episode having flown off with a message and was never seen again.
Zuko's voice actor, Dante Basco, has previously worked with Mae Whitman, Katara's voice actor, when they provided the voices for Jake and Rose respectively in American Dragon: Jake Long. In that show, Rose served as Jake's love interest.
Footnotes
Edit
See more
For the collective works of the author, go here.