Ad blocker interference detected!
Wikia is a free-to-use site that makes money from advertising. We have a modified experience for viewers using ad blockers

Wikia is not accessible if you've made further modifications. Remove the custom ad blocker rule(s) and the page will load as expected.
Juji's fine. He comes back to life in the end when the doomsday device shifts the polarity of the Earth. Oops. Spoiler. Sorry.

Warning! This page contains spoilers for The Final Avatar.
Zaru
Biographical information
Nationality
Age

17

Predecessor
Physical description
Gender

Male

Hair color

Black

Eye color

Brown

Personal information
Weapon of choice

Airbending Staff

Fighting style(s)
Allies
Enemies
Chronological and political information
Profession
Position

Avatar in training

Affiliation

Fire Nation

First appearance
Zaru is the current (and possibly last) Avatar in the The Final Avatar series.
History
Early Life
Not much is known about Zaru's childhood. When he was 16, he was announced as the Avatar.
Book 1
When Zaru was 17, he reluctantly trained to be the Avatar. He eventually engaged in war with Boli.
Appearances
Trivia
Zaru is his own great, great, great, great, great grandfather, as he is just Roku, reborn.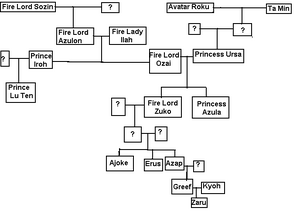 See more
For the collective works of the author, go here.
The Final Avatar Characters
Main Protagonists
Zaru, Erus, Paal, Heesu Saro, Stroe Vintrel, Patola, Draco
Main Antagonists
Boli, Voe, Toks, Fiery Guy, Cholu, Rose, Azap, Gios
Minor Protagonists
Greef, Kyoh, Terra, Aang, Ajoke
Groups
Team Avatar, Kyoshi Warriors, Stone Soldiers, Lightningbenders, Yu Yan Archers, Dai Li
Preceded by
Terra
Avatar
473 AG - Unknown
Succeeded by
None