Important Message!

The following story is indubitably fanon and should not be considered actual canon.
Chronology
Last chapter
Next chapter
TONRAQ AND SENNA
Aang and Katara traveled to the Southern Water Tribe for a visit with Sokka and Suki, and It had been a long time since they had last seen each other. Sokka was retired from the council, and Suki was retired from the Kyoshi Warriors; now, of course Sokka was still a White Lotus Master, but the Order has not had a meeting of grave significance in many a year. Likewise, Suki rarely teaches any of the young Water Tribe girls self-defense moves any more, but she and her old husband do manage to pass the time, freezing and bickering in the tundra city of the South Pole.
"Sokka!" Katara hugged, "I've missed you!"
"You too, Katara," Sokka hugged, "How was your trip?"
"Old Appa and I aren't as fast as we used to be," Aang chuckled and patted his elderly bison across the nose, "But, we get by, don't we boy?"
Appa roared, shagged the snow off of his fur, and walked off to the shed nearby to get warm; meanwhile, Aang and Katara were interrupted by a loud call that came booming in from the distance, "AVATAR! AVATAR AANG!"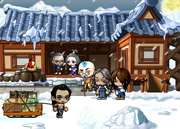 They turned in the doorway and saw a man rushing over to them; he was a young man, strong, carrying a sled packed to the brim with supplies as though it weighed nothing at all. To top it all off and to make things even weirder than they already were, the boy was shirtless---it was below thirty degrees and this kid was actually shirtless!
"Oh my goodness! Are you okay?" Katara gasped.
"Of course?" he chuckled in confusion, "Why do you ask madam?"
"It's just that---" she inched, blushing a little, before clearing her throat and pointing, "Well young man, you aren't wearing any clothes, and this is the South Pole---how are you not freezing?"
"Oh," the young man chuckled, "I'm immune to the cold..."
"That's pretty weird?" Aang pointed out.
He shrugged in genuine perplexity, "If it bothers you, I suppose I could always start wearing a shirt?"
"No, no, no!" a woman ran up hastily. She was a tiny, feather voiced woman, her dark hair a mess in front of her face; the young lady patted her husband on the arm and smiled, "It's fine dear...no need for that."
Aang and Katara exchanged a look and Aang held out his hand, "Well, it's nice to meet you, my name is Aang and this is my wife, Katara, her brother Sokka, and his wife, Suki."
The boy gave the Avatar a firm handshake and a sharp jolt instantly shot through Aang, a swift and stinging pain that crawled across his blood and nearly made his arm go numb. It was an odd, yet familiar feeling at the same time, and the old Avatar wasn't sure where he had felt it before.
Meanwhile, the boy smiled, "My name is Tonraq and this is my wife, Senna. Avatar Aang, we actually met once before when I was a baby---my father would go on and on about how you helped him earn his title as Chief of the Northern Water Tribe."
"YOU'RE HAHN'S KID!?" Sokka choked, eyeballing the fit young man from toe to head.
Aang rolled his eyes and shoved his brother-in-law away. He nodded to Tonraq and in a meek chuckle replied, "I remember. How is Hahn these days?"
"He has been retired for some time," Tonraq stretched awkwardly, "There was a tiny feud that broke out between my brother and I---we saw things a little differently---and well---long story short, he is the new leader of the North and I am a humble resident of the South, which is where I belong if you ask me..."
Aang was a little curious as to what Tonraq meant by the "little feud" between his brother, and started to ask, "If you don't mind, what exactly happen---"
"Oh!" Senna jumped, putting a hand on her stomach which was budging out with a baby soon to be on the way.
"Are you alright, Senna?" the young man panicked, his bear-like size, shrinking in an instant as he dotted down at her like a frightened baby moose lion.
"The baby is one strong kicker is all," she chuckled and patted his cheek tenderly until he stood back tall as a tree once again. "I'm fine dear, stop worrying so much."
"Would you like to come inside?" Sokka offered.
"That would be very nice, thank you," Senna bowed, scooping the stray hair in her face behind her ear in a nervous manner.
"You go on ahead darling," Tonraq kissed, "I still need to get these supplies delivered to the healing hut before sundown, so I can help them organize all of their new inventory."
"Be careful dear," she waved clumsily.
"Always am honey," he chuckled in a headstrong manor before walking off into the snow. "Enjoy your visit with the Avatar and Chief Koda's parents!"
"Oh, so he does know who we are," Sokka mumbled with a grin, "Good to know we are now known only under a respective title such as: "The New Chief's Parents". I was the Chief too, you know technically...and my father was never known as "Sokka's father" he was known as the brave, Chief Hakoda!"
"Give it a rest big brother," Katara smiled, "You were an away chief, so even if your actions go unnoticed, they helped our village and that's all that really matters, right?"
"Mmm-Hmm-Hmm...That boy certainly is young, isn't he?" Suki chuckled, "He reminds me a lot of you Sokka---except---a lot bigger and stronger. Wow!"
"Hey, hey!" Sokka complained, "You had your chance to say no forty-five years ago on Kyoshi Island!"
"Forty-Nine years!" Suki grouched, "Get your facts straight old man!"
"Blah, blah, blah," he scoffed, and Suki gave him a look before the five of them went inside.
"Are you two always like this?" Senna eased.
"Ah, lovely isn't she?" Sokka sighed dreamily, "I love that woman...but she is a pain in the blubber---" he turned and shouted, "I'LL BE IN THE SHED WITH APPA! AT LEAST HE KNOWS HOW TO TREAT A MAN!"
"BRING IT SOKKA!" Suki hollered from the kitchen, "I DARE YOU!"
"See?" Sokka smiled, "Ah, I love her so much..."
"Okay!" Katara eased inside... "So Senna, when is the baby due?"
"It should be in about a month or two---the baby will be here by the beginning of next year; Tonraq and I are so excited to become parents, but I am a tad concerned that the winter weather could get worse...I would hate for the baby to be trapped in an igloo for the first few weeks of its life."
Katara laughed and patted the expecting mother on the shoulder, "Oh the weather will be fine!" She assured, "And, becoming a parent is the greatest thing in the world, isn't that right, Suki?"
"Yeah, great!?" she rolled her eyes, rambling on into the kitchen as she brought out a tray of tea. "My kids barely call, don't write---Ha...the joys of motherhood."
"Pish-Posh!" Katara scolded, "Suki's just a cranky old lady---she loved raising all five of her children, now didn't you!?"
"Five!?" Senna gasped, nearly choking down her tea. She set down the porcelain cup and coughed a few times before adding, "Tonraq and I are going to be lucky just raising this one, but FIVE!? GOSH!"
"Oh, may I?" Katara eased, a hand hovering over Senna's womb.
"Of course," she smiled tenderly.
"My Katara has a sense for babies---she can tell almost anything about them, just by feeling," Aang chuckled before letting out an old cough, "I think she spent so much time with an old fortune teller we used to know, that the gifts just sort of shifted over to her."
"Whoa! Anything!?" Senna got excited, "Can you tell me whether it's going to be a boy or a girl?"
"No, no!" she laughed, "Nothing like that dear...more like, will they be a bender or a nonbender, their personalities, and such? Don't take anything my husband says to heart---I am no fortune teller, just a really good guesser."
"Well, let me see... Tonraq and his brother are both Waterbenders?" Senna pondered, "And you've met my husband and his large personality. Unalaq, his older brother, is the leader of the Northern Water Tribe, and he is a very serious, spiritual man, a little intimidating---and then there's just me... So...what do you see Master Katara?"
Katara grinned and replied, "This child is very strong, I sense he or she will be a very powerful bender, but you know, I also see a little bit of an attitude, this one will be a handful, indeed!" She motioned her husband, "Oh, it's kicking! Aang, come here, you have to feel!"
"Sweetie, I don't think---" he argued, but Katara grabbed her husband's arm and planted it on the soon-to-be mother's stomach, where he felt the tiny infant kick against his hand. It was as though all the blood in Aang's system had gone cold and his eyes flashed once before he gasped and quickly pulled away.
"What's the matter honey?" Katara asked.
"I---I---It's just been a long time since I've felt something---like---that," he took a few deep breaths..."Please ladies, excuse me. "
"Aang?" Katara wondered; they stared after the old Avatar in concern, but he had escaped out onto the porch, and Katara, Suki, and Senna shared an equal shrug of confusion before they went back to talking about babies.
His fingers were shaking, the arrow on his wrinkled hand was glowing white, but Aang clenched his fist and the glow gradually went away. "What is it with this family?" Aang sighed tiredly and he looked to his wrinkled skin and sighed with relief when the glow had disappeared. Concerned as no other, the Avatar stared out to the snow and muttered, "As soon as we get home, I need to ask Roku, but he wasn't much help the last time---I doubt any of my past lives will be able to help me now."
"Hey Aang, what are you doing?" Sokka called nearby as he trekked through the snow from the barn where Appa was resting.
"N-Nothing!" Aang watched his breath lie before his very eyes and fade away into the cold air, "Let's go back inside, I want to see you and Suki argue some more like an old mar---"
"Think twice before you finish that sentence, Aang," Sokka grumbled.
"Right," he coughed nervously, "So---how about that weather huh?"
"Very smooth Mr. Avatar," Sokka chuckled and slapped a hand on his old brother-in-law's back, "Very aloof, indeed."
"I learned from the best," Aang grinned.
"Sokka get in this house before you freeze to death!" Suki bellowed. "If you think I'm going to nurse you back to health, you got another think coming you old coot!"
"Love you too!" he shouted. "Come on Aang, let's get this visit over with before the old lady keels over. We can peruse my boomerang collection a little---I just added a new one yesterday!"
"Right," he nodded, trailing Sokka as he continued looking towards his shaking hand with a dry throat and a pit feeling in his stomach. This happens almost every time he comes into contact with someone in Hahn's family, first his son Tonraq and now the young boy's wife. "What did it all mean?" Aang wondered. "What does it mean?"
AVATAR INTERVENTION
"Aang..." A man's voice echoed.
A gentle woman's followed behind it, "Aang..."
"Aang..." A more stern-toned woman said.
The old Avatar's eyes shot open and he rolled over to look around the dark bedroom for the noise, but things were utterly silent. He yawned and rose out of bed, slipping on his house shoes only to see three sets of feet on the floor next to his own. Aang chuckled and laughed with a tired yawn, "Kya, Bumi, Tenzin...did you three have another nightmare?" As suddenly as Aang had said that, he realized that all of his children were grown and out of the house---plus---none of his children had feet the size of a baby Sky Bison? Eyes wide and awake, he shot his head upward only to see the three unexpected guests invading his bedroom in the middle of the night...
"Aang," the man's voice started.
"It is far past time---" the calm woman added.
The other woman finished, "That we had a talk."
Aang had looked up only to see Roku, Yangchen, and Kyoshi all hovering over him, and he gasped at the sight... "Wh-what are you guys doing here? You've never all come to talk with me at one time before---s-something's terribly wrong, isn't it?"
"Come Avatar Aang..." Yangchen held out her hand, "It is time for you to have your answers."
He rose and touched Yangchen's hand, instantly sending the group into the Spirit World. A familiar sight for the old Avatar, yet Aang couldn't help but feel confused at the urgent calling from his three most effective teachers and past lives.
"What is all this about?" Aang asked, "Roku?"
"Aang," Avatar Roku replied, "There have been things that we were not at liberty to tell you until the time was right. Now is one of those moments, old friend."
"First of all," Kyoshi started, "Freezing yourself for one hundred years drained your mortal life force."
Aang rolled his eyes, "I already knew that Kyoshi."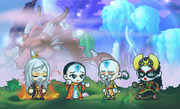 "Secondly,"
Yangchen added,
"That connection you felt with the mortal, Tonraq, it is no mere coincidence, but a sign. He will eventually become the father for the next line of the Avatar; that is why you felt the connection with his wife. It was the unborn child in which you were connected with all this time."
"Then his wife---" Aang gasped, "The baby---her child will be---me? Us? H-how is that possible?"
"This has never happened in all the years of the Avatar," Kyoshi stated firmly with a hidden meaning to her words, "At least, the ones we were able to make contact with..."
"Aang, you have until the baby is born to say your farewells to your loved ones on the material plane," Roku added swiftly and sorrowfully.
"So---the time has come---I'm going to die very soon, aren't I?" Aang sighed.
The three Avatars looked to the ground solemnly and responded to his question with their silence.
"Do all Avatars get to know such information---about death---and time?" Aang wondered.
"I did not have the pleasure," Roku replied, "For my death was very sudden and unexpected, but I did receive signs from the universe that my time was drawing near."
"I had more important tasks to deal with before my death," Kyoshi almost scoffed, "It is part of the reason why I lived so long, but I eventually had to leave, as all Avatars do. Though, unlike Yangchen and Roku, I went peacefully, as you are going to, and the Avatars came to talk with me as well."
"I too received subtle signs, Avatar Aang," Yangchen nodded, "and I was allowed to warn Kuruk of his fate as well."
"Where is Kuruk?" Aang pondered.
"Avatar Kuruk has been tasked with watching over the family of the next Avatar," Yangchen replied, "You need worry not about them or anything else---merely enjoy your last few months with your family and loved ones."
"I am sorry Aang," Roku added sincerely before touching the Airbender on the shoulder. His touch was light and barely felt as more than just a brief, cold chill, but Aang could tell the genuine apology coming from his mentor, and he accepted it.
"It's---you know, it's alright, Roku..." old Aang half-smiled, "I knew it was only a matter of time, but it is a little hard to swallow, I mean, this is all so sudden?"
"Not too sudden..." he winked, "We will see you again soon, Avatar Aang," Roku motioned.
In a flash, old Aang was back in his bedroom and he opened his eyes to peer around the room. Taking a breath, he looked to Katara, trying to figure out the right words to tell her---but she was sleeping so peacefully, he couldn't bear to wake her. So at least the old Avatar had until the morning... He had a few final hours before he would have to break the news to his wife and utterly break her heart in the process
Katara woke to a sunny, orange room and a complete breakfast waiting beside her in bed. She smiled and yawned, stretching away the remainder of her sleep before picking up a note on her tray. In Aang's handwriting, the note read: "Enjoy your breakfast beautiful. When you finish, I will be waiting for you at the waterfall."
"Oh Aang," Katara blushed. She finished eating as fast as she could, and made her way outside into the crisp spring air to walk over to the waterfall in the forest. When she stumbled onto the lush falls, Katara noticed her husband waiting there for her, standing on the highest peak of the rocks with his staff in hand; he was looking over all of his surroundings with a calm smile as the morning sun warmed his face, and the crisp breeze filled his lungs with a sense of peace.
"What are you doing up there, honey!?" Katara chuckled.
There she was, a small dot from where he stood, and just seeing her so happy as she waved to get his attention made Aang frown with a bitter feeling at the pit of his stomach. Aang knew that there was no stalling this grim news any longer, and in a breeze of air, he glided down to his wife and gave her a kiss before smiling, "Good morning dear, did you enjoy your breakfast?"
"Oh Aang, you're such the charmer, whatever could be the occasion for all of this special treatment?" she giggled playfully. He wrapped his old wife in a warm hug, deliberately ignoring the question and Katara grew concerned and pushed him back a step, "Aang, did one of the kids get into trouble? Is it Sokka again? No wait...Toph and Lin threw someone into prison for wisecracking again, didn't they?"
"No, nothing like that," Aang smirked, "Just...something else..."
"Something---else?" Katara gruffed, "Aang, I read you like a book---now you better tell me what's the matter, or I will figure it out my way on my terms, and you know that you won't like it when I do!"
"Well, we've been talking about this for some time now, honey---and it's---well Katara, there really is no other way I can say this sweetie." He took her hands as her blue eyes trembled harder by the second. Aang felt her heart pounding, but he swallowed the guilty feelings he had and just inched his eyes open to blurt out the truth to his old wife. "Katara," he said, "the time has come to tell the rest of the family..."
She was quiet for the longest time, but finally after moments of still and frozen silence, she stammered, "I---I---promised I wouldn't be upset..." she took a breath to calm herself and added shakily, "H-how are you sure?"
"It all happened after I meet Hahn and his wife---I felt a connection with one of his twin boys. That baby grew up to be the man we met at the South Pole a few weeks ago, and when I met his wife, Senna, and felt that new baby kick---I knew something was strange and I consulted my past lives one last time for an explanation. They came to me last night, warning me that I have until that child is born---Tonraq's son or daughter is going to be the new Avatar. But, you can't tell anyone that Katara! I don't want to put them at any risk, but I do hope you will be there to help them---train and protect them---when I'm not---uh---well around..."
"Of course! My lips are sealed. I---I'll call the kids---and send letters to Sokka and Zuko---a-and a few friends." She sniffed, "See Aang, I'm---I'm keeping calm, honey..."
Aang kissed her forehead and she rushed away before he had time to see her tears. This was going to be a lot harder than Aang thought.
A few hours later, Aang and Katara's children, as well as Toph and Lin, all gathered for a fancy dinner party held by Aang and Katara. There was some arguing between Tenzin and Lin going on, and of course Bumi and Toph teamed up to torment the entire Air Acolyte staff---but after dinner, Katara got everybody's attention and the room got quiet as Aang stood up to take the floor.
"What's with the big To-Do Twinkle Toes?" Toph snickered.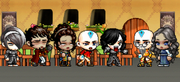 "Well, as I told Katara this morning----this isn't going to be an easy thing to discuss with all of you---" Aang stretched, "So, kids...Lin...Toph---I'm just going to come out and say this! Well, I've been "sick" to say...for a long time now...the Avatar State has been slowly draining my life force and it was only a matter of time before it took a toll on my health. Each use of the Avatar State, no matter how brief, it took a small bit of my energy away every time, and it made me grow weaker than normal."
"What are you saying father?" Tenzin asked sternly.
"Well, I've been given strong signs from the universe and it is under my understanding that I'm going to be---gone---I---Well I am going to be dead---in about a month..."
"A month!?" Kya exclaimed, the tears already welling up in her eyes.
"Why didn't you tell us this sooner Dad!?" Bumi exploded, "We could've---we could have---well we would have been more prepared!"
"It's not your father's fault entirely," Katara sighed, "We both agreed not to tell you until it was clear---"
"Why!?" Kya sobbed, "How could you keep something like this a secret from us---all our lives!?"
"I didn't want you to be worried..." Aang frowned.
"I knew it!" Toph punched the table, "I saw all of the signs---I was there whenever---that thing with Azula and then the Equalist raid on the island---Oh, I'm such an idiot!"
"Take it easy Toph---" Katara eased, "Aang and I have been talking about this day for years---we've come to accept the fact, and now we have time to make everything right between us..."
"You had time to accept Aang's fate!" Lin pointed, "We love you too, we should have been informed, maybe we could have been prepared for this day too, did you ever consider that?"
"I know keeping the truth from you all was a mistake," Aang sighed, "But I just couldn't find the right time to tell you---so I figured I would get this all out in the air over dinner. I know you're probably upset with me, but I hope you understand the position I was in, and choose to forgive us for hiding this secret from you all."
"Of course we do!" Toph snarled, with a reluctant sigh of acceptance, "But that doesn't mean we're not still hurt stupid!"
"We sent letters out to Zuko, Sokka, and to a few friends here and there---and they'll be expecting a call from us very soon I imagine," Katara eased. "But, for now, I think it's time to enjoy this time we have left together as a family."
Kya was crying her eyes out, and she stood up and waved her hand in a shaky manor, "I---I'm sorry---I---I can't!" She left the room in tears and slammed the front door of the house behind her.
Lin rose too and walked out of the room with a puckered frown and her nose wedged into the air; Tenzin sighed into his hands and bowed respectfully without even looking at his parents, his voice calm and collected as usual as he said, "Excuse me..."
As the three of them left, Bumi and Toph waited in silence and everything turned awkward in an instant.
"So---So, what's for dessert?" Bumi tried to ease, a laugh forcing its way out, but dying in an instant when the stress of this crushing news became too hard for the commander to bear. He sat there twittling his thumbs for a few moments in the silence, before his nerves got the better of him to and he slammed his hands into the table before escaping the room with a hand held over his face.
"They'll come around," Toph groaned, "It's just so hard to believe---you know, one instant you're here, and one minute later, you'll be gone. No more "Twinkle Toes" no more Avatar. What are we supposed to do without you, Aang?"
"There will still be an Avatar," Aang replied, before hiding the truth by adding, "A child in one of the Water Tribes...or perhaps a Waterbender living in the city---we might not know for quite some time..."
Aang knew that the next Avatar would be the child of Tonraq and Senna, but he didn't want to endanger them in away way by thrusting all of this fame and responsibility on them; the parents would have to learn their child's fate for themselves, and everything will remain in balance that way.
"I don't understand that spiritual junk!" Toph gruffed and pointed a finger to his face in retaliation, "Just---j-just---try not to be such a pushover in the next life, okay, Twinkle Toes?"
Aang almost chuckled and he replied, "Sure Toph, I promise."
She got teary eyed and waved away the air, "Stupid heightened sense of smell----someone must be cooking something---I---need to get some air. Need to see where Lin rushed off to, I'll be---I'll see you la---yeah...." She rushed out.
"Poor Toph," Katara sighed.
"Well, that went well," Aang groaned; coughing in the slightest afterward, which just made his old wife get a look of terror on her face. Aang held back another cough and huffed, "I'm so sorry Katara."
Katara kissed him again and they merely sat there hand in hand before she too broke down and wrapped around her husband tighter. As they sat alone in the dining room, trying to remember that this isn't going to be the end of the world, but some sort of a happy new beginning. The notion was easier thought than felt.
CONFESSION TIME
"Well, Toph and Lin went home, they said they would come by early tomorrow morning and settle things---" Tenzin sighed solemnly. "I suppose even Beifong women have the right to hide their emotions?" he took a seat in the living room and grabbed his head before stating, "I knew something wasn't right. When I was a boy and I encountered that Southern Spirit---you defeated it using the Avatar State, but then you seemed so weak after that. You said that you "slipped on ice" but I always knew that wasn't true; I should have seen the signs."
"You got to see Dad in the Avatar State?" Bumi asked, almost jealously, "Well ain't that something?"
The room went quiet as Aang and Katara sat silently on the sofa with shame; Tenzin was a wreck, and poor Kya was still not back from her leave. So, with a loud gruff, Bumi ripped himself out of the doorway and strutted over to take a seat in the living room, blurting out, "Dad, Mom...I think it was really brave of the two of you, telling us the news like this---and while I disagree, who am I to contradict the Avatar?" he laughed, "Mom always told us, that if we ever back sassed one of you, Avatar Kyoshi would come to punish us---no joshing, that lady still gives me nightmares!" he cleared his throat. "But, the point is, while we're confessing our secrets to the family, I have some I should probably get off my chest---"
"What is it Bumi?" Katara wondered lightly.
Kya eased in and she too took a seat with her brothers on the sofa near her parents. Bumi looked around and he chuckled sourly, "Well, there are a few things. One: Honora and I would steal Sky Bison all the time---like literally ALL THE TIME before we were actually caught doing it. We would literally have races and joy rides all over the planet---like a lot!"
"Noted," Aang coughed, his voice almost in a hesitant and fatherly grumble, "And we forgive you. Keep going..."
"Two: Kya---I would put Prickle Snakes in your Toy Chest when we were growing up---"
"WHAT!?" she exclaimed.
"Kya," Katara eased, "It's open family time, we are all choosing to forgive one another for our mistakes..."
"But Mom, I literally got bitten so many times that I started hissing all of my "S" sounds for an entire week!"
"Kya..." Aang coughed.
"Fine! I forgive you---" she pouted, "Mostly because of all those times I made it look like you wet your pants when showing off for the Acolyte girls---and did you already mention that time we threw fruit pies at the Acolytes and blamed Tenzin?"
"What?" Tenzin choked, "I got grounded for that!"
"Water under the bridge baby bro," Kya teased, adding, "Oh, then there was the time Tenzin and I put your bed in the water and you drifted all the way to Yue Bay before you woke up, Bumi. Or the time Dad let us let all the hog monkeys loose from the zoo so we could ride them---but we had to make their escape look like an accident, do you two remember that!?"
"You let them do what!?" Katara snapped, "When was this?"
Bumi growled, but calmly smiled and sighed, "And I forgive you, big sister...and now that Dad is in the crossfire, Mom has no choice, but to forgive him."
"I suppose," She snarled regrettably.
Bumi clapped once, "Okay, lightning round!" he started confessing everything as fast as he could speak without taking a single breath... "I also am responsible for setting the northern half of the forest on fire that one time, I painted Tenzin Blue when he was a baby, I shot a rock at a Pro-Bender and made him lose the tournament, I kissed Honora behind Zuko's back, I cried for a week when she broke up with me, I secretly adapted a tiny crush on Lin, kissing her that one time after she and Tenzin----"
"Whoa! What!?" Tenzin shouted, accidentally (yet equally purposely) blasting his brother into the wall as he growled to a stand.
Katara gasped and scolded, "Tenzin!"
"Sorry mother..." he slumped in humiliation and ran a hand across his head.
"And I forgive you for that, Bro..." Bumi chuckled dizzily, "Okay, I'm done for now, so someone else can have a go."
For a few awkward minutes, everything was quiet, and then Kya cleared her throat and gathered everyone's attention. "Mom, Daddy," Kya began in a guilty tone, "I have a little confession to make myself.
"You can tell us anything darling," Katara eased sternly, "You know that! You all do."
"Well, it happened a long time ago, back when I was travelling the Earth Kingdom with the Singing Nomads and Lyric. It was the first day we met actually, and it was evening out---the sun was going down, but the moon still out---it was kind of an in between of day and night---"
"We get it Kya!" Bumi sighed, taking back his seat, "You paint a real keen picture sis, but move on!"
"Bumi," Aang scolded, "Be nice to your sister..."
"Go on honey..." Katara motioned.
Kya took a deep breath and fiddled with her hair, continuing, "Lyric and I were attacked that evening, by a wild Boarcupine."
"Goodness!" her mother gasped.
"We were fighting it, but my Waterbending wasn't slowing it down any, and Lyric was knocked unconscious. Before I knew it, the heinous creature turned and charged towards me, and I didn't know what else to do---"
"Kya, I know you hate taking the life of an animal," Aang eased, "I taught you that all life was sacred---"
"Yes dear," Katara interrupted, "But, if a monster is attacking you, it's quite alright to take it down---I'd rather have you than that smelly Boarcupine!"
"No!" she shouted, "No I didn't kill the poor creature---I did something worse---much---much worse..."
The entire family got quiet and Kya rubbed her shoulder before confessing her sin to her parents, "I drove him away with Bloodbending!"
"Kya!" everyone gasped.
"I---I didn't even know you knew how to---K-Katara how could you teach her that!?" Aang pieced.
"I didn't!?" Katara exclaimed, "Kya, who taught you Bloodbending---was it that Yakone? I knew I should have never let that monster near my babies!"
"No, Mom, Dad, I just sort of---well, did it?" Kya halted, "I was all out of ideas, we were in danger, and I knew people could do it---so I just---well---it just happened, and I'm so sorry!"
Kya started crying into her lap and Katara rushed over to her side and wrapped her in a hug, "No! Kya, it's okay, I know---I---" Katara sighed, "Honey, I know exactly how you felt, there was no other way---it was the only possible thing that could save the people you loved...you did nothing wrong sweet heart."
Aang laughed to lighten the mood and said, "Plus, it wasn't even the peak of the full moon, honey---you are certainly one powerful Waterbending Master!"
"No," Kya sobbed, "I broke the law! I deserve to be in prison like all the other Bloodbenders!"
"Well, if that were the case honey," Aang smiled, "Your mother would be in prison---many---many times. She would probably be in there right now in fact..."
"Wh-what!?" Kya sniffed, Bumi and Tenzin also curious.
"What do you mean?" Tenzin started.
"Yeah Pops," Bumi shrugged, "What're you talking about?"
Katara stopped them and also confessed, "When I was a girl, I used Bloodbending on a young Fire Nation General who I thought had killed my mother. Before that I used it on a cruel, devious old woman to keep her from killing your father and your uncle. She was the creator of Bloodbending, the mastermind herself---Hama."
"No way..." Bumi gasped, literally dumbfounded as his jaw hit his heels and the three siblings looked to their mother with looks they had never given her before.
Katara sighed and continued, "I also used Bloodbending to break the arm of a man who thought he could mug the Avatar using his own Bloodbending---and there---there was one instance long ago where your father and I were in such an intense argument---I lost control and I---"
"You Bloodbent Dad!?" Tenzin exclaimed, before regaining his seriousness and clearing his throat. With a tug on his collar, he adjusted himself and added, "I---I mean, Mother, how could you do that?"
"She didn't mean to," Aang coughed, "And we've put it behind us. It wasn't the only time I've felt the sting of your mother's fury---and it probably won't be the last---" He laughed into an old man's wheezing cough and Katara blushed with shame.
After that, Aang continued to confess a few usages of the Avatar State and a few skeletons in the closest involving Yakone and the Council---nothing major, just a few things here and there that he thought his kids should know. Katara admitted to a few things herself---especially one thing in particular to Aang...
"Honey...I've been writing you those fan mail letters for the past ten years..." she admitted.
Aang laughed heartily and looked her in the eyes, "Dear, I realized that the year Yee Huynh had the same handwriting as Hema Lee and also Kya, Bumi, and Tenzin before they were old enough to sign their names on my birthday cards."
"Well then why did you let me keep writing them?" Katara wondered.
"I just wanted to see how long you would do it!" He chuckled warmly, "Who knew you would go out of your way for over ten years!? I saved them all in one of my desks...they make me laugh knowing how much you would do just to make me happy."
Katara smiled at him and he took her hand, kissing it softly before Kya interrupted... "It seems we all had a few things to confess today..." she swallowed.
A light knock in the doorway caught everyone off guard, and the family looked to the door to see Lin Beifong lingering in the hallway.
"Lin?" Tenzin wondered... "I thought you and your mother went home?"
"I made sure she got on the boat alright, but I wanted to apologize for our behavior," she sighed. "Aang, I'm sorry I snapped at you, please, forgive me."
"Come here, Lin," he held his arms wide open. Lin looked with astonishment for only a moment and ran to hug her old friend, the Avatar before taking a seat next to her boyfriend.
"I hope you don't mind, but I overheard what you all were saying earlier about confessions---well, I have one too."
"Lay it on us sweet cheek," Bumi laughed, making Lin snarl at him gruffly for a moment before she took Tenzin's hands and placed them in her lap.
"Tenzin---I have to tell you something that has been clawing away at me for years."
"Anything Lin..." he smirked, brushing tenderly past her cheek.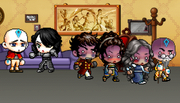 "Tenzin---" Lin swallowed hard, and practically shouted at him, "I DO NOT WANT A FAMILY!" The room was painfully quiet and Lin stood up and place a fist to her face in distress, continuing, "I---I really, really don't---I never did, I never wanted to be the mother that you so desperately needed me to be---I can't do it---I never will! And, I was afraid to tell you because I was afraid you wouldn't want to be with me anymore..."
Bumi whistled gingerly, and clapped his way out of the room, followed close by the rest of the family that all had looks of pure discomfort on their faces.
Tenzin rose and with a look of pure agony, grabbed onto Lin's shoulder, "You've made up your mind?"
"Yes," she frowned sorrowfully, "I---I understand---whatever you plan to do next---I understand."
Lin had one tear escape her eye and Tenzin watched as the water slid against her scar. He touched it with his thumb and rubbed her sorrow away before reaching in and giving her a very delicate kiss.
Lin pulled away and shouted, "What's the matter with you!? I just told you that I can't save your nation---Airbenders---I will never be able to give you the family you wanted!"
"And, right now---" Tenzin sighed, "I can only appreciate that you were honest enough to tell me."
"B-But---"
Lin started to protest, but Tenzin hushed her and added, "Look Lin, you will always be my best friend no matter where our lives take us, and for now---if that means compromising my dreams for yours---so be it, I can wait."
"I'm not asking you to wait!" Lin sighed, pulling away from his gentle hold, "I'm telling you that it will never come."
He grinned at her, "Ah, but as the stray leaf in the wind, one can never truly tell their fate, so long as they continue changing and moving forward to their destination."
"Meaning?" She gruffed.
"Our fates are not set in stone, they are drifting all around us, each and every day---and one day perhaps, we can drift off into another place we never expected to be before."
"So, you're just going to stay with me?" Lin cried, "Even though you will never fulfill your purpose---even though it means sacrificing your happiness!?"
"You are my happiness, Lin!" he stressed, "And right now, I'll float beside you, wherever you decide to fall."
Lin smiled and teared up before kissing Tenzin passionately as Bumi make Oogie noises in the distance.
The strong officer chuckled and wiped away her tears before punching her boyfriend gruffly in the arm and stating, "So, I told you my little confession, what's your big secret? I know you have at least one."
Tenzin's face practically turned purple and he stuttered, "It isn't important..."
"Tell me---" she nudged playfully.
"He---" Bumi started but Tenzin shot him away in a gust of wind and he inched nervously out of the room, saying swiftly, "Last Christmas I kissed Pema under some Mistletoe---it was no big deal!"
"What!?" Lin exploded, slicing the doorway in pieces as Tenzin Air Wheeled away post haste. Lin chased after him bellowing, "ARE YOU INSANE!? SHE'S HALF YOUR AGE!? HOW COULD YOU!? THAT LITTLE BRAT! NO NEED TO WORRY ABOUT THAT FAMILY PROBLEM TENZIN, I'M ABOUT TO TAKE CARE OF IT FOR GOOD!"
"Haha!" Bumi laughed, "Tenzin, you are so whipped!"
"LIKE I DIDN'T FORGET ABOUT WHAT YOU TOLD EVERYONE BACK THERE!?" Lin screeched, glass breaking and shattering furniture exploding in the distance, "COME HERE COMMANDER, I GOT A SPECIAL SECRET I WANT TO SHARE ON YOU!"
"Young love..." Aang sighed. Katara grabbed his shoulder and he took her hand giving off a weak little smile, "I love you Katara..."
With tears in her eyes, his old wife grabbed tighter onto his hand and cried, "I love you more---and I'll cherish this moment forever."
"As will I my beautiful forever girl," Aang teared slightly, "always and forever."
Fanon Trivia
Note: Old Sokka and Suki are the perfect bickering old couple!
Hawky is seen in the illustrations, making him over 50 years old, or a descendent of Sokka's original messenger hawk.
The fact that Katara can sense baby stuff could be because of many things, but according to Aang, it is because some of Aunt Wu's fortune telling rubbed off on her due to her many visits in the ATLA episode "The Fortuneteller".
The last time Aang met Tonraq and had that weird Avatar Reaction to one of his family members, was back in Year 32.
There has yet to be an instance where more than one Avatar has appeared before Aang in one simultaneous instance.
The Past Avatars have been researching this issue of Aang's ever since he asked them about Senna's baby a few weeks prior. Only now, did the Avatars truly come up with an explanation for the multiple problems that Aang had been having these last few years.
The Avatars (in most instances) get to know if their time of end is closing in---if their death is spontaneous, then not so much... In Aang's case, he is getting sicker and weaker and it does not take a genius to guess that his fate is drawing close.
Needless to say that the rest of the family did not take Aang's news all that well.
The image in Aang and Katara's living room is a famous sketch to honor their victory in the Hundred Year War as children. It was made for them a few years back, and took a great impact on Tenzin whenever his father told him stories next to it as a boy.
This is the first Bumi has confessed that he had a minor crush on Lin Beifong back in Year 45. It is also the first he has confessed to countless other pranks and accidents that he's committed throughout the years.
To everyone else's awkwardness...This is also the day that Lin confessed to Tenzin that she NEVER wants to have a large family, mainly children.
See more
For the collective works of the author, go here.
Ad blocker interference detected!
Wikia is a free-to-use site that makes money from advertising. We have a modified experience for viewers using ad blockers

Wikia is not accessible if you've made further modifications. Remove the custom ad blocker rule(s) and the page will load as expected.