Charles Ksana
Biographical information
Nickname

Xerath

Nationality

Polish

Age

12

Born

1997

Physical description
Gender

male

Personal information
Weapon of choice

rifle, pistol, lightsaber, Bending

Bending style(s)
Abilities

Super fast speed (former)

Chronological and political information
Profession

Archprince of the Kazelians

Affiliation

Kazelians, Kazelia

Masters

Lord Xarloman
|apprentices = |family = Lord Xarloman|Xarloman}}, Fearden |allies = Ulrich, Kazelians, Kazelia, more... |enemies = Jake, Alexandra, Adam, Jeremy, Daria, Chris, Aang, Waldo, Rzeczpospolita, Xiaons, more... |bounty = |appearance = |voice = }}Xerath - (born as Charles Ksana) is main antagonist in Xiaons: First War, powerful Lightbender, Archprince of Kazelians.
History
He is the son of Lord Xarloman. He was born in 2000. He immediately became the prince of the Kazelians along with twin brother Alan. After his father's death was the Kazelian archprince. Until the war he participated in numerous missions and provocations of the Kazelians. The war broke out. In Szczecin Dąbie Lake duels with Chris and died from drowning left the ship. He survived. But the next day Adam fell on him from heaven. Xerath lost consciousness. Odd decided to get rid of Xerath. In Galowo came to duel Jake with Xerath. Xerath defeat.
Personality
Xerath is an intelligent man, although slowly learns. Apparently, years ahead of his knowledge. It is aggressive. It is easy to bring him in anger. He hates everything that moves, except Fearden.
Abilities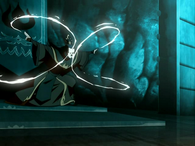 Xerath is stronger and smarter than Fearden. Often, he advises. It is still Lightbender level 3. He can not pretend, and slowly learns.
Relavities
Alan Ksana (twin brother)
Lord Xarloman}} (father)
Appearances
Part 1: Revolution

Part 2: Journey to the Capitals
See more
For the collective works of the author, go here.