Vemon is warlord of the Symbiote Empire.
Venom
Biographical information
Nickname
Nationality

Symbiote

Ethnicity

Symbiote

Birth place

Planet Symbria

Residence

Zaragoza City

Age

40

Physical description
Gender

Male

Skin color

Black

Skin type

Slime

Eye color

White

Personal information
Weapon of choice

Himself

Abilities

Stretch Arms

Allies

Symbiote Empire

Enemies

Makluan Empire, The Avengers

Chronological and political information
Position

Ruler of the Symbiote Empire

Affiliation

Symbiote Empire

First appearance

Cruel Sea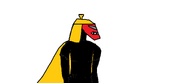 History
He's born in the second largest city of Planet Symbria, Zaragoza. When he becomes an adult he decides to challenge for the position as Warlord of Symbiote Empire. When he had more voices, he officially won. His era of being as ruler of is peaceful until the Makluan Empire are come to conquer. When the war started, he becomes more aggressive, tougher and very cruel one.
Personality
At start, Venom is a good one. But when the Makluan Empire start the war with his empire, the war eat much of him. He is now very aggressive, very tuff and very cruel ruler.
Abilities
Stretch Arms
Like other Symbiotes that bodies are made of slimes, they can stretch their arms into the distance.
Combat
He is a master of fighting hand-to-hand combat for the Symbiote.
Laser Sword
His main weapon is laser sword that he's keeping in his stomach. When he wants to use it, his tongue will grab it out from his stomach and give it into his hand.
Trivia
His personality is base from the real-life person, Hernan Cortes.
Unlike the most of his race, his name is not Arabic.
Unlike in the Marvel Comics, his skin is not black but red instead.
Despite his aggressive being, he still has one good thing within himself, being honest.

He never lies to his soldier.
See more
For the collective works of the author, go here.
Ad blocker interference detected!
Wikia is a free-to-use site that makes money from advertising. We have a modified experience for viewers using ad blockers

Wikia is not accessible if you've made further modifications. Remove the custom ad blocker rule(s) and the page will load as expected.