Juji's fine. He comes back to life in the end when the doomsday device shifts the polarity of the Earth. Oops. Spoiler. Sorry.

Warning! This page contains spoilers for The Final Avatar.
"By order of the Earth King, I must execute you. Though I can give you a choice. You can choose a painful death, or, an even more painful death!"

— Voe, threatening Zaru in Zaru Emerges
Voe
Biographical information
Nationality
Age

34

Physical description
Gender

Male

Hair color

Brown

Eye color

Brown

Personal information
Weapon of choice

Poison Knives made of Crystal

Fighting style(s)
Allies
Enemies
Chronological and political information
Profession

Soldier

Position

Head general of the Earth Kingdom army

Affiliation

Earth Kingdom,
Boli

First appearance
Voe was the head general of the Earth Kingdom army, second in command only to the Earth King. He was relieved of his position after he was captured.
History
Early Life
Voe was born into an upper class Earth Kingdom family. His family was very rich, which drew Boli's attention. Voe eventually lost all of his money, and joined the Earth Kingdom Army.
Zaru
After Avatar Zaru was announced, Voe promised to go after him. He attacked his home, killed Zaru's father, kidnapped Zaru's uncle (though he meant to catch Zaru), and ambushed him repeatedly.
Voe fought during the Battle of Omashu. He immediately found Zaru, and attacked him. Zaru and Voe fought for half of the short battle. Voe was eventually defeated while Zaru was in the Avatar State. He fled when he regained consciousness. This angered Boli, and almost lost Voe his job.
Voe was to be put on a test to see if he truly was good enough to be the leader of the military. He was to lead the Earth Kingdom army in an attack on the Fire Nation. Voe was able to dock his ships, and lead a successful attack, but then Zaru and Patola arrived and defeated him. He was arrested and relived from his position by Boli.
Personality
Voe is just what would be expected of an evil military leader. Harsh, insulting, and just plain mean.
Powers and abilities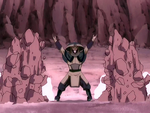 Voe is an extremely powerful Earthbender. This is why he holds such a high rank.
Appearances
See more
For the collective works of the author, go here.
The Final Avatar Characters
Main Protagonists
Zaru, Erus, Paal, Heesu Saro, Stroe Vintrel, Patola, Draco
Main Antagonists
Boli, Voe, Toks, Fiery Guy, Cholu, Rose, Azap, Gios
Minor Protagonists
Greef, Kyoh, Terra, Aang, Ajoke
Groups
Team Avatar, Kyoshi Warriors, Stone Soldiers, Lightningbenders, Yu Yan Archers, Dai Li
Ad blocker interference detected!
Wikia is a free-to-use site that makes money from advertising. We have a modified experience for viewers using ad blockers

Wikia is not accessible if you've made further modifications. Remove the custom ad blocker rule(s) and the page will load as expected.