Ulrich Knoten
Biographical information
Nationality

German

Birth place

Frankfurt

Age

14

Born

January 23, 1995

Physical description
Gender

male

Personal information
Weapon of choice

Rifle, pistol, lightsaber, Bending

Bending style(s)
Allies
Enemies

Adam, Jake, Daria, Alexa, Jeremy, Chris, Gracjan, Stowejko, Aang, Waldo, David, Hairpin, Hearty, Rzeczpospolita, Xiaons, more...

Chronological and political information
Profession

Xiao Knight (former)
General Xiao (former)
2nd supreme commander Xiaons (former)
Kazel General

Affiliation

Kazelians, Kazelia

Masters

Xarloman
Alexandra Scheaffer

First appearance

The End of preparations
Ulrich Knoten - is one of main protagonist in Xiaons: Young Knights}}, former antihero (Beginning of treason), now antagonist, Lightbender, Officer of Kazelians.
History
Xiao Knights
He was born on January 23, 1995 in Frankfurt. As a child kidnapped by the Kazelians escaped with Alexa and was commander of the traffic Xiao Knights. At one time he was replaced by Jake, who maintained the position of commander. He fought with Kazelians.
First Xiaons War
He was one of the most important people early in the war. He was the second most important person in Xiao Army. When he learned that the girlfriend betrays him with Adam decided to kill the once best friend. He sent to him by Fearden. He also said Alexandra, where to look for Jake when he was in Greater Poland. Ulrich attacked and conquered Łobez. Later he moved to Berlin.
Personality
Ulrich is a guy who likes to have fun. Something like that for him is the time training with his girlfriend. His girlfriend is Yumi. Ulrich likes football. In English version he named Chris "Christopher Robin". His character was modeled on character of Code Lyoko.
Abilities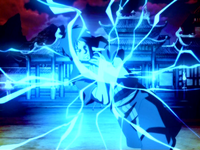 He's Lightbender level 3. He is excellent in fencing, judo and karate. He is very fast. Apparently the fastest Xiaon.
Relatives
Appearances
Part 1: Revolution

Part 2: Journey to the Capitals
See more
For the collective works of the author, go here.
Ad blocker interference detected!
Wikia is a free-to-use site that makes money from advertising. We have a modified experience for viewers using ad blockers

Wikia is not accessible if you've made further modifications. Remove the custom ad blocker rule(s) and the page will load as expected.