Ty Lee and Mai
Chapter information
Series
Chapter

2

Written by
Release date

April 23, 2013

Chronology
Last chapter
Next chapter
"Mai?" I asked.
"Hi, Katara." Mai replied.
"Who's there?" I asked.
"Hi!" Ty Lee excitedly exclaimed.
"Ty Lee!? Don't ever dare to chi-block me again!" I cried.
"Don't worry, Katara," Mai said calmly.
"Fine," I said.
"You see Aang around?" I asked.
"No," Mai said.
"But we saw Momo!" Ty Lee excitedly said, "He was heading north!"
"Thanks!" I said.
"We're coming," Ty Lee said again.
"There are a lot of benders. We'll help you," Mai said.
"Fine," I replied.
We stayed for a night. We ate dinner and rested.
"Let's go!" Mai said.
"Yeah!" Ty Lee replied.

We all went to the north. We saw benders. We fought them. Ty Lee chi-blocked them, Mai distracted the benders and attacked them. While I attacked them with my waterbending. We all defeated them.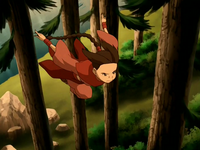 "Well, Katara, we have to leave. Keep heading north and you'll see a waterfall. Rest there!" Ty Lee said.

I went to the north..

I heard a voice similar to Momo's.
"Momo!" I screamed
Momo came to me.
"Where's Aang?" I asked.
See more
For the collective works of the author, go here.
Ad blocker interference detected!
Wikia is a free-to-use site that makes money from advertising. We have a modified experience for viewers using ad blockers

Wikia is not accessible if you've made further modifications. Remove the custom ad blocker rule(s) and the page will load as expected.