The Southern Prince
Chapter information
Series
Book

1

Chapter

1

Written by
Editor(s)
Chronology
Last chapter

first chapter

Next chapter
The Southern Prince is the first chapter in The Phoenix Chronicles, Book 1. This Fanon is written by The Avatar.
Plot
Mian never liked Ba Sing Se. It was always so crowded and everywhere he went people recognized him which was another pain. So, he would scurry through the crowds to get to the palace.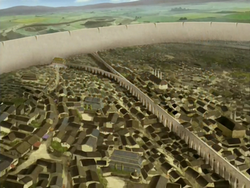 His father was staying there, he was a guest here of the Earth King. Supposedly his grandfather had saved the previous Earth King's life or something like that. He stopped by at the market, and took a look around. Ah! There they were. He got out a small sack, and began to look. Cucumbers...check! Pickles...no...not here...ah, there we go. Bread? Yep. Tomatoes? Yep...wait...he took out the tomatoes from his sack of vegetables and took some cleaner looking ones instead. The Royal Cook has requested them for his soup.
"Hey! It's the Avatar!" Yelled someone in the crowd. Mian hesitated, hoping it was someone else the person had pointed to. Then he saw the people moving towards him. He immediately began to run. All they ever wanted was autographs, or to seem him bend. Always. It got tiring.
As he entered the palace his dad walked up to him. "Ah, did you get them?" Seeing the vegetables, he nodded and took them. "I think Tia's in the gardens, practicing earthbending. Maybe, you should try to?"
Mian knew it wasn't a request. It was an order. He didn't even try to protest, his dad would simply say "I want you to learn earthbending so that you can blah blah peace blah blah world blah blah tranquility." It got tiring.
So, Mian walked into the gardens where Princess Tia was waiting. It was their daily lessons. Her Master was showing her how to stand firm, like a rock. Sometimes it was so annoying being the Avatar, you had to learn all of the elements and had to practice every day. Sometimes, Mian just wished he could be like those kids in the City. Not have a care in the world, and play rock soccer all day. That would be simply, amazing. He was brought back to his senses, when a rock hit him in the face.
"Are you Okay?" asked Tia.
"Yeah, the ice helped...thanks," replied Mian.
"You know its so hot up here in Ba Sing Se."
"Well, that's because..." began Mian.
"I know why...it's hot Mian...I was just pointing it out..." interrupted Tia.
"Then why did you even say it?" he asked, it was fun to see her get angry sometimes.
"Because...well...because I can! Hmmph! That will show you to mess with me, anyways how's it down at the Water Tribe?" She asked.
"First off, that didn't make sense. Second, don't change the subject. And third, it's fine." He replied in a matter-of-fact way.
"Well...I heard...that there were some new shoes at the Grand Ocean Mall...and, well they're only available in the Water Tribes..." She dropped the sentence, hoping he would catch on.
"You want me to get you those new shoes?" He asked, surprised, Tia would never let anyone shop for her before.
"What? No! Why...Why in the world would I ever...ever do that? No, I want to come down there...I'm sure you're airship has some extra beds right?" She asked, more to the point this time.
Mian grinned he knew it would never happen. Tia always chose out her own shoes. "Sure, I'll ask my dad."
"Oh and by the way your Earthbending could use some serious work" That was typical Tia, insults a plenty. The other day she told the guards that they had to place bags over their heads for being "too weird, gross, and sweat". Though rude, she always meant well.
"Yeah, thanks, that makes me want to keep practicing...maybe we don't have that extra bed...I don't know" responded Mian, taunting here.
"I didn't mean it that way, and I know that you have one, I've seen it!" reasoned Tia.
"I know, forget it and yeah, I will ask my dad," said Mian, laughing. Mian and Tia were up in Tia's chamber drinking some juice. Mian sometimes liked it here more than home. He liked it better when him and Tia just hung out. It was very cold there, anyways.
---

So, it was decided, Tia would be coming down to the South Pole along with Mian and his dad. As they boarded the Civilian Airship, Tia gave her dad one last hug.
"So, did you get your tooth brush, honey?" He asked.
Tia sighed, he was always like this. Even though he was the Earth King. "Yes, dad, yes. Now, can I go...?"
"Fine...fine...I suppose you can. Mizurai take good care of here, alright?" He told the Southern Water Tribe chief.
"Yeah, yeah. I'll give her some cat food. She'll be fine." Joked the Chief.
But, the Earth Kingdom Royalty seemed shocked. As they saw the father and son grinning, their surprise turned into anger, then laughter. Tia then boarded the ship, the metal felt different then the earth. As the ship started to fly, she suddenly felt scared. An earthbender's worse nightmare, to not be on the Earth.
Immediately, she demanded some ice water and went to rest hoping to quell her anxiety. She woke up several hours later and began looking for Mian. She found him drawing some clouds in his journal. She told him to place it down and began asking him questions.
"So...how is that Tribe of yours, eh?" asked the princess.
"Pretty good, our economy's been a lot better...but we are having some tense relations with..." answered Mian.
"I don't care about politics...tell me what it looks like and the malls of course," interrupted the princess.
"Right. Well, the city looks like Ba Sing Se...sort of. It has a large outer wall, full of houses and tents. I guess it looks more like the Northern Water Tribe. Anyway, inside there are canals, temples, shrines, and all that good stuff," said Mian.
"Malls?" persisted Tia.
"Yeah, I've heard Lady Katara's is pretty great..." he replied.
"Okay...Lady Katara's first they have great jewelry and shoes, so do you think the Grand Ocean Mall has the shoes?" she asked, worried.
"Yeah, yeah, whatever. I mean they're just..." He stopped, he knew that would infuriate the girl.
"They're just...what?" she asked in a pleasant and naive voice.
"They're just...open...for you. yeah...that's right," said Mian, saving himself from her rage.
Tia nodded, approvingly. She suddenly felt airsick, and decided some rest was good, and went back to sleep.
"HEY! TIA, WAKE UP! WAKE UP!" yelled Mian.
"Wha? Who?...oh, we're here," she said looking out the window.
"Man, those herbs just knock you out, eh?" grinned Mian.
"A princess always, needs her beauty sleep," she said, and went to the bathroom to "freshen up."

As the airship landed in the docking area, Tia got out and went straight back, for she forgot her furs. She didn't wait for Mian, and was already heading for Main Street. Soon, she had dragged Mian to Lady Katara's and the Grand Ocean Mall where they were looking at the latest trends in blubber ware and shoes. After buying, almost the whole store, she handed it all of to Mian and went to the palace. As Mian caught up, he heard her talking to the front gate guards.
"Yes, ma'm. There are visitors inside" Said the Guard on the left.
"Who?" Asked an exhausted Mian.
"They have request to remain anonymous to surprise you," replied the other Guard.
"Sorta ruined the surprise, there" Pointed out Tia.
"Oh, right. Oops, ah, yes...well," said the Guard, hesitating. He then got up to move the gates, hoping to stop the embarrassment in front of the future world leaders. He did need a raise, and maybe even a promotion after all.

It was Crown Prince Zura of the Fire Nation and Ami of the Air Nomads. The duo explained how they came down, after hearing the other two would be here, too. All four were related to original Team Avatar some way and were known as the second generation of the team.
"And, anyways. We couldn't let you guys have all the fun" winked Zura
"Yeah, I thought we could go walrus tipping...EEEEEH! Are those the new shoes from Grand Ocean?" she asked, forgetting all about tipping walruses.
"yes, they are!! Want a look?" asked Tia, and the girls started too look through the dozens of bags.
"For the record, I wanted to go walrus tipping, too..." Zura said.
As they were all talking, they heard that a special envoy had arrived outside. Curious, they looked out to see a large ship with the phoenix island flag waving above.
Trivia
This chapter, was one of the shorter ones in the series, it was later expanded.
All the main characters were originally male, and had "our world names". This was all changed, later.
See more
For the collective works of the author, go here.
Ad blocker interference detected!
Wikia is a free-to-use site that makes money from advertising. We have a modified experience for viewers using ad blockers

Wikia is not accessible if you've made further modifications. Remove the custom ad blocker rule(s) and the page will load as expected.