AcerEvan/Fanon
Talk

0
8,330pages on
this wiki
The Revenge
Chapter information
Series
Chapter

7

Written by
Editor(s)
Release date

August 11, 2012

Chronology
Last chapter
Next chapter

"Inheritance"
Previously on The Chronicles of Avatar

Edit

"Eight years had passed, and my mother had nowhere to be seen. Me and my brother raging on the problematical woods, rally around with the Freedom Fighters. Mother, where are you?!"
— Jim
Overview
Edit
''Raging on the demanding Ba Sing Se, a tough earthbender ought to lives and lies at the City of Twists and Lies.''
8 years ago...
Ba Sing Se
Edit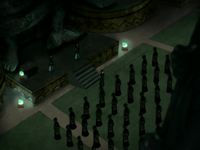 A bird chirping around the upper ring estate, flying through the flowing winds beyond the water. The clouds moving awkwardly toward the east, hailing the golden sun. Outside the beautiful city, behind the mysterious water, in a deeper tunnel of darkness, dozens of women stood at a cave, holding a blank memory of the past. "There is no war in Ba Sing Se," A cold, tall, dark man shouted aloud.
"THERE IS NO WAR IN BA SING SE," A rapidly voices of fellow louded.
Within the chamber, in a darker room, a man glared at a chair, unwillingly tied a woman on the chair. "There is no war within the walls," The man whispered. His body cold. Without any expression, his throat loud a sound, "There is no war within the walls,"
"Put me out! Someone please help me!" She screamed, trying to escape. She unconsciously has been silenced. "THERE IS NO WAR WITHIN THE WALLS,"
"Here, we are safe,"
"HERE, WE ARE SAFE,"
Long Feng emerged from the dark tunnel, walking toward the chamber. "Good, my boy. Good. Yuhan, follow me!" He murmured, storming in immediately.
"Yes, Sir,"
Within the cold chamber, beyond the walls, Long Feng rushed to a dark room, full of books. Holding a list of names, he ceased at the end of the room. Yuhan grabbed nervously at the folds of his golden coat, his dark green eyes flickering with stress for the briefest moment. Behind the emerald colored sleeves, a brave and faithful heart hung over Yuhan's soul. Despite being the peace orator, he could not stand up against the devious old man through an hour. The cold dreadful room turning to a light yellow, irradiate from a glowing fire. "You have sworn to be obedience to me, to the city!"
"Yes, Sir,"
"Just what do you think you're doing? These people are going to obedience to me, not much not less!" Long Feng glared at the agent, urging him to say yes.
"Yes, Sir,"
"Good. Now, back to your room! Finish the last Joo Dee,"
⁂
Pao Family Tea House
Edit
The sun headed to the brightly blue sky, warming the day on Ba Sing Se. The people from Lower Ring had exhausted, looking for a squeeze of water. The warm sun evaporating the rivers, lake, and the whole summer breeze. Pao family have got a lot of jobs during the breakable day, which people are looking for a succulent water.
"Sixty coins, please,"
"Sixty? What are you thinking about? A glass of lame tea that you give sixty coins for the cost?"
"Sixty or nothing," Pao wisely answered, smiling at his customer. "Thank you,"
Behind the wall, a women stood on the kitchen, washing the dishes and turn on the water. She is old, with long grey hair hung over her head. A pale tunic covers her body, and a pair of shoes are luckily protect her foots from the hard ground. She has two bright green eyes, glowing like a star on the night. Her beauty on the young could not erased from her faces, expressing a round face with tenderness cheek.
"Mei Li, bring me a kettle of tea! Hurry!" Pao's wife yelled, calling her servant-and-friend to serve the guests.
Within the rustic hut, suddenly an earth column raised from the ground, smashing a table of tea. Mei Li promptly jumped in, waving her hands toward the earthbenders outside. Her chi moving rushly, producing seven earth spikes. The men outside stepped forward through the civilians outside. Ready to obstructs the earthbender outside, Mei Li using earth shield by punching her hand to the ground. The customers inside the tea house rapidly ran toward the doors, but suddenly two Dai Li agents thumping the door. "Where's Mei Li?"
All customers gazed at Mei Li, pointing the woman. They swallowing a gulp, barely managed to mutter, "I'm sorry, Mei Li," A snarl started forming on the peeved leader's face.
A Dai Li agent threw his rock glove toward the old woman. Her expression went blank, and her arrest happened so fast. She could not recognize what happened.
⁂
Lake Laogai
Edit
Back at the dark chamber, a light of green emerald shone throughout the tunnel. A flashlight of lamp illuminating the whole chamber, where a crowd of people stood up. "There is no war in Ba Sing Se,"
"THERE IS NO WAR IN BA SING SE,"
"Here, we are safe," a man shouted audibly, followed by the people.
"HERE, WE ARE SAFE,"
***
Mei Li awoke to a smell of dipping water, opened her eyes and saw a Dai Li agent, Yuhan. His lime green eyes shone like an emerald, reflect a gentle man inside his soul. "Who are you?" Mei Li gazed at Yuhan, raise her body to sit on her bed.
"I'm Yuhan. A Dai Li agent," He replied softly, unwilling to help the old woman for stand up.
"Where... are w-we?" She sputtered, looking back at the roofline. Yuhan's warm hands melting the cold room itself.
"Honestly, it's a secret but..,"
"But what?" She wondered, staring at him.
"Upon this chamber, there is a wide lake. Lake Laogai. This place are a secret chamber of Dai Li agents, for brain-" Yuhan suddenly stopped. His expression went blank, signing a frightened face with worry and fear. The green sleeves thoroughly shuddered, alarm a dread from his heart. "I'm sorry.. But I went too far with you-"
Unexpectedly, within the dark sight of chamber, an old man stood in front of them both. The Dai Li agent went to a great panic. He clapped his hands, "Well, glad you know each other," His smile inform a great sly from his true heart, his eyes send a scornful contact, and his hands are waving. "Yuhan,"
"I'm sorry, Sir. I promise I would not, ever, do this again-" He trembled. His eyes could not saw his master, still trembling throughout his body.
"ENOUGH, YUHAN! ENOUGH! Yuhan, I have give you chances to restore your honor, but you lose them easily. Yuhan, this is your last chance. I will send you to... Crystal Catacomb. Forever,"
"Please, don't-"
Mei Li could not saw them clearly, within the dark chamber. The woman put her feet on the ground, quietly take a deep breathe. Felt the ground, using her feet, she directly opened her chi through the feet, "looking" at the earthbenders. Using her chi, she saw the old man, felt the heart rates, quietly scanning the man, clearly.
"I couldn't give you any CHANCE for you again," He stopped, grab Yuhan's arms outside the chamber. Mei Li sat on the ground, leaped and ran after them. She alacrity her feet, trying to avoid any voices.
⁂
Ba Sing Se
Edit
The starlight illuminated the ground, penetrate the horizon to the city. During the full moon, Ba Sing Se citizens slept over the night, and the Dai Li agent locked on the secret old city, the Crystal Catacombs. Sensed the old man already out, she whisked her hand through the ground. The earth cracked, open a tunnel with dark in it. Mei Li gazed, moving her legs toward the tunnel. Without any dim, she entered the tunnel softly. Through the dark, deep, and risk tunnel, Mei Li fondled the wall. Her feet saw a long tunnel await, with a great green cave in the end. Her chi once again saw the tunnel, felt like a blind person.
In the end of the tunnel, Mei Li opened her eyes, saw a great catacombs full filled with a great amount of crystal. The bright crystals shining throughout the catacombs, reflected on the wide river embracing the green catacombs, with a sleeved man stood alone.
"Yuhan?"
The man turned, stared at Mei Li uncomfortably. His smile informs a sly person, with a moustache hung over his face. "Glad to see you again, Mei Li,"
How he could knew my name?
Who's he?
"Who... Who are you? How you could-"
"I am Long Feng, the grand secretariat of Ba Sing Se. You're Mei Li, a refugee from Gaipan who's seeking for a better life..,"
"How do you know?" Mei Li walking toward Long Feng, glares at him with a deeply eye contact.
Long Feng came forward, walking through the stairs. "It's not important, my girl!" Suddenly he waving his hands, threw two giants rock gloves toward the young lady. Mei Li sprung to the right, easily defend herself from the gloves. She directly ran toward Long Feng, leaped on, utilize her chi to confronts the old green-sleeved man. Mei Li brought her hands to the air, and then quickly swiped down to the ground. A huge solid rock slammed onto the old earthbender, smashing him to the dirt. She could hear the sickening crunch as his bones broke.
"Well, looks like I have another... Rebel!" He stood up, leaped on the air. Long Feng jumped forward and crouched to the ground, punching out his fists and unleashing a dozen of rock gloves. Reacting quickly, Mei Li curled her arms around her body and dozens of crystal wrapped around her. The shield of crystal deflected the rock gloves and saved Mei Li from being destroyed to a crisp.
Suddenly, Yuhan entered the duel by raised his hands, punishing the old man with a direct attack from the ground. Yuhan smashed his feet to the floor, attract ten rock walls toward Long Feng. The sly old man defended himself with ease, gathers a solid pack of stalactites around his body.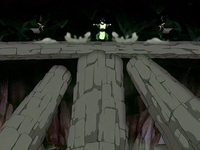 Suddenly, five jets of rock flee towards Yuhan. Yuhan ducked under two and deflected the other three with Mei Li's shield of thick, thick rock. She rolled around her shield and pounded on the ground, shooting both her hands out. Spikes reached out of the ground and the spikes soared down, snatching up Long Feng. However, the old earthbender leapt over them and shot three tough rock at Yuhan and Mei Li.
Mei Li again deflected them with her shield. He groaned loudly, obviously wanting to get his mission over with. But Yuhan, had similar thoughts in mind. He wanted to destroy his master, Long Feng. Quickly, he jumped over Mei Li and sliced his hands outwards. Ten gravel zipped towards the sly old guy.
While he was attacking, Yuhan failed to notice a crystal cackling towards him. One minute, he was fine, and the next minute his blood was squirted terribly. "Ahh!" he screamed, collapsing to the ground and holding his leg. He looked down and saw the bloods. It was turning a nasty color and he felt sick. But he had to defend Mei Li.
Recovering rapidly, Yuhan twirled his hands softly and watched as the of a massive rock smashing Long Feng, pulling him off of the ground and bringing him right up to the peak of the catacomb. Mei Li smiled, leapt behind a crystal, covering herself and sit.
Long Feng laughed loudly and slyly. "You are powerful, you are," he proclaimed. "And you won, too. Glad to see my apprentice learnt well," he added giddily. "But I'm sorry, I am your master!" he yelled.
In response, a huge explosion blasted apart some crystal and more Dai Li agents, tens more, stumbled into the catacomb, ready to attack. Mei Li's feet widened in fear and she closed her eyes, watching by her feet as the Dai Li agents sent jets of rock gloves into Yuhan.
Emerging from the crystal, Mei Li took a deep breathe, leapt toward Yuhan. Her body could not resists any attacks more, she quickly took Yuhan to a hole. She sent them a giant massive boulder, ease her and Yuhan to escape. The Dai Li agents ready to attack, but Long Feng kept them to silence, let the twos to leave.
"Let them go. They would be a great announcer of the power of me! Power of Ba Sing Se!"
⁂
Agrarian Zone
Edit
Mei Li ran, using her rest of energy to bring Yuhan outside the city. Reach the inner wall, she punched her hands and create a massive hole, let her and Yuhan to escape. Her rest of chi used to create a long earth wave, until they have go far enough from the City of Twists and Lies.
"Here, we are save. We will be fine," Mei Li promised to the fainted Yuhan, placed him on the floor. She tumbled, closes her eyes.
***
The blue skylight dimmed on the night and Yuhan with Mei Li still slept over the day. Yuhan barely able to opens his eyes, but he trying to. His eyes slowly opened, looking at the blank dark green land without anything except himself and Mei Li.
Mei Li gazed at Yuhan, is trying to sit beside her. "You're awake,"
"How... How you could help me?" Yuhan wondered, half-sleep. "You found me on the catacomb. How you could see at the dark?"
Mei Li touched her feet gently, "I use my feet to see in the dark. To feel a danger and love from people,"
"Love?"
"The heart rate. I could feel your heart rate, and the truth. If you're lying, your heart rate will constantly tapping. But, thus far you told me the truth,"
"What I should call your ability?"
"It's called seismic sense," she settled.
Author's note
Edit
Whoo hoo! I thought I was never be able to finish this! >_< Sorry for the late release, folks! Hope you like it!
Honestly, I would like to credit this chapter to Henryjh98 and Minnichi; I collect several twists from their ideas-well, kind of. I planned Mei Li to be a crsytalbender, but I think it's be better if the story twisting on a seismic-sensor. Thank you so muach, Minnichi-98!
See more
For the collective works of the author, go here.