Zuko

, something happened to The Forgotten Warrior in the last hundred years.

This fanon has been discontinued, but is still available to read for your enjoyment.
"Kyza, cannot be tamed in the usual ways of Archery and Firebending,

but all stand in awe at the natural beauty of her own tactics''"

— Rhea in "Wild Flower".
The Forgotten Warrior


I am Kyza, Wild Flower of the Fire Nation, and I never lose

General information
Genre

Adventure

Rating

PG

Creator(s)
Chapters

Six published

Country/Language

English

Production
Writer(s)
Editor(s)
Chronology
Related
Plot
So the fanon follows the story of a girl, Kyza, who loves two things. Archery and fire. She has lived in the Fire Nation capital as a teenager just a few short years after crown prince Zuko is banished to search for the Avatar, Kyza learns to Firebend from one of the best Firebenders in the nation. Also she practices archery everyday with Rhea, a retired Yu Yan Archer. With a promising future and a burning will to succeed beyond all others, Kyza's talent spreads like wild fire. Adventures unfold and take flight when the Fire Lord takes interest in this "Wild Flower".
Characters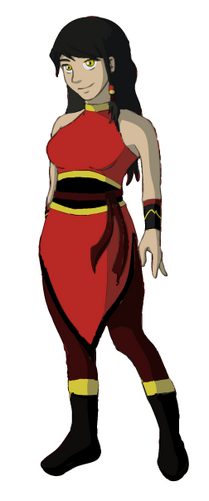 Kyza
Rhea
Regis
Fire Lord Ozai
Izo
Zito
Zuko
Iroh
Zhao
Suki
Dakkota
Denni
More characters will appear as the story evolves.
Chapters
Book One: Loyalty
Author's Note
I love a lot of different things whether its a movie, book, fanon, song, or TV series, so I like to put little tidbits in my stories you won't see "direct quotes" but similarities. Also I'm sorry if I take FOREVER to get a chapter, I have a weird computer, so just bear with me and I will whip 'em out as soon as I can. Please Comment and enjoy!
See more
For the collective works of the author, go here.
Ad blocker interference detected!
Wikia is a free-to-use site that makes money from advertising. We have a modified experience for viewers using ad blockers

Wikia is not accessible if you've made further modifications. Remove the custom ad blocker rule(s) and the page will load as expected.