To Live
Chapter information
Series
Chapter

4

Written by
Editor(s)
Release date

March 20, 2011

Chronology
Last chapter
Next chapter
To Live is "Sozin's Blood" fourth chapter, which focuses on the three main teenage character's feelings, again on Azulon and Iroh's relationship, on Azulon himself and on what would be the goal to achieve at the end of the first book (if I ever manage to get there).
Creation
Chapter 4 was actually written before Chapter 3 ; its main purpose is to complicate Iroh's teenage life. Sadistic of me ? Maybe. As a French President said : "Happiness is not interesting.". One of the titles I thought about before posting it was "Broken Hopes", but it sounded too much like the name of Vulmen's latest chapter. After the final re-reading, I stumbled on a kind of theme, of pattern, and hence the title. I also thought about "To Live for Myself" but it sounded too long.
It kinda dégouline with love, so I warn you, there's not much of real action. (check Google Trad' to understand the sense of dégouliner)
So people, that you are part of my (small) regular fanbase or just a curious reader, enjoy.
Be sure to leave your comments at the bottom of the page.
Story
The Sun suddenly shone through Iroh's windows, since someone had pulled the curtains. The prince, still half-asleep, tried to protest with a "Agh" and put his pillow on his head.
"His Majesty has to wake up!" Haoru said.
"It's the fifth day of the week, Haoru." Iroh weakly groaned. The violent light of the morning was cast on his amber-colored sheets and his muscled bare chest. "I never have school on those days, you know it, it's my "Duty day". And would you please not be so formal with me?"
"Okay, buddy, get your butt out of your bed, if you wanna enjoy a bit of the morning, you gotta hurry up, or you're gonna be late."
Iroh raised his head, which was adorned with spiky hair and dark circles. "You know what? Just stick to the formal."
Haoru smiled. "My joy is to please his Majesty. May I propose his Majesty to get up, as if he doesn't hurry, he will not be on schedule, and thus he won't have time left for his own enjoyment?"
Iroh yawned. "Good idea. Would you mind helping me dressing up?"
As Iroh put on clean robes, Haoru tied his hair in a top-knot.
"So Haoru, you might be my most trusted servant, but you also manage my schedule. What do I have to do today?"
"As far as I remember, your Majesty," Haoru muttered, "you have to inaugurate the new weapon factory which is two hours away of the capital city, so you will have to leave in half an hour to be sure to be right on time. Also, this afternoon, you'll have to attend the wedding of Lord Ziang's daughter, make a speech for the one hundredth birthday of the grills of Blazing Street, go to the Annual Congress of Abundance where you will, er, demonstrate your enthusiasm, like touching Koala Sheep, tasting Komodo Rhino sausages or this new Hypra-Hot spice they keep rambling on. In the evening, you're expected to "bless" the Capital City Kuai Ball team by playing with them. This is mostly a propaganda move, as you will show to your people your skills and overall agility."
"Hmm ..." Iroh said. "This is quite a lengthy schedule. The problem is that I have invited Cixi and Jiuan here this afternoon. So... I guess we have to postpone one of the things I have to do today."
"But your Majesty," Haoru protested, "everything you have to do is important! Lord Ziang? He paid half of the armors of the army! The Annual Congress of Abundance? It will be taken as an affront if one member of the Royal Family doesn't go to it, even your father has to. And the guild of Blazing street? It's the most important of the city!"
"Poor Lord Ziang can marry his daughter without me, we'll send him a note explaining our deep and true regret, blah blah blah, and we will ensure that we catch up later, maybe a substantial gift from my personal fortune? And, if we have to, we'll be late at Blazing Street."
"Master, you do realize that Fire Lord Azulon will eventually learn about it?"
"Not if we buy Lord Ziang's silence."
Haoru refrained himself from saying that, shall Fire Lord Azulon stumble on Cixi, a probability made very likely with the fact that they would be under the same roof the whole afternoon, Iroh would be in deep dragon dung. But he sighed. Fire Lord Azulon always knew about things people didn't want him to learn about. There was no use to warn the prince.
Iroh was running towards her in slow motion through a field of bloomed Fire Lilies. Romantic Tsungi Horn tunes were playing in the background. She was running too, with equally low speed, but feeling ecstatic. At last, they met at the middle of the field. They joined their hands and Cixi tasted Iroh's juicy lips.
Something hit her on her right flank. It was Zola's elbow. She almost shouted but she noticed the stare of Ms Koni. She quickly focused back on her embroidery.
"You should stop daydreaming!" Zola whispered with a hiss. "The old hag's gonna catch you next time!"
Cixi just shrugged. The needle plummeted into the soft linen before piercing it from under and soaring in the hot air of the classroom, while Cixi guided it. She sighed. Cross-stitch, double-cross stitch, fly stitch, couched trellis stitch, closed herringbone stitch, lazy daisy stitch, buttonhole stitch ... Why girls were supposed to act like precious dolls, learning useless and boring things, but not allowed to express themselves? They were as intelligent as boys, and sometimes far more. But her marriage would be arranged, she would be expected to behave, produce children and raise them. Nothing more.
But she wanted more.
She wanted to live.
She wanted Iroh.
While walking towards the stables of the Komodo Rhinos, Iroh met his father in a corridor. He immediately bowed.
"Fire Lord."
"Prince Iroh."
"I was about to leave for the inauguration of the new weapon factory. As I am supposed to do."
His father looked at him in a strange way, but only said : "Good." Had Iroh turned back to watch his father, he would have seen him in deep conversation with a man dressed as a spy.
Unlike most nobles, Iroh had always enjoyed riding animals. Once, one of his father's generals had offered him an Ostrich Horse bred in the Colonies, which he had loved deeply from the beginning and had named "Djorj". Now, Djorj was stationed on Ember Island, but they hadn't been to it for a long time. He liked Komodo Rhinos too and enjoyed the sensation of his body rocking with the sprint of the sturdy beasts. At the moment, he was on the back of Kappa, one of the lightest and fastest males. In only an hour, the weapon factory came into view.
Iroh sighed. "Haoru, you worry far too much." he thought.
He entered soon in the main yard. Oily funnels had been erected, but no smoke was coming out of it - not yet. Iroh saw that metal ore had already been brought, as it was now piled up against the walls of a neighboring yard.
An official approached. "Prince Iroh! We didn't expect you before an hour!"
"I came in advance." Iroh said in a royal tone. "Is everything ready?"
"Yes, we just need to bring more food and ..."
"Fine. Let's begin now."
"But my Lord, the schedule!"
"It's an order. Would you contest an order from your Crown Prince?"
The official didn't answer. In two minutes he managed to assemble all the workers of the factory.
"Have you prepared a speech?" he questioned, in a snobbish way.
Iroh just nodded. He had indeed written a speech, but at the first hour of this morning, after an evening spent with Cixi. So he was rather unsure of its quality.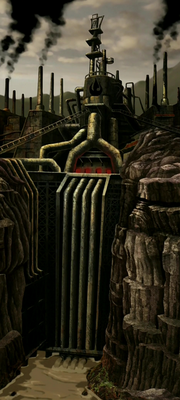 As he was about to speak, he suddenly imagined Cixi in the sky. Her hair was loose and she was surrounded by diamonds.
The factory official cleared his throat. "My Lord?" Iroh abruptly came back to reality. All of the workers were staring at him. Someone coughed.
What was the bloody beginning of his speech already?
"Men of the Fire Nation," he began, "you put your physical might to the service of our country and thus you are more honorable than many others. Indeed ..."
And it went on and on for a quarter of hour. Iroh managed to put some jokes, which relaxed everyone. He had a thunder of applaud at the end of his speech and when he symbolically lit the first furnace. As the workers started talking together, he quietly went back to the entrance of the factory and jumped on the back of Kappa.
"Your Majesty," the official called, "you don't want to visit the factory?"
"I'm sorry, but I have urgent matters of a royal kind to complete!" he shouted back. He put his heels in Kappa's flanks, and it started galloping. I'm coming, Cixi. We'll have the best afternoon ever.
It was the third hour of the afternoon in the last day of a student's week, and all the rich pupils of the Royal Academies for Boys and Girls had already left their respective centers of learning with great hurry. Only two figures were still there, but they had now started to walk in the direction of the Royal Palace.
"So." Jiuan said. "Have you ever been there before?"
"No, never." Cixi answered.
There was an awkward silence.
"It's fun." Jiuan finally told Cixi. "I've been knowing him since we are, er, 11, I think, and he only invites me now that he has a lady friend."
"Maybe he wasn't ready."
"Maybe."
There was an awkwardish silence.
"You know, I'm okay with you being with Iroh. I'm just afraid that he won't have any time left for friendship. You will allow him to have men-only time with me, right?"
"Why just with you?"
"Because neither of us has another friend."
Cixi patted him on the shoulder. "Hey, Iroh and I aren't married ; he does whatever he wants."
They walked a bit without talking.
"What do you do on men-only time?" asked Cixi.
"Lastly?" Jiuan chuckled. "We keep talking about you."
"Oh." Cixi felt the warmth of the sun more than usual.
"Also, would you mind being not too smoochie-smoochie when I'm around? It's hard for the poor single loners like myself to see so much love."
"Jiuan ..."
"Maybe we should invent some private secret gesture that you would do each time you want me to leave the room/garden/whatever we are in?"
"Iroh did tell me you could be annoying at times." Cixi sighed.
Jiuan laughed. "This is one of my many qualities. I also put great work in my ability in being embarrassing and unconventional, making me the person the least convenient to invite at an official meeting (or similar occasions)."
Cixi laughed too. "You're fun."
"Thank you." He suddenly hugged her. "I'm sure we're going to be great friends!"
"Er, okay..." Cixi said, taken by surprise by the unexpected hug. "Oh, look, we're already here!" she shouted, pointing to the side entrance of the palace to get rid of the affectionate embrace of Jiuan.
"I know." he said. "Hey, don't be alarmed by this weird hug, because this was nothing more than a distraction to steal your wallet."
"Jiuan, why is your cheek that red?" questioned Iroh.
"That's nothing." Jiuan replied, rubbing the bruised mark. "Just an accident."
Iroh raised his eyebrows towards Cixi who took an innocent look.
Absentmindedly, Jiuan took an apple on Iroh's desk and made it disappear. "So why did you ask us to come?"
"Er, to hang together, to do ... things ... like ... normal teenagers ... do ... I guess?" Iroh said with hesitation. "Would you like to have a tour of the palace?"
As Cixi entered a hallway, Jiuan blocked Iroh's way with his leg. "Seriously, we're just here to enable you to show off before Cixi, and I am just here to enable you to say "Oh, I am so not showing off, Cixi, see, I've invited my best buddy too.", right?"
"Shut up, Jiuan." ordered Iroh.
Jiuan sighed. "This is so obvious. She's a clever one, Iroh, I'm sure she perfectly knows what you intend to do."
Iroh blushed.
"You know Iroh, maybe you should go see a doctor, because these days you just keep blushing."
"Guys, are you coming or not?" Cixi called from the hallway.
"We're coming, Cixi!" answered the young men.
After meeting lots of servants who all seemed to know about Cixi, they entered the gardens of the palace. "It's huge!" Jiuan said.
Iroh directed us towards a massive sleeping willow tree. Under it, a picnic with lit candles had been prepared. Thank the Fire Spirit, there are three bowls. Jiuan thought.
"Wow, you're doing things big, man." he told Iroh.
He smiled. "That's nothing. It's Haoru, my servant, who prepared it for us."
"He's very nice." Cixi faked to suddenly notice something. "But how did he learn about me? It's strange, everyone in this palace seems to have heard of me." She suspiciously eyed Iroh.
"Ahem, I wonder why." he told her with a strange voice.
They began eating. They spoke of random things, like Belle-Tching's bad breath, but soon Jiuan noticed that Iroh had put his hand on Cixi's. She gave him a look and her finger traced in the air the character for "love": 愛
"Ahem, I'm gonna check out those Fire Lilies." he suddenly said.
As he left, he saw from the corner of his eye Iroh leaning towards Cixi and their lips meeting.
He sighed. And again he was alone. Iroh was more than his best friend, he was the only person on Earth to who he could tell what he had on the heart. And now that he wasn't single anymore, Jiuan was being excluded.
He knew they probably didn't realize it, that if he just told them, they would put him back in the gang. But, for some reason, he didn't want to break their love. After all, he was the one that had finally managed to put them together.
What hurt most was to see them happy together when he has no one. Of course, he already had a few girlfriends, but they were more attracted by the legerdemain than by the actual him. He had never found a girl like Cixi : funny, clever, beautiful and most important of all very nice. She wouldn't, she couldn't hurt someone willingly.
Jiuan wished someone like Cixi loved him.
Jiuan wished Cixi ...
A midget in red robes suddenly entered the gardens in a hurry.
"And who is this small and ugly and old man?" Jiuan asked, to draw back the attention on him.
"The name is Hayao," said Hayao. "And I can hear you very well." He gave Jiuan a look that could have incinerated the kleptomaniac if Hayao had been able to Firebend with his eyes.
But Jiuan didn't seem to mind. "Nice to meet you, Sir." He bowed in the Fire Nation way, joining his hands in the shape of a stylized flame.
Hayao bowed too with a "Humph!", but one second later his left hand was grabbing Jiuan's, which was now halfway in Hayao's coat. Iroh and Cixi, who had quickly stopped kissing and now looked perfectly innocent, exchanged glances : neither of them had seen Jiuan's failed attempt at pickpocketing or the actual grabbing of his faulty hand.
"Huh, Hayao, sir?" Jiuan quietly asked, as if the situation was perfectly normal. "Would you mind releasing my hand?"
"Kleptomaniac, you are." Hayao questioned. "Have you ever been to the office of Kaizuh, the greatest specialist of mental problems of our glorious country?"
"No." Jiuan replied. "I have never heard of him. My hand please?"
"And you must be Cixi." Hayao bowed. "My heart reaches illuminated heights of pleasure now that I know you."
"I'm pleased to meet you too sir." They had decided to not mention the events of the previous month, Iroh being a little paranoid in his own palace.
Hayao turned to him. "Student, I've been looking for you. Fire Lord Azulon wants to see you now."
Iroh's face became as pale as chalk. "What does he want?" If he knows I'm here, he knows about everything.
"His Royal Highness desires to introduce you to his generals, as he wished to do a month ago."
"A month already." Iroh whispered dreamily. He bowed to his friends. "I deeply apologize but I gotta go."
And he started to run as if his life depended on it.
There was a quite awkward silence.
"Do you know any jokes?" Jiuan asked Hayao.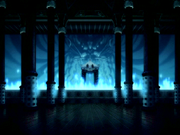 The blue flames were casting a somewhat eerie light on the dark ceiling of the throne room. His footsteps sounded like heavy stomps, echoing in the empty hall. The drafts passing through the interstice below the curtains whispered like voices of spectral beings. Despite the unbearable heat, cold shivers of instinctive fright spreaded on his back. The place was terrifying. Iroh wearily walked among the sinister columns towards the wall of blue fire he was facing. There was not a single general to be seen.
"Prince Iroh." Fire Lord Azulon simply stated. " You are almost late. This would have been unforgivable."
Iroh put out enough flames to allow him to cross the wall of fire and kneeled at his father's side. He felt very cold.
"I'm sorry, Father. This will not happen again."
"You can apologize, but, had you been late, I would have been unreachable by mercy."
Iroh realized what he had just heard. But he stayed silent. Be perfect, he thought.
"Where are your generals?"
"You keep failing me, Prince Iroh."
Iroh looked at his father with horror. Azulon wasn't watching him, staring at some point in the back of the room, the blue fire casting scary shadows under his eyes.
"M ... Me, Father?"
"For a month now, you have been uncaring towards your duties. It began with that first meeting of generals you were supposed to attend. And you didn't come. Your Firebending has never been weaker. I could give you the complete list of that passive insubordination. You had shown in the past that you could be more reliable than most people. I had thought you would eventually correct your ways."
Azulon slowly turned his iron glare on Iroh, who was not strong enough to bear it.
"But then," Azulon continued, "I learn that you have chosen to not be at Lord Ziang's sides at an important moment of his life when you were ordered to, and that you dare have the nerves to not hide from me, being openly visible in this palace." The flames increased in size and intensity. "So I set up a test to see if you were not entirely untrustworthy. And you failed. Had I not warned your tutor, Hayao, that you had to intend another war meeting, you would have been late and becoming forever an utter disgrace in the eyes of my, of your generals. For your sake, I dismissed them."
Anger slowly emerged in Iroh. "Not entirely untrustworthy"? After sixteen years I entirely dedicated to you, a little period of fun and I might be at best "not entirely untrustworthy"?
"My sake?" he forced himself to quietly ask. The violence now with which was burning the fire was the only sign of the growing tension.
"What would they have thought of a prince that keeps failing to his duties?" Azulon harshly replied. "A prince who doesn't seem to respect them, and who shows them, again? They would have seen you as weak. They would have plotted against you. They would have started to undermine your authority. Would they have eventually followed at war an idle prince?"
"I'm not lazy!" protested Iroh.
"I know it. You know it. But do they know it? No. You do not seem to realize that your rule starts now. They must learn to fear you or to respect you, to obey to any of your orders, even the strangest, without question. A rogue officer in a battle could be your downfall."
"I will not forget it, Father."
"Enough promises." Azulon hadn't bellowed, but the flames grew abruptly. "For one month, you've been slipping into mediocrity. You failed. You failed to your duty."
"Maybe I am tired of doing exactly what you want!" Iroh, finally shouted, losing his temper, freed of fear. The nearest flames became orange and yellow. "Maybe I am fed up of living as you wish!" The flames grew wilder. "Maybe, for once, just for once, I want to be Iroh, to live for myself, and not to exist solely as the Crown Prince of the Nation!"
"Because you think you do this for me?" Azulon roared, and so did the fire. "This is not your duty to me, Prince Iroh, this is your duty to the Fire Nation, to the whole world! This is your duty to Fire Lord Sozin, whose blood runs in your veins!"
The stage on which Iroh was collapsed, burnt with the heat, and he rolled on the floor and laid on it. Fire Lord Azulon rose, and the flames started to blaze against the columns.
"I know of this woman, Cixi, you seem to love. I know she's why you have been distracted." Azulon's face was darkened by the fire, his eyes obscured by the shadows on his face. "And now, I order you to make her come second to your duty to your people. Otherwise," and he bared his teeth saying so, "I will ensure that her whole family is moved to the farthest regions of the Earth Kingdom."
"You cannot do that!" Iroh shouted, fists clenched with rage. "You have no right!"
"I am the Fire Lord. In this world, I have all powers and all rights."
The flames grew brighter and reached the ceiling. There was a bright flash and when Iroh managed to see again, the room was dark and Azulon was gone.
"What is it, student?" Hayao questioned. He was sitting in the Tea Pagoda, a cup of tea in front of him (Jasmine by the smell), playing Pai Sho against himself. He seemed to be winning. "What happened?"
Iroh sat abruptly, his whole body shivering. He was sweating in abundance, like he had a fever, but it had absolutely no link with the heat of the room he had just left.
"Where are they?" he asked with a hoarse voice. "Where are Jiuan and Cixi?"
"When I left them, they were in the Western Wing, looking at the paintings of the earliest Fire Lords. But what happened, student?"
"My father." he said. "He wants me to be more focused on my duties, otherwise he will make sure that any relationship with Cixi will be impossible." He bumped his head against the table, making the Pai Sho tiles fly. "Why can't he understand that I need to have a private life, that if I only live for my royal burden, I will ..."
He sobbed.
"...crumble."
Hayao took a compassionate look. Iroh was staring at him with teary eyes. "What should I do, Sifu ?"
"I think you're now too old to wait for me to give you all the answers you seek. My sole advice is to tell it to your friends and to listen to her councils" he stated. "You must figure it out by yourself, with the help of your friends."
The old man gave him a sorry look as Iroh ran, flew, towards the Western Wing.
"Who's that?" Cixi asked.
"According to the inscription," Jiuan answered, "this is Fire Lord Okazin, the first of the Fire Lords, at least in the current political position."
"I beg your pardon?"
"Well, at a time, the Fire Sages were the head of the country, a bit like the Air Priests ruled the Air Nation. "Fire Lord" was merely the title of the most powerful of the Sages. But 3000 years ago, Fire Lord Okazin ... well, he was even more powerful than usual ... so he seceded from the Fire Sages, made a coup with popular support and changed the state from a theocracy torn by squabbles between Sages to a more effective and, er, centralized regime, a monarchy."
"You know a lot about Ancient History."
"I just choose to keep my intelligence secret."
"Why?"
"You must suffer a lot of expectations when you're a brainiac." He grinned. "And everyone trusts dumb people. Here's your bracelet."
They looked at the chiseled chin of Fire Lord Okazin.
"That's funny, I never noticed it before," Jiuan told Cixi, "but all the Fire Lords have a "o" and a "z" in their names. All ... but Iroh."
"He has the "o"."
"But not the "z". I wonder why."
"That's because he's named after me," said a woman's voice.
They turned to see a plump lady in rich clothes who was holding a baby in her arms. She was wearing an unmistakable flame-shaped tiara.
The two teenagers bowed on the ground.
"Fire Lady Ilah!" they both said.
Iroh's mother smiled. "Please, get up. You must be Jiuan and Cixi. Iroh told me many things about you." She had that motherly feel about her, like she could at any moment cook with her Firebending some Fire flakes and offer them some. They couldn't help but feel relaxed with her.
"And who is this charming newborn?" Jiuan asked. "Is it our new prince?"
"It is. Say hello, Ozai."
"Agoo-goo?"
"Nice to meet you too, my prince." Cixi replied.
They laughed until Iroh erupted in the corridor, panting.
"Mother? Mother, may I talk to you a bit? In private."
"Of course, my dear." She gave Ozai to Cixi and went with her elder son in a nearby room. Jiuan and Cixi heard a few alarming words, like : "Father", "How can he?", "Calm down" or "Cixi".
"He looks like his mother." Jiuan noticed. "On the official portraits, Fire Lord Azulon is tall, trim and thin, and Iroh's short, squat and broad, like her."
Something started to smell terribly.
"Ew, it looks like Prince Ozai pooped in his silk diapers."
"My Prince, this isn't worthy of you. At all." Cixi told the baby.
Ozai laughed happily.
"Iroh, you know your father. He does everything for the Fire Nation. He just lives for his kingdom."
"But not for anything else? You? Me? Ozai? I cannot believe he never experienced, and understood, the emotions of a normal human being."
"That's because the Fire Lord must be above ordinary humans, Iroh. He must look, and be, faultless. You think being the Crown Prince is hard? I've seen from my own eyes that being the Fire Lord is at moments a burden."
She inhaled.
"I'll try to persuade him to allow you some private life, reaching to his soft sides, because yes, he does have soft sides, Iroh, don't interrupt me." she said, raising a hand as Iroh opened his mouth. "But what will eventually happen will depend on you; it's your attitude that will determine your father's decision. Now, you must see with Cixi herself what you, both of you, will do. Ask this charming young man too, who seems trustworthy."
"Jiuan? Trustworthy? Trust me, Mother, you are quite mistaken." Iroh said before slamming the sliding door.
"So it's over." Cixi said with a broken voice.
"No." Iroh took her in the embrace of his arms. "I will not let it happen. I will stand against my father. If we have to, we will flee together in the Earth Kingdom."
"Well, it's very romantic but not that practical." a pragmatical Jiuan told them. "You are taking it in the wrong way. The Fire Lord did not ask to cease the relationship, he said that if Iroh wasn't more focused on his royal duties, then he would stop the relationship. Iroh, you just need to be focused. Cixi, you'll see him a bit less than before, but you'll still see him."
"You don't get it, Jiuan!" Iroh shouted. "My father wants me to live only for my work, the way I did for 16 years!"
"Oh."
Jiuan stopped talking for a while, thinking.
"Cixi, do you love Iroh?"
"Yes, of course."
"Iroh, same question."
"Yes!"
"Then we have to plan things up for a while. We must do it to the eventual marriage."
Iroh and Cixi both looked uncomfortable.
"Er, Jiuan, we may be too early in our relationship for that." Cixi told him.
"Our relationship might not last that long." Iroh said. We'll be lucky if it lasts another month. he thought grimly.
Jiuan sighed. "Both of you will have an arranged marriage anyway, so maybe it won't be that bad to marry someone you love or at least you loved at some point." And I'm supposed to be the dumb one. "So we must see what we need to do to get Cixi at the top of the brides list. Questions?"
Iroh raised a hand. "You do realize that all that tension might turn love into hatred, and we might end up marrying someone we can't bear anymore?"
"Let's hope you'll be intelligent enough to not let that happen."
Cixi turned to Iroh. "We can do it. We haven't lost yet."
She kissed him.
"We will still see each other, right?" Iroh pitifully questioned.
"Yes. Don't be silly. We shall prevail."
"I love you."
"I love you too."
Cixi met Jiuan's sympathetic stare. "We're going to leave the palace."
"I guess I should go study with Hayao then."
"Go. We'll see each other ... soon."
And they left him in the dark.
Hayao was still in the Tea Pagoda.
"Student? How did it go?"
Iroh told him everything.
"That Jiuan boy, although having criminal hands, speaks with wisdom." Hayao said. "I was afraid you might do something stupid, like fleeing to the Earth Kingdom."
"I seriously thought about it."
"Ah. You're too passionate. But it's a trait common to the greatest."
"The weird thing is that I'm the sole one who seems to be disturbed by it. Jiuan was so level-headed and Cixi ... she wept a bit, but she accepted it soon after."
"That's because she loves you, student." Hayao told him. "She prefers to see you less than to lose you altogether."
"Does that mean my reaction was immature?"
"No. You had the reaction of a normal teenager. You see it as immature because you are often asked to behave like you were much older."
Hayao took Iroh's Indigo Mango and Sparkled Star on the Pai Sho board.
"It might actually strengthen your love for each other, student."
"As it might doom it."
"Only time will say."
"Your Majesty." They turned to see Haoru bowing on the ground. "His Royal Highness Fire Lord Azulon will be expecting his Majesty in the Sun Lounge in fifteen minutes, since, he said, his Majesty has nothing to do. He asked me to tell his Majesty to go practice his training now."
Iroh got up. His lips stretched in a faint smile.
"I'll be there." he said. "Tell my father that I'll be there ... and that I'll be perfect."
See more
For the collective works of the author, go here.
Ad blocker interference detected!
Wikia is a free-to-use site that makes money from advertising. We have a modified experience for viewers using ad blockers

Wikia is not accessible if you've made further modifications. Remove the custom ad blocker rule(s) and the page will load as expected.