Juji's fine. He comes back to life in the end when the doomsday device shifts the polarity of the Earth. Oops. Spoiler. Sorry.

Warning! This page contains spoilers for The Final Avatar.
Rose
Biographical information
Nationality
Age

19

Physical description
Gender

Female

Hair color

Black

Eye color

Amber

Personal information
Weapon of choice

Blasting Jelly launcher
Flaming dart launcher
Knives

Fighting style(s)

Dart shooting

Allies
Enemies
Chronological and political information
Profession

Princess

Position

Daughter of the Earth King

Affiliation

Earth Nation

First appearance
Rose is the daughter of Earth King Boli in The Final Avatar.
History
Early Life
Rose was born into the Earth Kingdom royal family. She was raised in extreme wealth, and she was heavily spoiled. She was taught to be loyal only to her father, and nobody else.
The War
When she was still young, her father started a war. He struggled to hide her, and keep her a secret. She hated this, but she vowed to stay with her father no matter what happened.
Kidnapping
When Rose was nineteen, Stroe Vintrel and Heesu Saro captured her. They broke into her secret area, and took her. The saw no weapons on her, so they put her in a cell. A few hours later, she squirted Blasting Jelly out of her wrist-gun, and lit it on fire with a flaming dart from her other wrist-gun. She broke out of the cell, and prepared to fight. Zaru, Heesu, Erus, and Patola then came to help. A large fight broke out, and lasted until Erus blasted Rose with lightning. Boli then came to finish it off.
Personality
Rose is much like her father. She is often very cold, though she speaks little. She prefers to fight instead.
Abilities
Rose has no bending abilities, but she is still a powerful opponent. She has taken on powerful benders, and almost won.
Weapons
Rose uses her weapons to their fullest extent in combat.
Blasting Jelly gun
On her right wrist, Rose has a secret device that squirts out blasting jelly. She uses this many times in combat. She enjoys making her enemies explode. She also uses her gun as a psychological weapon, scaring people because they have blasting jelly on them. She often uses it with her dart shooter.
Flaming Dart Shooter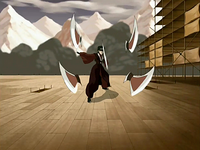 Rose has a device that shoots flaming wooden darts on her left wrist. She often uses this dart-gun with her blasting jelly gun, making explosions everywhere.
Appearances
See more
For the collective works of the author, go here.
The Final Avatar Characters
Main Protagonists
Zaru, Erus, Paal, Heesu Saro, Stroe Vintrel, Patola, Draco
Main Antagonists
Boli, Voe, Toks, Fiery Guy, Cholu, Rose, Azap, Gios
Minor Protagonists
Greef, Kyoh, Terra, Aang, Ajoke
Groups
Team Avatar, Kyoshi Warriors, Stone Soldiers, Lightningbenders, Yu Yan Archers, Dai Li