Fanon:Prologue: Jamie (TFAB Chapter 1)
Comments

43
8,335pages on
this wiki
Jamie
Chapter information
Series
Book

The Silent One

Chapter

One

Written by
Editor(s)
Release date

22 April 2011

Chronology
Last chapter

None

Next chapter
Jamie is the first chapter of The First Anti-Bender, written by Haybernathy.
I grew up learning about bending, being involved with a family of ten other kids all being able to manipulate the earth. I am not a bender, gladly. I just hate the thought of being able to control the earth, control what it does.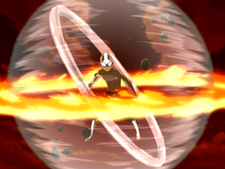 It's not right, it's disgusting. Especially the fact that people use it for evil! That is even worse. Recently a group of master benders got together and tried to take over the town I live in. One from each element. They call themselves the Resistance. They've come so close to killing the Avatar too. That was about two years ago though, they haven't been spotted since. I sometimes feel like making a group called the Anti Resistance where every member is not a bender and makes the world feel the same way as I do. Perhaps called the Anti Benders. That seems pretty wrong too, I know. But, I guess I just feel so strongly about this that I won't act as usual just to get my thoughts realized.

"Jamie! Get out here! Breakfast is ready," screamed my sister, from five rooms away.
"I'm getting there, Misaki!"
I took away the towel that was on top of my head and walked down to the kitchen. As I walked down the stairs I noticed all of the pictures, from all of my siblings… Each of them bending. But I wasn't there. I wasn't special enough.
I entered the kitchen. It was full of chaos. Everyone was fighting over the sugar to put on their porridge, some were even bending. I decided to wait until they were all done.
As my last sibling, Jack, left the kitchen I hopped off the couch and walked to the table. It was a mess. And because I'm the last one I will have to clean up. It turns out that not one could use sugar because it was contaminated with mud. So I just grabbed a slice of bread and walked out the door and left the mess there. I never spend much time at home. Mostly the reason is my dad. Though, he is currently away with the army, he's repairing small villages that were destroyed by the Resistance. I don't like my father very much because he is extremely strict. Sometimes, a little too strict. When things don't go his way he punishes me brutally. He thinks that I'm the failed child because I can't bend. Maybe I am. He is always yelling at me about how I can do better, he gives me ten times more chores than anyone else. But that doesn't bother me. All of this makes me madder, which makes me stronger. Someday I'll lead the Resistance and take them to new levels.
Author's Notes
Edit
Okay, so it's up! I hope you all enjoy the first chapter! Please leave a review! —Haybernathy talk

05:45, April 28, 2011 (UTC)
See more
For the collective works of the author, go here.