Juji's fine. He comes back to life in the end when the doomsday device shifts the polarity of the Earth. Oops. Spoiler. Sorry.

Warning! This page contains spoilers for Avenger Cycle: The Last Lion Turtle.
Piandao
Biographical information
Nickname

Piano

Nationality

Unknown

Birth place

Unknown

Residence

Unnamed Mansion, Zukai

Age

17

Born

124 AG

Died

Unknown

Physical description
Gender

Male

Build

Muscly, agile.

Height

Moderately tall

Weight

Lean

Hair color

Brown, straight, regal

Eye color

Emerald green

Personal information
Weapon of choice

Sword

Bending style(s)

Unknown

Abilities

Unknown

Family

Sokka(Father), Suki(Mother), Hama(Sister)

Allies

Jikir, Hama

Enemies

Mayor of Zukai

Chronological and political information
Profession

Sword-fighter

Masters

Unknown

Apprentices

Jikir
Origin
Piandao is the son of Sokka and Suki, former members of Team Avatar.
His only known sibling is Hama, his sister, a waterbender.
It is unknown where Piandao was born or whether he had a childhood with his parents, Sokka and Suki.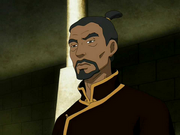 He is named after Sokka's sword-fighting teacher, Piandao, and appears to display some of the same skills.
Residence
He currently lives in an as of yet unnamed mansion in Zukai.
Personality
So far, Piandao seems to be a very calm but bitter warrior.
Abilities
Piandao has been revealed to be a master swordfighter, though it is yet unknown whether he is the best of his era.
Though he displays excellent proficiency in the art of swordfighting, he has not yet displayed any bending abilities, though as he jumps clear over Jikir during their duel in chapter three of the First Avenger series, he may boast airbending abilities. This is doubtful however as neither of his parents are known to be Airbenders.
He may also boast Earthbending abilities, or at least a similar style, as during his duel with Jikir, after Jikir disappears, he uses an ability similar to Seismic Sense to find Jikir's location and attack.
History
Piandao was first revealed as a character at the end of the first chapter of the First Avenger series, holding bitter hate for someone.
Later, in the second chapter of the series, he appeared again, appearing to wish to kill someone. After an argument with Hama, he left his mansion. He then bumped into someone.
In the third chapter, it was revealed that the character he had bumped into was none other than Avenger Jikir. Piandao grew angry and this resulted in a dispute.

See more
For the collective works of the author, go here.
Ad blocker interference detected!
Wikia is a free-to-use site that makes money from advertising. We have a modified experience for viewers using ad blockers

Wikia is not accessible if you've made further modifications. Remove the custom ad blocker rule(s) and the page will load as expected.