Justiceforall17/Ozai (A Different Dimension)
Talk

0
8,319pages on
this wiki
Justiceforall17/Ozai (A Different Dimension)
Biographical information
Nationality

Fire Nation

Physical description
Gender

Male

Personal information
Allies

Ursa, Azula, Zuko, the Fire Nation

Enemies

Azulon, the Avatar, Katara, Sokka, Toph, Iroh, Bujing, Yon Rha, the Northern Water Tribe, the Southern Water Tribe, the Earth Kingdom
Personality
Edit
Ozai is a caring, loving husband and father who loves his wife and their two children dearly. He is extremely cruel, easily angered, aggressive, forgiving, domineering, merciless, and insatiably fun-loving.
It was implied that Ozai's deep-seated anger stemmed from a failed relationship with his own father, Fire Lord Azulon, possibly because Iroh, a wise, gentle cosmopolitan, was favored over Ozai, an amoral, merciless egoist.
Ozai believed in harsh and brutal discipline, and and no one was safe from his anger and aggression when he was displeased, except for his wife. When his son, Zuko, was thirteen, Ozai admitted he would gladly have burned his face and banished him from his country had Zuko not begged for forgiveness simply because Zuko spoke out of turn during a war meeting.[1]
Ozai's ultimate aspiration in life was to conquer the entire world, but in fact his desires were not to crush all resistance, as he loves battling to become King of the World and takes great pride in his Firebending skills. Although he is "sexist" and "immature", he appears eager to prove that he is as strong as anyone who refuses to submit to his rule.
As shown when ordered by his father Azulon to kill Zuko to teach him the pain of losing a son,[2] Ozai would fight to save the ones he loved, revealing that he harbored deep paternal instincts and felt highly obligated to protect his family as long as the costs were worth it.[3]
Ozai seemed to show great love and care for his own people. The day Zuko spoke out of turn Ozai seemed furious at the idea of sacrificing new recruits to defeat a powerful Earth Kingdom battalion.
Ozai is brutally honest when criticizing others. He is vocal about his opinions on others regardless of ally or enemy. He is an expert in verbally taunting and insulting his opponents, and on occasion his own people (particularly his wife and their son).
He believed skill and accomplishment determine worth. This allowed the naturally cunning and talented Azula to rise to the position of his favorite child. He expected nothing less than the best from her, thinking her a firebending prodigy.[2] He tortured Zuko with his perceived inferiority, saying that the naturally cunning and talented Azula was "born lucky, while he was "lucky to be born".[4] He only respected Zuko when he helped his sister conquer Ba Sing Se, and when he "defeated" the Avatar.[5]
Abilities
Edit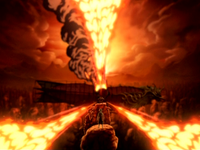 Fire Lord Ozai was an extremely powerful and skilled Firebender, if not the most powerful in the entire series. His older brother Iroh was the only other Firebender to rival him, though Iroh wasn't entirely sure of that.
Much like his daughter Azula, Ozai has the ability to propel himself through the air like a jet. He seems to have had much more control over this ability than Azula did, being capable of keeping himself in the air for longer periods of time and maneuvering at great speeds.
In the series finale, Ozai's furious prowess with Firebending is finally witnessed in full. By the end of the series, Ozai is no longer a Firebender, as Aang used a new technique to remove his abilities forever.
Relatives
Edit
See Fire Nation Royal Family Tree
See more
For the collective works of the author, go here.
Cite error: <ref> tags exist, but no <references/> tag was found