Fanon:On Ji (What could have been different in Avatar)
Comments

0
8,314pages on
this wiki
On Ji
Biographical information
Nationality
Physical description
Gender

Female

Height

undefined

Hair color

Brown

Eye color

Hazel

Personal information
Allies
Chronological and political information
Profession

Student

First appearance

The Headband (only appearance)

Voiced by
On Ji
was an ordinary girl who attended the
Fire Nation School
, and was a young
Fire Nation
citizen. It can be inferred that, along with all her classmates at the school, she grew up in a peaceful environment, far from the war front. Her parents cared very much about On Ji's education. It is possible that if she does well enough she might get the chance to further her studies at a good university, possibly even in the capital, where she could meet a nice Fire Nation Royal and make the perfect Fire Nation wife.
[1]
Aang, under the alias Kuzon, came to the Fire Nation school, saying that he was a new student from "the Colonies." After school ended for the day, Aang met On Ji, who noticed Momo hiding under his shirt and warned him to keep it hidden, thinking it was a monkey. Her self-proclaimed boyfriend, Hide, seeing "Kuzon" and On Ji together, stopped by and made it clear to Aang that she was his "girlfriend" by starting a brief confrontation, during which On Ji rolled her eyes - she did not appear to be very affectionate towards Hide. Later, in band class (in which On Ji played the Erhu), Aang tried to play the tsungi horn and got chided by the teacher for dancing in place while playing. Nevertheless, On Ji was amused by the dance steps. When Aang offered to show her during recess, Hide became infuriated and attempted to assault Aang. Aang easily evaded Hide's attacks with quick footwork rather than striking back, an attitude derived from his Air Nomad origins. Hide eventually lost his balance and fell to the ground. Aang then got into trouble with the Headmaster for "beating up" another student.[2]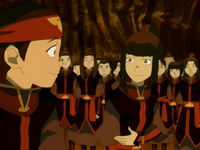 On Ji was later invited to Aang's dance party. To get people to start dancing, Aang picked On Ji out of the crowd. She blushed, shyly took his hand, and started dancing with him, causing Sokka to comment that they looked good together (Katara expressed notable jealousy at this). When the Headmaster came to break up the party, she, along with the other students, put on a headband to help Aang and his crew escape. What happened to On Ji and Hide's relationship remains unknown.
On the day Sozin's Comet returned to the world, On Ji and her schoolmates heard Aang communicating with them telepathically. He instructed each of his old friends to donate a fraction of their chi-energy to him. On Ji and all her and Aang's friends did as he asked and gave away a portion of their energy to him.
It is also a matter of speculation whether she ever really had a crush on Aang. It is unknown whether she was actually Hide's girlfriend, or he was saying that just to bully Aang.
Her ultimate fate after the War is unknown, but I hope that she and Aang met again and that On Ji befriended the other members of Team Avatar.
Personality
Edit
On Ji was kind and amiable with a sweet and easygoing personality. She was friendly and welcoming to others, notably Aang when he enrolled in the Fire Nation school.
Appearances
Edit
On Ji's hair style is the same as Chihiro's/Sen's from Miyazaki's Spirited Away. The creators of Avatar have said before that they are fans of his work.
Avatar Extras on The Headband says that On Ji is named after Angie, a member of the staff.
On Ji (Spelt Onji, 音字) is also a Japanese term; in the context of Japanese poetry, it refers to the phonetic units counted in haiku and other such poetic forms.
On Ji is one of the few Fire Nation people who do not have the standard black hair and amber eyes.
References
Edit
See more
For the collective works of the author, go here.