The Blue Spirit
Chapter information
Series
Book

Book 1: Ba Sing Se

Chapter

5

Written by

NightHawk16117

Editor(s)

NightHawk16117

Release date

July 31th, 2011

Chronology
Last chapter
Next chapter

-In Production-
Preface
Finally introducing a major canon character, and one of my favorites. This chapter takes place the next day after chapter 4.
Story
"So I heard you went on your first mission yesterday." Lian had a way of knowing things when Cheng really didn't want her to know.
"Yeah, could we try to keep that just between us?" he responded uneasily, wondering how she always knew things.
"Why? I figured you would want to be proud of it. Let other people know."
"I'd really prefer to stay anonymous about these kinds of things. Having people know what I am doing, especially if it's a person who I fought against, is usually not a good idea. Better to just keep things like that at a low profile."
"Alright fine. Will you at least tell me how it went?"
"I can trust you right?"
"Of course. My lips are sealed."
"Okay, well I guess you could say it went well. We caught three of the four assailants, and two of them were Earthbenders by the way."
"Woah, Earthbenders?"
"Yeah, but we easily outnumbered them, as well as outsmarted them. Smellerbee planned it out well, and although it started rough for some of us, it worked itself out quickly."
"And you let one get away, how could you?!" she said jokingly.
"Almost let two get away. They split up and I did all I could, but I can't follow two people at once."
"Relax, relax. I was kidding. You did great. Did you find out who they were and what they wanted?"
Cheng paused for a moment, thinking about whether to announce what he had coerced out of the man when he interrogated him. "No. They wouldn't say anything."
"Yeah well, at least you caught them right?"
"Yeah, I suppose so."
"You got any new missions coming up?"
"I didn't even know about this one until right before it happened. It seems that Smellerbee lets us know about them on fairly short notice. So we just have to be ready at any time."
"Well good. I don't need you risking yourself too much."
"Yeah, but what fun is that?"
"It's fun that you'll still be here with me. I want you to be happy, but I definitely don't want to lose you to some criminal."
"Oh, don't you worry. I'll be fine. We have a strong team. Nothing will happen."
"It won't stop me from worrying."
"Fine. Then I just won't tell you when we are on a mission. That way you can't worry."
"Oh, I'll find out, believe me, I will."
"Yeah, somehow you always know." He looked at her questioningly. "Somehow." It was nearing sundown, and Cheng needed to get to a "meeting". "Well since you say you'll always find out, I have a meeting I need to get to."
"I'm sure it's very very important," she joked at him, "so I'll see you later then."
"Yup, see you." Cheng quickly walked away, toward the lower ring, already deep in thought.
Alright, now he said the flower shop just up here, and sundown, and stupidly, I forgot to ask what day they met, so I'm gonna have to show up everyday, just to make sure I don't miss him. And then he's gonna get suspicious when no one or only just that one guy that got away shows up. And how does Lian keep finding this stuff out. Will she find out about this one? Maybe she's friends with Bolt, and I just never asked him. Or maybe she just stays in contact with Smellerbee. But Smellerbee didn't act like they intended to stay friendly. Oh well.
And what about this guy. Do I confront him in the shop? Do I wait until he heads back home? I can't let him see who I am. Maybe I meet him out in the streets as he starts to leave. And I'll approach him as The Blue Spirit. Maybe he'll offer me work, seeing who I claim to, and then I can tear down the organization from the inside. I'm getting too far ahead of myself. I don't even know when he'll be here. Maybe he already knows how his last mission went. Oh well, I guess I'll find out.
Cheng made a quick stop by the hideout to grab his swords. Some of the Freedom Fighters were in the main room, so Cheng just slipped into the back quickly and grabbed them, and was back on his way. He quickened his pace just to make sure he made it with plenty of time.
As he approached, he looked for a good place to watch for the man. He found a bench with a good view of the entrance. He pulled out a book from his backpack, to look less conspicuous. And then he just sat. And sat. And sat. He waited well past sundown, and no man showed up.
Well one day down, no worries, I still got six more days that he might show up.
And then the next day, he did the same thing. And the next day. And the next day. Come day five, his friend, Zhong, was getting curious. Leaving every single day at the same time for some unexplained reason made Zhong very suspicious of what Cheng was doing. And he finally chose to confront him.
"Where have you been going every night? And don't just give me your usual crap. I try to give you your space, but I want some answers now."
Where did this come from? This is completely unusual from his personality.
"Do you really want to know?" Cheng asked debating in his mind what to say.
"Yes. I'm sick of you always sneaking away from us. Always being distant."
"Alright. I can trust you right? You won't tell anyone?"
"No. Unless it's really embarrassing or something."
"Alright, fine." Cheng paused for a short moment, noticing Zhong's anticipation. "I've been going out every night to meet with a spiritual group, believe it or not. I somehow have recently gained some sort of respect for the spirits and I have just been excited to learn more about them. I'm just afraid of what people might think if I let them know that."
"HA HA HA," Zhong burst out laughing. Cheng almost felt bad. "The last thing I'd expect from you is that. I'm not sure I believe you. That's so radical from who you are though, I almost think it's true."
"Well if we could just keep that quiet, that would be great."
"Nah, I'm gonna tell everyone," Zhong said with a smile. Cheng hoped he was joking, but wasn't fully sure. Cheng started to walk away, but checked back to see Zhong's facial expression. He looked quizzically at Cheng while he walked away.
Hm. I don't think he's convinced yet.
Day five of watching for the man came and went. Still no luck. When he got up to leave he saw a shadow, a flash of someone in the direction he was about to walk. He started to run in that direction, expecting to find someone watching him. He turned the corner, but no one was there.
I swear I saw someone. I guess I just imagined it. Paranoia must be catching up with me.
Not finding this man was starting to go to Cheng's head. He was constantly worried that someone was watching him, knowing that he was part of the group that captured the men earlier. Not to mention he could never figure out how Lian knew the things she knew.

The sixth day rolled around, and Cheng was starting to lose hope. And his mind. The entire walk out to the antiques shop, he was checking all around him, being suspicious of every person who was walking his direction. Once he found his seat on the bench, he started looking around every which way. He was convinced somebody might be watching. He saw a shadow jump out from the corner of his eye. Her shot his head in that direction. Nothing. Then another shadow to the other side. Again nothing. His paranoia was finally getting to him. He got up to chase down the shadows. Ran toward the first one he had seen. No one there. He turned to run toward the other shadow he had seen. Jumped out of the way of nearly running into some large man. Got halfway to the next corner when he stopped suddenly.
Wait. That large man. He turned and ran back. He just caught a glimpse of the large man with the green robe and the cone hat. How could I almost miss him. I can't let mt insanity get to me like that. He ran back to the shop and went inside. He found the man standing near some old pots, waiting as if someone was going to show up. Cheng took refuge behind a shelf to make sure he wasn't noticed. The man started to walk around leisurely, as if not troubled at all. Cheng moved along with him as to not seem suspicious. The man walked back around to the pots. Lifted the lid to an uninteresting brown one, dropped some parchment and an envelope in it, and continued to walk around.
He dropped something. That could be their instructions and money. I just gotta grab it without him noticing and without letting him get away.
Cheng walked over quickly to the pots, kept his eye on the man, and when he was sure he was looking in the other direction, he grabbed the pot. It was labeled only one gold piece, a low enough price, that he could just take the whole thing. He noticed the man still looking around at some old Airbender artifacts said to be from the air temples. Keeping the pot hidden from the man's view he walked it over to the cashier. He tossed him a gold coin and was off on his way. Once Cheng got outside, he turned around the corner of the building. He ripped parchment and envelope out of the pot. Just that moment, the man stepped out of the shop. Cheng put the pot down, shoved the parchment in his bag, and went off after the man. He followed the man slowly, keeping his distance. He followed the man a few more blocks down the road when he went into an apartment.
Cheng went off into a nearby alley, and stashed his bag behind a large empty crate. He threw on his Blue Spirit mask, grabbed his swords and went toward the man's apartment. It was just two large rooms. One being a common room, and the other being the man's bedroom. Lights were on all over the apartment, no easy way in.
I'll need to find out where he is in the apartment to sneak in the other direction. He went to an adjacent building, and started to scale the walls. He jumped onto the roof with surprising agility, even surprising to himself. From there he could see right into the apartment, into both rooms. The man was in the front room, standing over a pot of some sort of bubbling creamy white mess. It looked disgusting. Looks like I'll be safe in the back. He jumped from the roof onto the ground and made a quick rollout so that he was standing upright again. He climbed through the window, and started to blow out all of the candles and covered up all of the glowing crystals so that no light came from the room. The man was humming some tune Cheng did not recognize, completely oblivious to Cheng's presence. Cheng didn't want to step into the main room, he wanted the man to come to him instead. As his eyes adjusted to darkness, he looked around for something to break. He found a small ceramic dish that would make a nice clatter.
The man heard a small crash from the other room, and jumped a mile high. Startled he pulled out a knife and cautiously walked toward the dark room. Paranoia had gotten to this man as well. Cheng was standing against the wall next to the door, waiting for the man to walk through the door. The man slowly crept into the room. "Hello? Is someone there?" he spoke quietly into the room. Cheng stood motionless, and unnoticed. "I guess my paranoia is really catching up to me. I need to relax my mind with some nice hot jook." The man then turned, and Cheng jumped out at him. The man dropped the knife he was wielding, and fell backwards in fright. "Who are you? What..what do you want?"
Cheng backed him into a corner. "I was going to ask you the same questions." He spoke in a deeper, almost whisper, to disguise his real voice.
"I don't know what you're talking about. I'm just a man trying to make some dinner," he responded, still shaking.
"You know exactly what I'm talking about. Sending people after harmless innocent people like that."
"What are you talking about? I don't harm anyone. Please leave me be."
"I saw you leave a message for someone to go after somebody. You're going to tell me why. Or Else."
"Message to go after someone? I never knew what was on those messages. I was instructed never to look at them."
"Wait. What?" Cheng knew something was up. This man was too nervous to be the cold blooded man behind all this. He lowered his swords, and uncovered one of the glowing crystals to give some light to the area. "What are you talking about?"
"Those messages? I was told to deliver them in a pot in that antiques shop. The guy gave me some coins and said if I didn't do it he'd kill me. I didn't want to do it, but I had no choice."
"Didn't have a choice? Do you know the lives you have cost by doing that?"
"I'm sorry. I didn't think I had a choice."
"You always have a choice. Nevertheless, who is the man that sent you?"
"He said his name was Pantu."
"And where can I find him?"
"I only met him once. He leaves the messages in my home when I'm not here. Leaves some money and a threat to make sure I do it."
"That's it?" Cheng was disappointed. "Not even a description?"
"He stayed quiet, in the shadows. I couldn't get a good look at him. That's all I know. Please."
"Cheng raised a sword in his direction. The man closed his eyes and cowered. "Don't stop delivering, I'll intercept them." There was a moment of silence. The man opened up his eyes, and The Blue Spirit was gone.
Cheng jumped out of the window as quietly as he could and started running off back toward the antiques shop. The shop was already closed by the time he reached it. He grabbed the pot he had left in the nearby alley, and headed home. On the walk he decided to take a look at the message that he had intercepted.
Got a better job, more money this time. Upper Ring, shop called the Jasmine Dragon. There's an old high ranking soldier from the Fire Nation working there. Skilled Firebender. Take care of him. Extra money for you just in case.
And make sure this gets done. Or Else.
It wasn't signed or anything. He put the message back, and checked in the envelope. In his rush to follow the man, he hadn't noticed how heavy it was. "Whoa!" There appeared to be a hundred gold coins inside. He threw them back in his bag, hoping no one saw it.
Who could be that important that they warrant a hundred gold pieces? And what should I do with this money? Maybe I'll just use it for supplies. Or maybe donate it to those who really need it. And I need to talk to this Jasmine Dragon guy. See what's up with him.
Deep in thought Cheng got to the hideout and then back to his house in what seemed like a few seconds. He sneaked into the house, crept toward his room when the crystal lights shined up the entire room. Both his parents were sitting quietly as Cheng jumped in fright.
"Nice of you to finally come home," his mother said after what seemed like an eternity. "Seems like you've been busy."
"Yeah. I've had things to do." Cheng had no idea what to actually say. There was no way he could say the truth. Fortunately he had left his swords at the hideout.
"Where have you been every night?"
"I've been hanging out with Lian that's all. I told you I'd be out. What's the big deal?"
"You should be studying. Not fooling around with some girl." She turned to his father. "See I told you this girl would be bad news."
"Well what have your grades been? As long as you keep those up," his father said.
Of course he would go straight to the grades. As long as I get good grades, I won't disgrace him. "I'm doing fine. Just let me be." Cheng really didn't want to have to deal with this right now. He had more important things on his mind.
"No." His mother stepped in front of him as he continued toward his room. His father got up to stand next to her. "This girl is trouble. You've already gotten seriously hurt once with her. And I saw some mysterious cuts and bruises about a week ago. What is really going on with you."
"Well I could lie and tell you about the crazy duels I've been getting into. Would you believe that? Would that please you?" Cheng got sarcastic hoping to deflect from the truth.
"I don't need that mouth from you."
"And I don't need this talk from you. Move." He took another step forward, but his father stepped in front of his path to his room. Cheng pushed his father out of the way with a strength that his father never expected. He walked quietly into his room, leaving his father standing awestruck at his son's defiance, and a little by his strength as well.
He jumped onto his bed, and lay down to think.

He didn't sleep too much that night. He had too much on his mind. He knew he had to warn the Jasmine Dragon guy, as well as deal with his parents. And he had to return that pot so the man could continue to send the messages. I need some advice on this. I don't want to go to Lian, cause I don't need her worrying about what I've been doing. Zhong could never be serious about it. Oh, I know, Xiang. He'll be objective, I hope.
He got up, packed his things, including his gold coins, and headed straight for the University. It was early, but Xiang would be there, working on his class plans and grading assignments. Cheng was so anxious to talk to Xiang about this that he had forgotten to get a bite to eat. But it didn't bother him.
He got to Xiang's classroom, and without hesitation, pounded on the door. "Xiang, I need to talk to you."
"Of course Cheng, any time." He welcomed him in. "It's been awhile since you last came here to chat. Found something else to take up your time?"
"Yeah, you could say that. Hey, I have a problem."
"What is it?"
"Okay, well speaking in hypotheticals here, let's say for instance, I know that someone has a hit put out on them. Let's say I happened to intercept a message that said to get rid of this person. What should I do in this situation?"
"Logically, go to some guards. Make sure they know the situation, and let them take care of it. It is their job."
"Well it's not that simple. The people who are supposed to do this aren't going to show up. And then it will get back to me as to why I know what is going on. Somebody paid a lot of money to make sure this hit goes through, and I doubt it will go well when whoever it is realizes it isn't happening."
"How do you know all this? What have you been getting yourself into?"
"I said this was all hypothetical, remember?"
"Nobody speaks in hypotheticals unless they mean themselves, you know that."
"Yeah, true. Can I trust you with this information?"
"I only want to help you. I will do what is best for you."
"That's very non specific, but I'll put my trust in you."
"You can trust me to do what you know I'll do. I'll help you out until it becomes some sort of illegal actions."
"Alright, well, I got mixed up in some sort of criminal group that seems to be going after former Fire Nation people living in Ba Sing Se. They paid a small squad one hundred gold pieces to take out some high ranking soldier." Xiang raised his eyebrows at this point, shocked. "I intercepted this message, so the task isn't going to be done, but I doubt it will be held off for too long after whoever it is realizes it isn't done."
"And you can't go to the guards why?"
"Because the men won't show up when they are supposed to. And the only evidence I have will point it right back to me."
"I take it you have the message and gold."
"Yeah."
"How do you know the men won't get the message some other way, and still carry out the job?"
"Well, I kinda assisted in them getting arrested on their last job."
"What have you been getting yourself into, Cheng?"
"Nothing. I'm just not sure what to do about this."
"Well, I know you're going to do whatever you are going to do, and I can't stop that. But I ask of you this; Make sure you keep yourself and those around you safe. No matter who it is, make sure they are safe, including yourself."
"That's just vague enough to help. You never can give me a straight answer."
"Better to make you think of the answer, right or wrong, than to just give you one. Just like in class."
"Always have to relate it to school too don't ya."
"It is my job."
"I'll see you later Xiang."
"Keep in touch please."
"Yeah, I'll try."

Keep everyone safe. Keep this man safe. I need to warn him about this. But I can't let him know who I am. I can't let this get back to me. And high ranking soldier. Usually means that he's a Firebender. I may need to come to him as a mysterious friend, rather than some mysterious intruder. This'll be a challenge.
Cheng had nothing but the Jasmine Dragon on his mind. He knew he would have to scout the place first, so he headed up to the upper ring to check it out.
The Jasmine Dragon was quite large, with a fountain out front and everything. Quite the high class establishment. The two ladies at the door bowed to him as he walked in. It was buzzing with activity. Lots of people wanting their morning tea. here was a large rug at the center with exquisite dragons stitched into it, large detailed paintings on the wall, and large round tables with many chairs all around them. There were no empty tables, so he found a large table with a few people sitting around it. They appeared to be a group of friends or coworkers that were just getting their tea in the morning before they went to work.
"Is this seat taken?" Cheng asked politely to the group.
"No, feel free," the man on the far left told him. "Getting your morning tea before work?"
"Well, actually, my morning tea before class. I'm still at the University."
"Isn't it a bit far away from the University?"
"Yeah, a bit, but I heard about this place, and I just had to come and check it out." The man seemed to be very friendly. Cheng hoped to get some information about the shop owner out of him.
"Well, it does have some great tea. The best in all of Ba Sing Se in my opinion."
The waiter walked over at that moment. He took everyone's orders, and hurried back to the kitchen to relay the order to the brewers. Each of the men ordered ginseng tea. Cheng decided on jasmine, as it was in the name of the tea shop.
"The best in Ba Sing Se, you say? Who is the mastermind behind it?" Cheng continued the conversation.
"Man's name is Mushi. He was working out of some small shop in the lower ring when he was discovered. Funny how sometimes the best can be found in some of the worst places."
Wow this guy is willing to tell me anything.
"I'm intrigued. Where would I be able to find Mushi. I would love to meet him. Sounds like he has quite the interesting story."
"Well he most often is in the back, helping brew the teas. But sometimes in the afternoons, he comes out to the Pai Sho table. He actually has a deal where if anyone is able to beat him in Pai Sho, he will give them free tea for a year. Nobody has beaten him yet though."
"Interesting. How does a guy like that end up in the lower ring."
"It appears he was a refugee of the war. Had to leave his town and completely start over in the lower ring."
"Interesting how life can treat you."
They carried out idle chat while they drank their tea. There wasn't much more Cheng could learn from these people. He knew that he would need to come back later, maybe for a game of Pai Sho.
When Cheng returned home, he sneaked into his room, making sure to avoid his parents. How do I approach this man and get him to tell me who he is without him being suspicious. I need to get him talking and try to get him to tell me about his history. The man is a Pai Sho genius. I'll have to approach him as a formidable opponent. Maybe I can even get him to unknowingly tell me exactly how to approach him in disguise. I'll have to practice though.
He grabbed a book from a shelf. It had Pai Sho strategies and styles in it. Cheng had a natural affinity for Pai Sho, but never really liked the game. Every once in a while a game would be nice, and to beat someone who thought they were great was always good, but in general, he preferred to avoid the game. Now he knew he would need to at least put up a strong effort against this Mushi guy if he was to learn about this man. So he studied up on his Pai Sho rules, strategies, and methods until class.

Class rolled by fast, which was a rarity when it comes to Cheng's classes. All Cheng could think about was Pai Sho. Lotuses and lion turtles. Dragons and moon flowers. Cheng just concentrated on Pai Sho tiles and different ways to utilize them. All the different ways his opponent might utilize his and how to counter them. Cheng wasn't worried about losing. He expected to lose, especially after hearing that no one had ever beaten him. He was just worried about putting up any sort of fight.
When the time finally came, he tossed the book in his bag, and started his way to the upper ring. He walked slower and slower as he got closer, each step making him more and more nervous about talking to this man. If the information is correct, he is a Firebender, and a high ranking officer at that. That means he's a pretty good bender too. I'll have to be extra careful.
Practically crawling now, he stepped up the row of steps that led to the courtyard in front of the Jasmine Dragon. He stopped for a moment, and took a look into the fountain. After a few deep breaths, he turned, and headed for the front door, hoping to look at least a little bit confidant.
The two women at the door bowed to him again, just as they had done in the morning. He looked around for a large round Pai Sho table that he expected to find this Mushi sitting at. At the back nearest the kitchen was the table, with an old man sitting there, chatting with someone standing near him. He had grey hair, a grey beard with two points of hair jutting out on each side, as well as straight under his chin. He appeared to be a little on the hefty side, but also muscular at the same time. And he wore a nice kindhearted smile.
Cheng walked slowly over to the table. He studied the man's movements and attitude. He didn't seem like a Fire Nation officer at all. He seemed to just be a nice old man. Maybe this will be easier than I had expected.
He stepped in front of the table, and the man looked right up at him. "Would you like this game?" Mushi asked Cheng kindly.
"I suppose so, but I'll let you know I haven't played in awhile." Cheng took a seat and spread out the tiles that were in front of him to get a better look at them.
"That's quite alright. I'd love a game no matter anyone's skill level. It's always nice to play against a stranger. But we can't play while we are thirsty." He ushered over a waiter.
"What would you like sir?"
"Jasmine please," the man said.
The waiter turned to Cheng. "And for you?"
"Uhh, jasmine as well please." The waiter nodded his head and returned to the kitchen, and immediately brought back some tea for them.
"Excellent choice with your tea. My name is Mushi. And yours?"
A cover name. I hadn't thought about one yet. I'll just go with Lee. There's a million Lees.
"Lee."
"The guest may have the first move." He presented the table with his hand to Cheng.
Cheng set down his Lion Turtle tile to start, far back in his side of the table. The two went back and forth setting down their pieces around their own sides of the table.
"While they were setting up their pieces, Mushi started a conversation. "So, your name is Lee. That's my nephew's name. But I just call him junior as he was named after his father." He was able to set his pieces down and talk with such ease. He barely had to concentrate on the table at all. Cheng almost didn't even hear what he said because he was so concentrated.
When they had finally finished placing all of their pieces, Cheng responded, "Oh, I'm not named after anyone. At least as far as I know of." Having the first move, Cheng moved his red dragon forward two spaces.
"Bird's Opening, interesting approach," Mushi commented noticing Cheng's first move. Mushi proceeded to move his Moon flower forward.
"Gaoling Defense, interesting start yourself," Cheng noted, as a way to show that he actually knew what he was doing when it came to Pai Sho.
The two moved their pieces around the board, avoiding each other, doing their best to get a strategical advantage over the other. Cheng's strategy revolved around the Lion Turtle, the strongest piece in the game, having it in the middle, to be well protected, but can easily strike. He noticed that Mushi's plan seemed to revolve around the White Lotus, the weakest tile in the game. The two strategies seemed to clash with each other. One being the strongest the other the weakest. Cheng knew Mushi must have something under his sleeve to make this strategy work.
"So, Lee, where are you from?"
"Oh, just the middle ring, nothing special. I have though heard an interesting story of how you came to be in the upper ring. Where are you from?"
"Ah yes, well I was a refugee of the war. I used to live far to the west, in a small coastal town. But I traveled my way here with my nephew, and started as a tea brewer in the lower ring. And I ended up here when people got wind of my tea."
Cheng moved his Fire Lily forward, as a sacrifice, so that he could try to take out Mushi's Blue Dragon tile. Mushi instead moved his Blue Dragon next to the Fire Lily, so that neither piece could attack the others.
"Out west you say? I'm into geography, what town are you from?"
Mushi seemed to hesitate here. He studied the table, instead of immediately answering the question. "It's a pretty small village by the name of "
"Hmm. I've never heard of that one. Where exactly is that?"
Mushi looked up at Cheng with a quizzical look on. He seemed to wonder why Lee was asking him so many questions about where he was from. "It's to the north, surrounded mostly by a forest. I considered going back after the war had ended, seeing if I could rebuild the village, but I had done so well here, I thought it better to stay."
Seeing Mushi's unwillingness to take a sacrifice piece, Cheng moved his Black Nightingale into enemy territory, knowing it was risky. Mushi immediately moved his Red Dragon in place of the Nightingale, removing it from the table. Guess he's not going to be passive the whole time.
"So Mushi, I know so little of the war, having been here in Ba Sing Se the whole time. If you would, please tell me of your trip here." Cheng was hoping to trip him up on having to make up his own story.
"I prefer not to talk about it too much. Having to witness such devastating destruction done by the Fire Nation, it really starts to get to me."
"That's understandable," Cheng said, slightly disappointed.
Cheng finally started to get on the offensive in the game. He moved his Sparkled Star piece in place of Mushi's Divine Whirlwind. Taking away a strong piece of his, as well as still having his piece protected. Mushi proceeded to move his Mongoose piece forward toward Cheng's Red Dragon.
"Well, this is quite the establishment you have here. Exquisite decoration. Do you own it?" Cheng said to change the topic, hopefully still in his direction.
"No, no, but I have been given creative control over it. I'm glad you like it."
Cheng took Mushi's Panda Lily with the next move, having taken out two strong pieces in consecutive moves. He became skeptical, as Mushi didn't look worried at all. Cheng didn't see the downside yet though.
"With the success you have here, you must have quite a large house."
"No, actually I stay here in the tea shop. Riches are not important to me. The joy of making tea is all I need."
This man doesn't sound bad at all.
"Well, that's an inspiring statement."
Cheng managed to take two more of Mushi's pieces on consecutive turns, without him taking any of Cheng's tiles.
"I have taken out four strong pieces of yours in a row, without you returning a single blow. I have heavily crippled your attack force."
"That may be true, but you have completely left yourself vulnerable." Mushi moved his White Lotus tile forward, taking out all four of the pieces he had just used to take out Mushi's. "The White Lotus may not be a strong tile, but when used correctly, it can change the entire flow of the game. Now you have no defense for your Lion Turtle, in which you have based your entire strategy on."
Cheng stared at the board in amazement. How did I not see that coming? How could I overlook something like that.
"Well done. I never saw that coming. Excellent strategy with the Lotus tile," Cheng praised him.
"Many overlook the significance of the White Lotus as it is a weak tile, but only when used incorrectly. You played a great game, better than I had expected for someone who hadn't played in quite some time."
"How much do I owe you for the tea?" Cheng asked, reaching into his pockets for some coins.
"Oh, don't worry about it. Having tea and playing Pai Sho with an interesting stranger is payment enough."
"Well, thank you, Mushi. Maybe I'll practice, and we can play again sometime."
"I would love that."
Cheng bowed a goodbye at the Pai Sho master, and was off on his way.
Well this is good. He appears to be a good man, so helping him will be a good thing. And now I know where to get to him at night.
Cheng hurried his way off back to the University so that he could study for his mathematics class. He just remembered he had a test in the class, and with all that had been going on for him, had completely forgotten to study for it.

The early hours of evening came, and Cheng finally found some time to hang out with Lian. He felt as if he had been neglecting her recently.
They had decided to go to dinner together, just the two of them. When they had finally seated at the restaurant, Cheng decided to say something.
"You know, my mother is convinced you are a terrible influence on me."
"Ha, really? What do I do that's so terrible."
"Apparently, because I had been staying out later some nights, it is all your fault."
"What, like when you're out on your missions?"
"Yeah, and just when I'm out with anyone in general. She's still bent on the fact that I got hurt in your presence before."
"Well, it is kind of my fault that you're out late like that. If I hadn't gotten Smellerbee to talk to you, you wouldn't be in the situation that you need to be out late like that all the time."
"I'm not always working with them on the nights I'm out."
"What have you been doing then?"
"Sometimes, when I get a lead on something that doesn't need a full team, I'll just go on my own."
"Oh, well I guess that's still okay. But just make sure you're not in over your head. I don't want you getting hurt because you couldn't quite handle something by yourself."
"I'll be sure to get help when I need it. But anyway, back on topic, my parents. You think you could convince them in some way that you're not a bad influence, and that they just need to leave me alone?"
"I've hardly even met your parents. Don't you think this is something you should be handling with your own parents?"
"If I thought that, I wouldn't be asking you. They don't listen to me and give me the space I need. I figured you knew how to handle that. How do you get space from your parents?"
"My parents," she hesitated, "my parents are just too busy with themselves to pay much attention to me."
"Have they always been like that?"
"No, when I was a kid, they cared a lot, but once I got older, they kind of left me alone." She seemed to be a little upset to be talking about her parents.
"Yeah, well you're lucky they're not always bugging you. Could you convince them to do that for me?"
"I, I don't think so. It's not my place to do so." She clearly didn't want to be talking about it.
"Okay, well um, what's your favorite type of architecture?"
"What? Where did that come from?"
"I don't know, just thought I'd change the topic."
"Oh," she gave a small chuckle, feeling somewhat relieved.
Cheng figured she didn't want to talk about anything personal, so he kept the topic away from that.

It was a few hours from past sundown, just about when the tea shop should be closing. Cheng started to pack up the things he would need when he talked to Mushi: his mask, swords, black shirt with a hood, black pants, and the message from Pantu. He was fortunate that none of the Freedom Fighters were at the hideout at the time. He had no idea where they were, but he didn't really think much of it.
He decided to approach the building in from the back, as he knew Mushi lived in the back of the building. He found a nearby alley, and but down his bag. He put the mask on and took the message and shoved it in a pocket. He took a deep breath and headed for The Jasmine Dragon. There were plenty of windows for him to choose from. He noticed one room with a light on, the rest were all dark. So he ran over to the window next to the lit one, ducking the lit window.
He climbed up through the window as quietly as he could, but on the landing, he nearly rolled his ankle, and managed to fall and roll his way out of it without putting any weight on the turned foot. Even though he simply made a small rustling of noise, in his head, is sounded like an earthquake.
There's no way he didn't hear that. Great, now no sneaking on him.
Cheng prepared for Mushi to come out prepared for battle. He ran as fast and quietly as he could to hide behind the door that he knew Mushi would come out of. He could hear the old man get up, and walk somewhere. He picked up a lamp, and walked to the door. Cheng could see the ground light up as Mushi got closer. Mushi walked through the door, with the lamp brightening up the entire room.
Cheng brought up his swords just as Mushi turned his head toward him. "Don't move. I need to talk to you." Cheng talked in a low gruff voice, so that Mushi would not recognize him.
Mushi had a very shocked face on. He almost seemed more surprised to see him standing in front of him than a hiding Fire Nation officer would. Mushi simply turned and took a seat in a nearby chair. Then he decided to speak. "So, The Blue Spirit shows his face again? Would you like me to put a pot of tea on for you?" Mushi was trying to get the mask off of Cheng's face without him realizing it.
"Who are you?" Cheng asked, still holding the swords in his direction, even though he showed no intent to fight.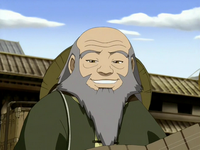 "I'm a tea maker. Wouldn't you like some?"
"I have information that tells me you are from the Fire Nation. Now I ask again, who are you?"
"I've already got a pot going, it's jasmine. I'll go get some, would you like a cup?"
Mushi started to get up, but Cheng just put his swords closer to him and made sure he couldn't easily pass.
Mushi spoke up again, "I feel it would be easier to talk if we had some tea. You don't have to have any, but I always think better with some tea."
Cheng took a step back, and lowered his swords. He knew he wouldn't get anything out of him this way. As a Fire Nation officer, he was clearly intelligent. He wouldn't just give up all of his secrets without a fight.
Mushi came back after a few seconds with two cups in his hands. "Here's one for you in case you change your mind."
"Okay, now that you've had your tea old man, who are you."
"It's interesting. You're the one hiding behind a mask, yet I'm not asking who you are."
"I'm not here to threaten you. I simply have some information that might be of interest to you."
"Is that so? What might that be?"
"Somebody wants you dead. And paid a lot of money to make that happen." He took the message out of his pocket and slapped it down on the table for Mushi to read.
He read it quickly. "And yet you are not here to kill me."
"Because I made sure it didn't happen, and so I ask again, who are you that makes someone want you dead?"
"Well I can tell you that I was a Fire Nation general, as it says here. But I was also a refugee of the war as well. I have made many enemies that would wish bad things upon me. Do you know who it was?"
"I'm told his name may be Pantu. And I doubt he will give up when he finds out you were not dealt with. And what might your name be?"
"My name is Iroh, but in the city, I go as Mushi which is the name my nephew gave me while we were refugees together. And I'm sure you don't go as The Blue Spirit." He was still trying to get Cheng to reveal who he was.
"Nope, thanks for the tea." He grabbed the teacup off the table, and walked back over to the window. He jumped out with ease, keeping the cup upright, making sure not to spill any of the tea. It was too delicious to waste. Then he started sprinting as fast as he could toward where he left his bag. He wanted to make sure Iroh wouldn't be able to follow him.

The second The Blue Spirit had left the window, Iroh ran into the next room. He grabbed some paper and a brush and began scribbling something down.
When he had finished, he rolled it up, and walked into the next room. In the room was a large, bright red messenger hawk, quietly nibbling on some feed. He put the message into the tube that was attached to the bird, patted it on the back, and said, "To Fire Lord Zuko at the Fire Nation Capitol." Iroh quietly went back to his tea, as the bird flew off.
Next Chapter: -In Production-
Trivia
The opening of the Pai Sho match is a reference to FOX's House, MD in season 3 when House plays chess with a patient. They use the Bird's Opening and the Sicilian Defense, which is where those names came from.
Some of the names for the Pai Sho tiles were referenced from French Froglegs's Sozin's Blood, so thank you Frenchy for those names.
See more
For the collective works of the author, go here.
Ad blocker interference detected!
Wikia is a free-to-use site that makes money from advertising. We have a modified experience for viewers using ad blockers

Wikia is not accessible if you've made further modifications. Remove the custom ad blocker rule(s) and the page will load as expected.