Niviarsiaq
Biographical information
Nationality

Water Tribe

Birth place

Southern Water Tribe

Residence

Republic City

Age

22

Born

149 AG

Physical description
Gender

Female

Height

5'11

Weight

137 lb.

Hair color

black

Eye color

blue

Personal information
Weapon of choice

Bone club, machete, spear, bola, daggers, boomerang, water

Bending style(s)
Abilities

Weapon master

Family

Qillaq(brother, deceased), Nootka(father), Nizhoni(mother)

Allies

Moema, Red Monsoon Triad

Enemies

Soza, Asami Sato, Jinora, Shaozu, Ming

Chronological and political information
Profession

Bounty hunter

Affiliation
Niviarsiaq was a bounty hunter originating from the Southern Water Tribe. Utilizing an array of traditional Water Tribe weapons, she operates under the guise of a man to gain larger contracts and out of respect for her late brother. Though naturally a Waterbender, she was trained by her father Nootka to focus on weapon mastery.
History
Background
Born in the Southern Water Tribe, Niviarsiaq was the second child of Nootka and Nizhoni. She and her older brother discovered they were waterbenders at an early age and were trained by their mother, a very skilled bender herself. Their father on the other hand was no great fan of bending, seeing it as little more than fancy tricks and forced the two to train in hand combat, ordering them to forget about their bending lessons. This caused much tension in the home. While Qillaq floundered in his training, Niviarsiaq proved to be quite skilled in weapon combat. Even at an early age she was taking down large prey on regular hunting trips with their father. These skills soon translated into combat, making her the first female warrior in the South Pole.
Widening Gap
As the years go by Niviarsiaq and her father continue her training, making her a formidable opponent for even the most seasoned warrior in the Southern Tribe. Nootka had since written off Qillaq as a failure and discontinued his training, allowing Nizhoni to continue to train her son in more advanced waterbending forms such as healing. At home Niviarsiaq, now 14 years old would often take part in poking fun at her older brother, regularly challenging him to weapon duels of which she was confident she would win in under five seconds. Although their mother was less than amused, Qillaq took it all in stride, not allowing his sister and father's words to affect him. Instead he felt some level of pity for his sister, though she would never accept his help or sentiments even in situations where his bending would be useful.
The next two years would see both brother and sister making great strides in their respective fields. Niviarsiaq,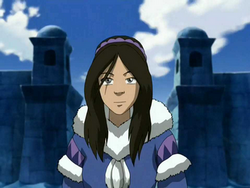 reveling in her successes, again challenges her brother to a duel, this time allowing Qillaq to use his waterbending to better test her skills. Though hesitant he accepts and the two, in front of many spectators begin. Although her skills are impressive, Qillaq's talents in bending put him on equal footing. The two battle over several minutes until Qillaq finally prevails over his sister, finishing by finally getting in a joke of his own. Niviarsiaq and her father do not take this defeat well and press themselves into more intense training.
Making Amends
Wanting to test her skills further, she and Nootka set out for the frozen tundra to train. A week into their trip the two are caught in a snowstorm and separated and, while he father manages to make it back to the village, Niviarsiaq finds herself stranded in the unforgiving environment. She struggles to make her way through the tundra for the next three days, surviving only on the small game she manages to capture. On the morning of the fourth day she is greeted by Qillaq, who had journeyed out to find her. She becomes furious with him and, stating that he'd already humiliated her once challenges him to another duel. He at first refuses but she would not take no for an answer and launches an attack on her brother. She is so focused on winning against him, Niviarsiaq does not see the large Polar bear dog emerge from its den, awoken by the commotion. The large creature lunges at her, only for Qillaq to push her aside, taking the full brunt of the beasts attack.
The girl uses her skills to fend off the creature long enough for her to drag Qillaq away from the area. Once they are out of danger she lays him down, thanking him for saving her life and apologizes for the things she said. Unfortunately for Qillaq, Niviarsiaq sees that his injuries are too severe for him to make it back to the village. She does all she can but, not having trained in healing, can only comfort him until his time comes. Using a series of ice pillars that Qillaq created to mark the way back, she is able to make her way back home with the body. The family mourns him for several weeks, Niviarsiaq being effected more than she had thought possible. Soon afterwards she makes it her goal to travel the world and hone her skills in combat. She also decides to begin secretly learning healing and basic waterbending from her mother. After making all the necessary arrangements she leaves the Southern Water Tribe, purchasing a young otter wolf named Moema as a traveling companion. Soon she would find that her combat skills and Moema's tracking abilities translated well into the field of bounty hunting. In only a few short years the duo would gain much notoriety in their new career. During her missions she would don the guise of a male to hide her identity, believing she would gain more respect as a man then a woman. She would also become the preferred assassin for the Red Monsoon Triad during her stints in Republic City, even managing to capture several Equalist chi-blockers and sympathizers under the triad's request.
See more
For the collective works of the author, go here.