Hello! This is where all the updates for my fanon, The Way Sokka Sees It, will be posted! Check back here for updates, news, notes, etc. on my fanon!
Upcoming Chapter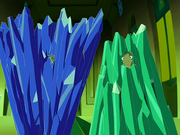 Chapter 5 : Jennomite
Percent Done : 50%
My newest chapter, Jennomite, is about Sokka and the Gang's journey into Omashu. So far, this chapter looks like it'll be pretty lengthy, and there won't be too much Sokka Action, because he's...uh....Trapped In Jennomite! (Sokka is sorry for the inconveniences). Here's a photo that'll be in the chapter:
If you want to read the first third of the chapter, click here.
Spo55 - Message Me Friends

21:48, April 15, 2011 (UTC)
News/Notes
Sorry for the delay, but my computer is once again broken. It should be fixed by the end of the weekend, but until it is, I won't be working on my fanon! Sorry, loyal readers! Spo55 - Message Me Friends

21:48, April 15, 2011 (UTC)
OK. I know it's been like a month since my last chapter came out, but I just finished school and exams, and when I started to write the chapters, I got sick for 2 or so days. Right now, I'm still low on energy from recovering from sickness, but I'll hopefully finish the chapter by the end of this week. Super sorry for the wait! Spo55 - Talk http://i439.photobucket.com/albums/qq117/goldenlace123/xiaolin-showdown.gif 19:14, May 31, 2011 (UTC)
See more
For the collective works of the author, go here.
Ad blocker interference detected!
Wikia is a free-to-use site that makes money from advertising. We have a modified experience for viewers using ad blockers

Wikia is not accessible if you've made further modifications. Remove the custom ad blocker rule(s) and the page will load as expected.