By

KataraLover

Part of the The Avatar and the Firelord continuity.
Lou
Biographical information
Nationality

Fire Nation

Age

38(At birth of Roku)

Died

N/A

Physical description
Gender

Male

Hair color

Black

Skin color

Tan

Eye color

Amber

Personal information
Weapon of choice

Sword

Allies

Min, Roku, Fire Nation

Enemies

Unknown

Chronological and political information
Profession

Fire Nation Soldier

Position

father of Roku and husband of Min

First appearance

The Birth of Two High Ranking Characters
Background
Lou was born in 120 BC. His parents' names are unknown, though we do know that they were Fire Nation. Not much is known about his youth. When Lou was 14, he met a girl named Min in school one day. She was the prettiest girl of all the girls in the school. When Lou turned 17, he decided to marry Min. They were married the next day.
Personality
Lou is a very kind, caring, and loving man. He'd give his life to save his family. He is also very friendly around everyone, and is always happy to see a newborn baby.
Abilities
Lou is a nonbender. He is gifted with many weapons such as spears, boomerangs, and of course swords.
Swordsmanship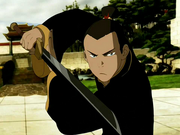 Lou learned swordsmanship when he was 13 by his father. After a week of training, Lou finally was a master swordsman. His father acknowledged him, and let him make his own sword as a gift for his mastery at it. He made his sword out of pure steel.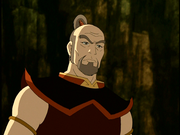 Relatives
Lou's father (name unknown;deceased)
Lou's mother (name unknown;deceased)
See more
For the collective works of the author, go here.
Ad blocker interference detected!
Wikia is a free-to-use site that makes money from advertising. We have a modified experience for viewers using ad blockers

Wikia is not accessible if you've made further modifications. Remove the custom ad blocker rule(s) and the page will load as expected.