"he children, your father, with his bison."

— Loi to the children
Loi
Biographical information
Nationality
Birth place
Age

95 BG

Died

unknown

Physical description
Gender

Female

Hair color

Brown

Eye color

whit ebrown

Personal information
Bending style(s)

Non-Benders

Enemies

Mysterious man

Chronological and political information
Profession

monk

Affiliation
Masters
First appearance
Loi is the fourth person who created the earth, she is the wife of Pathik, and also the mother of four children living in the Eastern Air Temple, he is a Non-Bender, despite all of his descendants are Airbender, Airbender she is not, but he is a monk who know the Spiritual.
Personality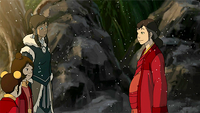 Loi was a gentle, caring, and a little chatty, but good-hearted, it is evident that she is now at the South Pole can accept being the children who annoyed him, she was also the person knows about the Spiritual, not arrogant, though she was a monk, he did not brag degree.
Relatives
See more
For the collective works of the author, go here.
Ad blocker interference detected!
Wikia is a free-to-use site that makes money from advertising. We have a modified experience for viewers using ad blockers

Wikia is not accessible if you've made further modifications. Remove the custom ad blocker rule(s) and the page will load as expected.