Fanon:Lee (What could have been different in Avatar)
Comments

0
8,321pages on
this wiki
"You don't seem like you're from around here."
— Lee to Zuko in "Zuko Alone
Lee
Biographical information
Nationality
Physical description
Gender

Male

Hair color

Brown

Eye color

Green

Personal information
Allies
Enemies

The Fire Nation, Gow, Zuko

Chronological and political information
Profession

Farmer

First appearance
Voiced by

Robby Bruce
Lee is the second son of the Earth Kingdom farmer Gansu and his wife Sela. He had an older brother named Sensu, who enlisted in the Earth Kingdom army to fight the Fire Nation.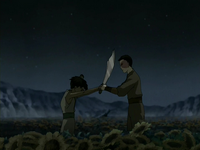 Lee is the boy Zuko meets in "Zuko Alone". Zuko first meets Lee when he is buying food for his ostrich horse and himself. Lee and his friends throw some eggs at Gow, and quickly leave. Seeing Zuko as the only one around, Gow blames him and takes his food. Lee regrets getting Zuko in trouble and invites him to his house for food. Lee warms up to Zuko, thinking of him like an older brother. Lee also reminds Zuko of himself as a younger child. Late at night, Lee steals Zuko's broadswords and practices with them in the fields. Zuko wakes and confronts the boy, but instead of scolding him for the theft or the harm Lee could do to himself, Zuko gives Lee a short lesson on how to use the broadswords. Before he leaves, Zuko gives Lee his knife, the one given to him by Iroh and the one used to cut his knot in "The Avatar State". After a confrontation with Gow once more, Lee pulls the knife on them and is taken away from his mother. Zuko eventually rescues Lee from the guards but uses his Firebending to do so and also revealing his Fire Nation royal status during the battle. After the battle, Zuko tells Lee to keep the knife, but Lee quickly shoves him away, refusing to take the gift and saying "No, I hate you!" after realizing Zuko's origins.
What happened to him after the War ended is unknown.
Relatives
Edit
See more
For the collective works of the author, go here.