Krzysztof Mazowiecki
Biographical information
Nickname

Christopher Robin,
Blindeye

Nationality

Polish

Age

12

Born

January 31, 1997

Physical description
Gender

male

Personal information
Weapon of choice

rifle, pistol, lightsaber, Bending

Bending style(s)
Abilities

echolocation

Chronological and political information
Profession

Xiao Knight
Supreme Metalbender Xiaons

Affiliation

Xiao Army (Xiaons)
,
Rzeczpospolita
|masters= Jakub Toporski |apprentices= |family= |allies= Jake, Alexandra, Adam, Jeremy, Daria, Gracjan, Aang, Pierre, Rzeczpospolita, Xiaons, more... |enemies= Lord Xarloman|Xarloman}}, Ulrich, Fearden, Xerath, Kazelians, Kazelia, more... |bounty= |appearance= The outbreak Part 1 |voice= }} Krzysztof (Christopher) Mazowiecki is one of main protagonist of Xiaons, Metalbender, Xiao Knight, echolocationer.
History
Past
He was born in 1997. As a child sick with cancer, which destroyed part of the optic nerves and damaged his eyesight. He does not see in one eye, while the second has a smaller field of view. In 2008 he met Xiaons and participated in their last battle with Xarloman.
First Xiaons War
In war has always served as a commander in smaller battles (such as Krosno Odrzańskie, New Tomyśl). In Szczecin, he defeated Xerath. He told about the fight in Greater Poland.
Personality
This cheerful and quiet boy. He loves comedy and cabaret. Although it is cheery to serious. His role model is my friend Krzysiek.
Abilities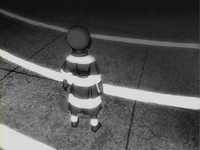 Chris is Metalbender level 3. He speaks Polish and English to some extent. It has its own style of fighting. It has the ability echolocation. When you want to lose the normal eye. This can be likened to view
Toph
, though I'd prefer to liken it to Daredevil.
Appearances
Part 1: Revolution

Part 2: Journey to the Capitals
See more
For the collective works of the author, go here.