Gods of War


Battle the demons from inside

General information
Genre

Adventure/Drama

Rating

PG-13

Creator(s)

Kyoshidude

Country/Language

English

Production
Writer(s)

Kyoshidude
Gods of War is in working progress. However, I have written some chapter summaries for my own benefit. I am also currently working on The Kyoshi Chronicles. Unlike like my first project, which goes back in time to Kyoshi, this fanon goes forward in time and heavily focuses on technology and its impact on the world's spiritualism. Hope you enjoy!
Plot
Since the era of Avatar Korra, Republic City - now solely called the Republic - entered a new era of wealth and technology. The Council was reformed to represent benders and non-benders alike, and people were happy and safe.
Now, as the years go by, the Republic receives frequenting attacks from malicious demons who are, thankfully, kept at bay by the influential, world-leading company Beyond.
In this metropolis lives a firebending boy called Fenn Miyakami who is cursed one night by a mysterious 'demon.' Also amidst the whirlwind that is the Republic is Otto - a lively street kid caught up in dangerous street fighting and drugs - and Colette, the beautiful daughter of the Beyond chairmen and upcoming entrepreneur. Will Fenn's curse ever be lifted? And who is the master behind the governing company Beyond? But, as the attacks frequent, the question on everyone's mind is 'what do these demons want from the Republic?'
Characters
Main Characters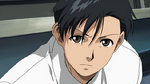 Fenn Miyakami: Although only 18, Fenn manages to support himself. He is hardy, courageous and, at times, quite reserved - only too natural for a firebender. Battling a curse given to him by a mysterious demon, Fenn discovers more things about the past and about the Republic than he ever wanted to.
Otto Tinchen: Even though Otto has lived on the streets all his life, this 18 year old airbender is carefree and always out to make a joke. He's loyal - mostly - and usually finds himself in trouble with the triads of the Republic.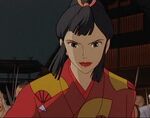 Colette Yamamoto: Colette is extremely powerful, if not influential, despite being unable to bend. Her father is the chairmen of Beyond, a company that controls almost the entire world. Colette is ambitious and ruthless when it comes to her work.
Tariq Yamamoto: Father of Colette and chairman of Beyond. He is currently campaigning to gain a political role among the Council. He is strong, collected and intimidating, but inside only wants what is best for his daughter. 
Akira Kita: This girl lives on the Green, and so, still retains a connection to the forgotten traditions of the past. She is a mysterious waterbender with a surprising amount of strength and courage.
Smiling-mask Demon: A mysterious demon with a black body and smiling mask. It is capable of laying curses that rot away flesh. Fenn's biggest enemy.
Minor Characters
SPOILERS BELOW!!!
Saffron Lang: An earthbender from the Eastern Domain who, despite having a lung condition since birth, maintains an excited perhaps naive outlook on life. She and Otto share quite a connection.
Larkin: The leader of the global triad the 'Libertarians' who, through staging an invasion in the East, got the position of Non-bender Councilman.
Colonel Leroux: Colonel of the Clandestine soldiers Leroux is kind and cheeky, but knows that he must uphold the law at all costs to maintain justice for the Republic.
Strauss: A pompous young man who claimed his wealth from humble beginnings. He is one Colette's suitors approved by her father.
Falcon: Tariq's assistant.
Chapters
Book 1: The Republic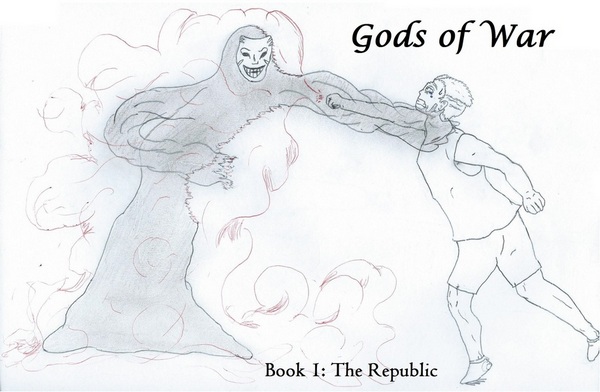 The Republic is a big city. It is filled with many people. One person has their own story, the person next to them following an entirely different path. Destiny can work in many strange ways. For Fenn Miyakami his destiny seems to unravel after one fateful night. Secrets build up in the alleys, lies pass like running water through the mouths of the citizens. A darkness broods behind every smile and nobody can be trusted. In Book 1 of Gods of War Fenn finds himelf pulled into the dangerous underbelly of The Republic and struggles to keep his mind sane and his body safe amid a world founded by corporate greed and malicious demons. One phrase seems to hauntingly stick; 'knowledge is power.'
Step into Part 1 of the Gods of War trilogy and discover for yourself just how important knowledge can be, and try not to lose yourself in 'Book One: The Republic.'
| | | |
| --- | --- | --- |
| # | Chapter | Summary |
| 01 | Chapter 1: The Curse | Fenn Miyakami lives alone in the bustling, futuristic city called the Republic. This city is run, for the majority, by the high end company known as Beyond. Though Fenn thinks his life is all too normal, it is when a demon appears to him late at night that everything must change. |
| 02 | Chapter 2: Otto | Fenn's curse inadvertently leads him to airbender Otto Tinchen, a street kid involved in gang crime and drugs. As Fenn becomes more and more involved in underground fighting, his friendship with Otto is tested. |
| 03 | Chapter 3: The High Life | Hired as a Clandestine for Beyond, Fenn is introduced to a life of luxury and elegance. It is also in this new upper class lifestyle that Fenn becomes close to Colette, the daughter of the Beyond chairman. |
| 04 | Chapter 4: The Green | The Beyond chairman Tariq allows Fenn and Colette to explore the Green in hope of gaining information on the demons. It is on this expedition that Fenn experiences a shocking, paranormal discovery. |
| 05 | Chapter 5: Cloak and Dagger | After ending the expedition in the Green early to help fight against another demon in the Republic, Fenn tries to convince Tariq and Colette there are more out there. Frequenting assassination attempts of Colette, and Otto's trouble with the triads only adds to Fenn's increasing anxiety. |
| 06 | Chapter 6: The Libertarians | Continuing his snooping, Fenn becomes more and more affected by what he sees. Otto experiences the consequence of his actions in more ways than one. |
| 07 | Chapter 7: Civil War | After Larkin's successful coup d'état, Fenn, Tariq and Colette attempt to enter the Eastern Domain unharmed - meeting some familiar faces. |
| 08 | Chapter 8: The Killer | Upon return to the Republic Fenn tries to show his loyalty to Beyond. Meanwhile, Otto is given an uplifting visit from a kindred spirit. |
| 09 | Chapter 9: 36 Moor | Discovering a long-forgotten secret and suspecting Otto may be involved, Fenn and his friend set out to find answers. This sets in motion a whirlwind of new discoveries and dark secrets. |
| 10 | Chapter 10: Family Ties | Left with a note reading "36 Moor", Fenn continues his search for answers, revisiting his painful past. Meanwhile, Otto, in light of his estranged father, sets out to find his mother. |
| 11 | Chapter 11: Then It Hit | Trying hard to convince Tariq and Colette that there are still demons in the world Fenn receives a horrible revelation, pushing his relationship with Colette to tipping point. Otto soon learns living with his family is bitter-sweet. |
| 12 | Chapter 12: Out | Akira strays from her chief's commands. Fenn and Otto scale the walls of The Republic and head into the Green in search of information. |
Book 2: The Green
This book will bring to light more characters than Book 1
Akira comes to the foreground
The history of demons is explored
Subscribe
Just message me if you want more or comment down below!
New Locations
List of Demons
For a list of demons go here.
Reception
This fanon scored a 7.9 in a review.
See more
For the collective works of the author, go here.