Gao Lin
Government
Position

Main town of Gao Lin Province

Form of Government

Agrarian

First appearance
Location on map
Gao Lin is the centre or capital of Gao Lin Province. It is a mostly agrarian town, but also receives income from markets which sell a plethora of goods. There is a great sense of community in Gao Lin, despite some shady elements.
Layout and Description
The outskirts of Gao Lin are still rugged and contain rough, hearty pubs. The main road, still bumpy, leads into the town centre, which contains busy markets and Gao Lin Custom's Centre. There is also a tunnel at the northwest of the town that passes through a mountain and out of Gao Lin.
Locations
Moorbird Inn
This inn hotel boosts a warm pub and restaurant downstairs and comfy, though small, accommodation upstairs. Though inviting, the Moorbird Inn has been known to attract some roughnecks - such as McKay and Diego. A stable is also a feature of the inn.
Gao Lin Customs Centre
A busy administrative building where people must receive the appropriate documents before leaving Gao Lin. There is often a large line outside.
Gao Lin Marketplace
The main attraction of Gao Lin; this bustling hub sells a range of products, from travelling essentials, to food, from strange trinkets, to weapons. This place is often in a state of frenzied chaos, with constant noise and movement. Somewhere nearby is a theatre and a small fountain. Police often patrol the area in case any crime breaks out. Anurna's temporary house is also situated nearby. A cabbage merchant also works around the markets.
The Secret Tunnel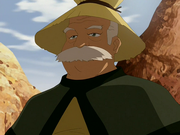 A tunnel located at the back of old man Marco's house at the northwest of Gao Lin. His house is very similar to Anurna's; in that it is mostly a cubic room and a bathroom. However, it does have a fireplace, an upstairs bedroom and more furnishings - seeing as Marco is a permanent resident of Gao Lin. In the back wall of his ground floor room is a large tunnel that leads westward through a mountain and out of Gao Lin. This tunnel leads into a labyrinth-like cave that contains dangerous Molipedes (mole x centipede).
Flora and Fauna
Not much is known about the native flora and fauna of Gao Lin. It can be assumed that agricultural crops are grown nearby and sold at the markets, and all other livestock is located at these farms. Squirrel-gliders are more frequent around Gao Lin, as more trees are able to grow protected from the wind. It is unknown whether Anurna's squirrel-glider Miko was native to Gao Lin or found on her travels. Possum-hounds have been known to roam the markets as well.
Molipedes, giant burrowing insects with mole-like noses, live in the cave which attaches to Marco's secret tunnel.
Trivia
The Moorbird Inn was the first building the boys ever stayed at other than the orphanage they grew up in.
The water pouch that Dover bought in Gao Lin belonged to a previous Avatar. Avatars were usually determined by what items they chose at infancy. Seeing as this was a waterbending item, it is most likely this pouch belonged to Korra or even Kuruk.
Anurna makes her first appearance in Gao Lin, in Chapter 2.
Dover meets Miko in Gao Lin. In the previous chapter, it was revealed that his favourite animal was a Squirrel-glider.
In the main Avatar series, this area is characterised by hot, dry climate. However, in this series, due to environmental change as a result of human activity, the climate is now cold and wet.
Though set four generations after Avatar: Legend of Korra, Redwall Orphanage, and many other locations, do not seem as technologically advanced as would be assumed. This is most likely due to economic factors and availability to resources.
See more
For the collective works of the author, go here.
Ad blocker interference detected!
Wikia is a free-to-use site that makes money from advertising. We have a modified experience for viewers using ad blockers

Wikia is not accessible if you've made further modifications. Remove the custom ad blocker rule(s) and the page will load as expected.