Daria Krajewska
Biographical information
Nationality

Polish

Age

14

Born

March 3, 1995

Physical description
Gender

female

Personal information
Weapon of choice

rifle, pistol, lightsaber, Bending

Bending style(s)
Allies

Adam, Alexandra, Jake, Jeremy, Chris, Gracjan, Stowejko, Aang, Pierre, David, Rzeczpospolita, Xiaons, more...

Enemies
Chronological and political information
Profession

Xiao Knight
Supreme Lightbender Xiaons

Affiliation
Masters

Xarloman
Alexandra Scheaffer

First appearance

The End of preparation
Daria Krajewska is one of main protagonist of Xiaons, Lightbender, Xiao Knight.
History
We know that she was born in March 1995. Kidnapped by the Kazelians, later escaped with Alexandra. She was a girl of another runaway Ulrich Knoten. Was Xiaon, fought with Xarloman, later of Fearden and Xerath. Then the war broke out. In a war fought in Szczecin, Gryfino and Stargard. She had two boyfriends at the same time - Adam and Ulrich. Ulrich tried to kill Adam, when he learned.
Personality
It makes girls feel gloomy, despite the original sense of humor. LenPoles tries to make her Yumi from Code Lyoko.
Abilities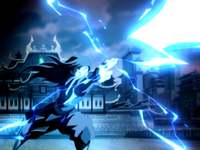 It Lightbender level 3. Specializes in the fight against white short weapons, judo, kung fu and karate. It is also a good swordsman. He is fluent in Polish and some English.
Relatives
Appearances
Part 1: Revolution

Part 2: Journey to the Capitals
See more
For the collective works of the author, go here.
Ad blocker interference detected!
Wikia is a free-to-use site that makes money from advertising. We have a modified experience for viewers using ad blockers

Wikia is not accessible if you've made further modifications. Remove the custom ad blocker rule(s) and the page will load as expected.