"You do not need a lot of help from us, Kyoko, you just need to know how to defeat your mother,"

"How do I do that?"

"Easy, ask Avatar Byon"

— Dao & Shamo and Kyoko discussing how to defeat Rujean
Dao and Shamo
Biographical information
Nationality
Ethnicity

Earth Kingdom

Birth place
Residence
Age

19 at death

Born

2,781 A.G.

Died

2,800 A.G.

Reign

19 years

Predecessor

Incumbent

Successor

Incumbent

Physical description
Gender

female (Shamo) male (Dao)

Build

Muscular

Height

5'9" (Shamo) 5'11" (Dao)

Weight

156 (Shamo) 164 (Dao)

Hair color

Dark Brown

Personal information
Weapon of choice

Earth

Fighting style(s)

Hung Gar; Wing Chun

Bending style(s)

Southern Praying Mantis; Chu Gar

Abilities
Allies

Earth Kingdom, All Earth Avatars, Avatar Kyoko

Enemies

Zuhn; Wisa; Rujean; Red Lotus

Chronological and political information
Position

Earthbending Masters

Affiliation
Masters

Huyia, Yueng, Hoik

First appearance

Harmonic Convergence Part 4: Long Live Dark Avatar Gemini
Dao and Shamo were born in 2,781 A.G. 19 years before the arrival of Sozin's Comet. They grew up, each mastering Earthbending and the Sub-Elements of it. They eventually befriended two badgermoles, two gophers, and two spirits. When they were 19, two weeks before the comet, they were going to Ba Sing Se, when they saw a small battle happening in a village. To help, they had the spirits enter them and increase their power, they fought and drove off almost all of the Firebenders. But, the badgermoles were killed and their spirits entered Dao and Shamo, and their eyes glowed green as they were killed. Their spirits combined with the Badgermoles' spirits went into the gophers and a giant light spread across the Earth Kingdom. They gopher's eyes glowed green and faded, they transformed into Dao and Shamo and they became surprised at their new appearance, but, their amazing new power.
Early Life
Edit
Dao and Shamo were born in 2,781 A.G. to Huyia, a Sandbender/Metalbender who is also a Metalbending Officer and Yueng, an Earthbender/Lavabender who is also a Dai Li Agent. They grew up learning the art of Earthbending. They mastered Earthbending at the age of 10. When they were 12, their father was killed by a Sandbender for whom he owed money. Their mother, sad and angry, confronted the man, almost dying herself before she killed him. She was arrested but allowed to stay with her children until they were old enough to fend for themselves, since they had no other family. When the twins were 13, two days before their 14th birthday, they ran away, radioing the police on their way out. They took with them, a Sand Sailor and food and water to last for two weeks. They watched from a far as their mother was arrested for murder, with Dao crying softly to himself and Dao comforting her brother with a blank, slightly angry look on her face. They traveled for two days, and on their birthday found a giant hole in the ground. Together, they used bending to open it, releasing energy. They saw Wan Shi Tong's Library, surprised, as it had been in the Spirit World for 777 years. Suddenly, two badgermoles approached them, each creature had a gopher on its back. They quickly befriended the twins; Dao told them to stay there and wait for them; they sat in the hole and meditated. They entered the library, noticing it in shambles; they tested their bending, surprised it worked. Shamo conclude that due to the release of energy, their whole bodies entered the Spirit World. Wan Shi Tong approached them, asking them what they were doing there. Dao explained their situation, to which the Owl Spirit answered that "There was nothing he could do for them". But he invited them to read anything they liked in his library. Shamo decided she would only skim through a few books and leave, until she came across a book that contained interesting information. The book read that during the next Sozin's Comet, that the Fire Lord would use the power to annihilate the Earth Kingdom. Shocked she told Dao who said they needed to leave at that moment, but, were stopped by Wan Shi Tong, Fire Lord Zuhn entered from behind him and attacked the twins. Dao quickly trapped the Owl in an Earthen cage, while Shamo had little trouble knocking down the Fire Lord, but, when he introduced lightning to the battle, it became harder. Surprisingly, Avatar Byon appeared and attacked the Fire Lord. Using Airbending, Firebending, and Earthbending attacks. But, he was knocked down by the powerful Firebender. He got up and entered the Non-Continuous Avatar State and sent a barrage of Waterbending attacks at Zuhn. He then put two fingers to his brain and lifted him up with his mind. It was at this moment that Dao realized that Byon was Bionic. After throwing him backwards, they exited the library. Byon entered the Avatar State and put his hand onto the spiritual portal in the hole, absorbing it. Then together with the twins, he closed the rest of the hole, then Shamo used Lavabending to refill the rest of the hole. The twins, along with their new animal friends, watch as Byon speeds away. They decide to ride the Badgermoles to Ba Sing Se to warn the Earth King.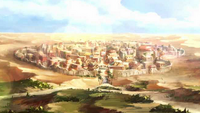 After about 5 months of traveling, they finally saw Zaofu, knowing they were close to getting to Ba Sing Se. As they traveled, they stopped in villages to pick up supplies, as their parents were well known in the Earth Kingdom, they had a fair amount of money, and a discount. They decided to rest about a mile outside of Ba Sing Se. That night though, Dao was kidnapped, putting a hold on the plans as his sister raced to find him. Shamo eventually found Dao in Chin Village, she ordered his immediate release. The mayor, Wisa, told her that her alone couldn't get her brother back, and that Dao would pay good money in Republic City if she were to give him to The Triple Threat Triad. Shamo attacked her with Metalbending, but the mayor was agile enough to evade the attacks, sending her police to arrest her too. Shamo, used Earthbending, Metalbending, and Lavabending to hold off and defeat the forces, before using Sandbending to trap the mayor. She turned the ground in from of her into Lava, and threatening to burn her alive with it if Dao were not let go. The mayor finally relented, ordering her guards to go free Dao, but, as they were leaving to, Dao appeared and announced that he freed himself. He punched the ground and used Earthbending to send the guards into the ocean. Shamo left the mayor trapped in sand and they left. They started to travel back to Ba Sing Se, nearing their half birthday, as it took 27 days to get to Chin Village. They decided to take a few weeks off their journey as  they had 4 1/2 years until the arrival of Sozin's Comet, anyway. After their mini-vacation, the twins started to travel again. Remarking how they would finally get to tell the Earth King what would happen. They found Omashu eventually after a month of traveling and entered the city for supplies, they saw Omashu's Queen, Bima and they were greeted by her. She called them heroes, Shamo decided to tell her the plan so it could go through the Earth Kingdom fast. Bima was shocked and surprised that her cousin would do such a thing. Dao told her that if she could send a message to Ba Sing Se, it would help, to which Bima replied that she could not, as the messaging system in the city had exploded two days beforehand, quickly regaining a smile, Bima invited them to stay for a while, in which they stayed for a week. It took another 4 months to get to Ba Sing Se, with them getting there early in the morning on their 15th birthday.
Warning the Earth King
Edit
Dao and Shamo arrived in Ba Sing Se exactly 367 days after their mother was arrested (on their 15th birthday). They entered through the gates and walked through, they took a monorail to the Upper Ring, where they were greet by Lyllee, a mindless looking woman who said she was to take them to their house. When they got there, they marveled at it, it was an emerald greeen house with bright yellow trimmings. The door was bronze colored oak with a copper door knob with an intricate design of the Earth Kingdom Symbol painted on with pure melted silver. The walls inside were yellow-green, with tan colored floor. The bathroom was
elegant, with marble bathtub and sink, with a mirror above and a pure gold faucet. Once Lyllee left, Shamo searched the whole house for cameras to spy on them with, she found none. She checked out the windows and saw no Dai Li agents watching them, so she concluded that they were safe for the time being. That night, there was a knock on the door as Shamo was getting out of the shower, Dao answered to see a Dai Li agent standing there. He quickly trapped him an earth and asked him what he was doing there. The Agent replied that he was sent by the
Grand Secretariat of Ba Sing Se
to have them fill out a form for their meeting with the Earth King. He broke the earth and handed the form to a newly dressed Shamo. She quickly filled it out, filling in the part of the form that said
"Reason for Meeting: "
with
War-related emergency that cannot be discussed until meeting due to lives being in danger
.
When Shamo searches through the house to find surveillance cameras and finds none, there is an impression that they were hidden really well, but there were really no cameras. 
See more
For the collective works of the author, go here.