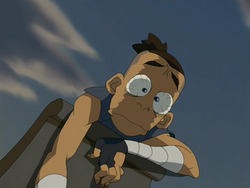 Sokka's Days is a comedy fan fiction story created and written by SuperFlash101. The series is constructed of various one-shot chapters that take place during an assortment of time periods in the Avatar world (mainly Book 2 and Book 3). The chapters focus acutely on Sokka and puts him in situations that generally lead to some form of ironic injury or other form of comeuppance. Slapstick, dry dialogue, and cultural references make up the majority of the story's humor.
Sokka's Days was originally released on the fan fiction-oriented website FanFiction.net in 2008 with the chapter "An Unlucky Event in Ba Sing Se." However, after the fourth chapter, "Kuno Chaos," was released, SuperFlash struggled to come up with ideas, and coupled with him being busy working on other fan fiction stories, was forced to cancel Sokka's Days. However, upon realizing the critical success it attracted when published on Avatar Wiki, Flash decided to revive the story. The fifth and latest chapter, entitled "Sokka, Interrupted," was released on April 8, 2010, a full three years after the series was canceled.
2008
2010
See also
External links
See more
For the collective works of the author, go here.
Ad blocker interference detected!
Wikia is a free-to-use site that makes money from advertising. We have a modified experience for viewers using ad blockers

Wikia is not accessible if you've made further modifications. Remove the custom ad blocker rule(s) and the page will load as expected.