Titans East
Chapter information
Series
Chronicle

1

Chapter

4

Written by
Editor(s)
Release date

July 10, 2013

Chronology
Last chapter
Next chapter
Toph and Toube right now are being tossed around into the path between their world and some other world. It didn't take a long time before they were suddenly blasted out of the portal into some form of water...they were sent into the middle of a crazy storm!
"Stay on my back Toph! Everything's gonna be okay!" Toube said, trying his own best to stay above water Toph gripped on him for dear life but all she can grip is his harness, and it's getting harder and harder to keep her grip...then it happened. One powerful wave separated them both!
"TOUBE!!!"
"TOPH!!!"
Toph had no idea where she was going, she knew though that she can't get any control. She didn't know water-bending. Even if she did, it's probably disabled by now! The wave let down but the force knocked her off completely, making her air borne!...she hit something hard...and it's lights out.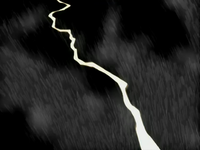 ~~
It seemed like forever, but she managed to open her eyes at some point. She is able to see, which at first shocked her...but then she realized she's in a dream so it didn't matter ether way. As she was looking around, something large and bright lightly landed in front of her. At first she thought Xreneus...but it didn't look like any deer.
"Who are you?" Toph asked. Before anything else can be said, she woke up from her dream. Only slightly. She found herself on a bad, bandaged up She could have sworn there's someone else with her. So she tapped her finger into the oddly metal ground...she seen five people, one on another's shoulders.
"You okay?" one asked. Toph groaned a little as she sat up, letting her hands explore her injuries. The injuries were pretty deep in her, feeling the sting of the wounds on her right side and on her forehead.
"I think so...where am I? How'd I get here?"
"We found you outside after that storm, so we brought you in and fixed you up." the girl said. She then senses one of them give her a bowl of...well of something. It's simply chicken noodle soup but she never had this before.
"What's this?" Toph asked.
"It's chicken noodle soup. It'll help you feel better." one of them said. Toph wasn't sure if she should. She's all up for food but not food she had no clue about...she still had a question though.
"Who are you guys?"
"The name's Bumblebee. This is AquaLad, Speedy, Mas and Menos. We're the Titans East!" Bumblebee said.
The word "Titans" hit her like a freight train...that can only mean one thing...it happened again. She was thrown into a universal bridge and ended up in a new franchise completely AGAIN!
"And you are?"
"Me?...oh. I'm Toph. Toph Beifong. Thank you for helping me. Speedy is it?"
"Yeah that's right. what happened anyway?"
"Well...this might sound crazy but I was forced into the sea with Toube and- Wait. Toube! Please tell me you have Toube!" before any of them can answer, suddenly, the very dog in question, walked in by the water entrance.
"Somebody mention my name?" Toube asked. As soon as he got close, Toph practically tackled him with a strong hug, saying "TOUBE!! YOU'RE okay!".
"Good thing you're okay Toph (the hug became too strong for him) Choking, not breathing!" Toube gagged. Toph let go immediately and aloud Toube to breath. Then Toube turned to Titans east.
"Titans. Thanks so much for taking care of her." Toube said, going as far as to bow to them.
"Now now dog. It's nothing really. Just some fancy work as all." Bumblebee said. Toube looked to Toph's bandages.
"Wow. The bandaging is amazingly accurate. How did you-...where'd she go?" Toube looked around until he felt something land on his head.
"Just a size comparison is all. Amazing what it can do." Bumblebee said, sitting on Toube's head. Toube shook her off as she hovered a little before growing to normal size.
"O...k...so do the rest of you guys have any odd power-up. Just a heads up so the oddness gets it over with." Toph said, sensing Bumblebee's size change.
"Well. I for one am a water-kinetic." Aqualad said.
"I'm an expert in archery." Speedy said.
"As you can see, I'm able to change my size. I also have these electro wrist bands that come in handy." Bumblebee said. They can get those guys, but as for Mas and Menos...
"Hola! somos gemelos idénticos. que nacieron siete veces la vida para ser más rápido que el sonido pero sólo somos poderosos cuando nuestros cuerpos tocar así!! Mas y Menos sí podemos!!!"
"...one more time?...different?"
"They said that they are able to move at lightning speed but only when touching...and they speak Spanish." Aqualad explained. Toph face Palmed herself in stupidity.
"Oh great. A language I never heard of. Look, thanks for all the help but we can't stay. We have to go." Toph said, getting up...but then she felt a very odd sensory going through her feet. Something that chilled her to the bone, maybe even deeper then that...but with Toube's help, she and the Tosa walked on out to the exit elevator.
See more
For the collective works of the author, go here.
Ad blocker interference detected!
Wikia is a free-to-use site that makes money from advertising. We have a modified experience for viewers using ad blockers

Wikia is not accessible if you've made further modifications. Remove the custom ad blocker rule(s) and the page will load as expected.