Zuko

, something happened to Brotherhood in the last hundred years.

This fanon has been discontinued, but is still available to read for your enjoyment.
Brotherhood
General information
Genre

Adventure (Slight Comedy)

Rating

PG-13

Creator(s)
Chapters

20

Country/Language

English

Production
Director(s)
Writer(s)
Editor(s)
Chronology
Channel

Fanon portal

Previous

Avatar: The Legend Of Korra
This story takes place 100 years after Korra's passing. After her passing, a whole new enemy starts to appear and a whole new rebellion breaks out. The rebellion is made of earthbenders and new rules are given out because of it, one of which is similar to the real life "slavery rules". One of these rules was broken and it had Leo and Alex turned into orphans. Now it's up to them to stop the rebellion or be stopped by the law!

Main Characters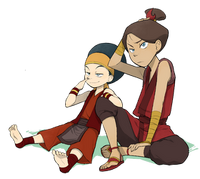 This story has many characters in it, but it's gonna follow upon these two:
Leo - Leo is a young and friendly firebender who can get along with many people. But despite his good attitude, he still is a pretty powerful bender for his age.
Alex - Alex is an outgoing and comedic earthbender. Unlike Leo, he will more likely make a fight then make friends but he's not a bully or a jerk. Just tough.
Book 1:
See more
For the collective works of the author, go here.