あゆみ
Azumi

Biographical information
Nickname

Green Flame

Nationality

Fire Nation

Birth place

Fire Nation

Residence

Republic City

Age

16

Born

184

Physical description
Gender

Male

Height

5'1"

Weight

98 lbs.

Hair color

Black w/ highlights

Eye color

Green

Personal information
Weapon of choice

Fire, lightning, bronze knuckles

Bending style(s)

Firebending

Abilities

Lightning generation, Green Firebending

Family

Sakura, Shiro, Kuro (deseased), Hanashi

Allies

Sakura, Kuro, Hanashi, Agni Kai Triad (formally)

Enemies

Shiro, Agni Kai Triad

Chronological and political information
Profession

former Agni Kai Triad member

Masters

Mako, Iroh

First appearance

Tale of Kenji
Azumi is a calm firebender with beyond powerful abilities as well as being able to bend green fire. She is considered the 4th strongest firebender in history. When she was 14, she had nearly mastered firebbending and wanted to take it even further so she traveled to the Spirit World and learn from Iroh. He explains that he cannot bend in the Spirit World, so he takes her to a Lion Turtle to obtain bending experience. They travel to the world of living and Iroh's spirit instructs her firebending. She continues her training alone now. She has had a crush on Kenji since they met in Republic City in 196 AG. They now have a casual relationship, even though they now live in different places.
Personality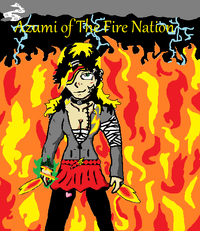 She is a perky, kind, sweet girl who is always modest about her firebending.
See more
For the collective works of the author, go here.
Ad blocker interference detected!
Wikia is a free-to-use site that makes money from advertising. We have a modified experience for viewers using ad blockers

Wikia is not accessible if you've made further modifications. Remove the custom ad blocker rule(s) and the page will load as expected.