静
Jing
Biographical information
Nationality

Earth Kingdom

Ethnicity

Earth Kingdom

Age

16 (Book One)

Born

218 AG

Predecessor

Korra (as Avatar)

Physical description
Gender

Male

Hair color

White

Eye color

Brown

Personal information
Bending style(s)

Earthbending, Firebending, Airbending, Waterbending

Family

Honghui (Father), Fung (Mother), Yuki (Brother)

Allies

Luli, Chang, Bo, Korra, Lu-Pan, Jinora, President Ru, Order of the White Lotus, Asami, Song (Formerly), Anna, Derek

Enemies

Song, The Abusive Market-men, Gus, AN.N, Icebending Soldiers

Chronological and political information
Affiliation

Team Avatar (Jing)

First appearance
Jing is a fanon character from Avatar: The Lost Earthbender. He is the successor of Korra as the Avatar.
Early Life
Jing was born in 218 AG, moments after Avatar Korra's death. Jing was born in a city outside Ba Sing Se. A day after his birth, a witch named Song came to steal prized possessions. Song saw Jing asleep in the crib and dribble came out of his mouth and waterbended it on its own. Song knew Jing was the Avatar and abducted him. Song locked the house doors and they live in the Fire Nation. At the age of 5, Jing learned all the elements, but still struggled with water, fire and air, but earth is what he was capable, because he is an Earthbender.
234 AG
It was Jing's 16th birthday and for his birthday, he wanted to go to Ba Sing Se for a night out, but Song refused to part with the Avatar that Jing does not know that he is. Later that day, Luli and Chang were in the kitchen and Jing was alerted as there was a stranger in the house.
Abilities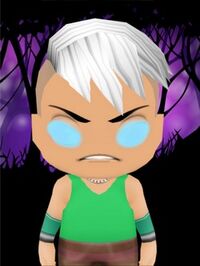 Earthbending
Jing was born as an Earthbender and is an Earthbending Avatar.
Firebending
Jing was 5 years old when he learned fire, but is not yet a master, as he can't control it.
Airbending
Jing was 5 years old when he learned Air but can't control it. Similar to Korra's problem when she learned Airbending.
Waterbending
Jing was 5 years old when he first used water. Like the other elements, he can not control water, as he had not been taught.
Relatives
See more
For the collective works of the author, go here.
Ad blocker interference detected!
Wikia is a free-to-use site that makes money from advertising. We have a modified experience for viewers using ad blockers

Wikia is not accessible if you've made further modifications. Remove the custom ad blocker rule(s) and the page will load as expected.