Lady Kaboshi
Biographical information
Nickname

The Iron Lady

Nationality

Republic State of Equality

Birth place

Republic City

Residence

Republic City

Age

Unknown

Born

Unknown

Physical description
Gender

Female

Build

Tall

Weight

6'3

Hair color

Black

Eye color

Hazel

Personal information
Weapon of choice
Allies

Chairman Hectus, Zei

Enemies

Team Kaito

Chronological and political information
Profession

Entrepreneur

Affiliation

Republic State of Equality
Lady Kaboshi is a recurring villain in the series Avatar: Legend of Kaito.
She is an inventor, warrior, philanthropist, and an entrepreneur. She is considered a folk hero to the citizens of the Republic State.
History
Lady Kaboshi was raised in the Republic State of Equality.
Not much is known about her childhood but when she was of age she enrolled and attended Republic State University in Republic City. She majored in engineering and after graduation she was hired to work at Future Industries.
She excelled there and was eventually promoted to Head of Weapons Development. Most of the Yi Yang's gadgetry was invented or improved upon by Lady Kaboshi. She used her wealth to purchase some of the oldest land in the Republic State known as the Iron Hills, due to the land being enriched with iron. She abruptly resigned from Future Industries and moved on to invent for her own personal gain.
She founded Iron Town at the foot of the mountain and began to extract the iron from there and destroy the lush forests that had encompassed the bottom of the impassable mountain. This heartless exploitation of the land and her ingenuity with the iron she harvested led to her nickname the 'Iron Lady'.

She forged the iron into rounded ball bearings which serve as projectiles and eventually invented the mobile rifle to expel her deadly invention.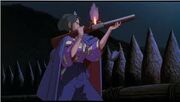 She is notoriously known as the best shot with a rifle in the entire world. She boasts to have killed a spirit with a shot from more than half a mile away and her accuracy is so deadly she managed to shoot it right through the eye.
Lady Kaboshi is also spearheading the Armament movement, which in short terms will supply every Yi Yang with one of her newest rifles. She is a major Party Member of the Equalist and is therefore awarded a lot of governmental influence.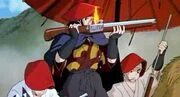 See more
For the collective works of the author, go here.
Ad blocker interference detected!
Wikia is a free-to-use site that makes money from advertising. We have a modified experience for viewers using ad blockers

Wikia is not accessible if you've made further modifications. Remove the custom ad blocker rule(s) and the page will load as expected.