By

BenderStatus1998

Genre
Rating
Reviews
Updates

More from BenderStatus1998

Action, Comedy, Romance
PG
None as of yet (:
This Fanon will be put on hold for a couple of months as I get the hang of school and write my other Fanon that will come out in several weeks! It will be on my profile soon, so don't forget to check! :)
Zuko

, something happened to Avatar: Legend of Aiden in the last hundred years.

This fanon has been discontinued, but is still available to read for your enjoyment.
Legend of Aiden


Will Aiden master the four elements and keep balance?

General information
Genre

Action, Romance, and Comedy

Rating

PG

Creator(s)

BenderStatus1998

Chapters

Not yet Confirmed

Country/Language

English

Original run

July 22, 2012- Present

Production
Director(s)

BenderStatus1998

Writer(s)

BenderStatus1998

Chronology
Channel

Avatar Fanon Portal

Related

Avatar: The Last Airbender and Avatar: The Legend of Korra
Plot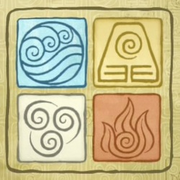 My name is Avatar Aiden. The year was 1256 B.S.C. and I had just turned 16 years old when my waterbending master, Master Uniki, and the members of the White Lotus announced I would be the new Avatar. To most people, they would believe that being the next Avatar was a dream come true, but definitely not me. I have a life here in the Northern Water Tribe, and by becoming the Avatar, all that means to me is I have to leave everyone I know and everything I am behind, in order to become a fully realized Avatar. Though as much as I love bending, I can't see myself being the all powerful bender that keeps harmony between the four nations. I'm not exactly sure as to what the future has in store for me, but since I'm the Avatar, it certainly will be, interesting.......
~Aidan
Characters
Aiden - The new Avatar of the Northern Water Tribe and main protagonist of the story. He is 16 years old, shy, gooofy, strong, good looking, has deep blue eyes and jet black hair, and is very good natured.
Dominik - A waterbender and best friend to Avatar Aiden. He travels with Aiden across the world as he learns the four elements. He is 17 years old, very tall, athletic, good humored, has hazel eyes, and a loyal friend to Aiden.
Laura - Tribal princess of the Northern Water Tribe and daughter of Chief Sarlock. She is 15 years old and is the love of Avatar Aiden. She is a very sweet girl and has auburn hair and deep green eyes, loves to smile, funny, and becomes close friends with both Aiden and Dominik.
Kristine - Aiden's future firebending teacher. She has deep brown hair, green tinted hazel eyes, medium height, and very clever. She is kind, witty, and a master fire bender. Dominik has a deep crush on her but she is oblivious of his affection towards her.
Kayli - Aidan's mother and wife to Huruk. She is a non-bender and is a loving mother who cares deeply for Aidan and Roek. She shares many features with Aidan like her black hair and deep blue eyes. She is a very spiritual woman who believes Aiden will become an incredible and wise Avatar.
Huruk - Huruk is Aiden's and Roek's father and is husband to Kayli. He is rough on his boys and is very disciplined, but cares for his family. Huruk has light brown hair and very light blue eyes, and is over 6 foot. He is a master waterbender and expects his boy's to be as great as him. He is very excited that Aidan is to be the next Avatar and expects great things to come from him.
Roek - The brother of Avatar Aiden. He is 14 years old and a "ladies man." He is a waterbender like his father and brother, but doesn't take his abilities as seriously as Aiden. He is jealous over Aiden being the Avatar and feels like he "can't measure up", but still loves his brother and they share a deep bond.
Chapters
1. Fanon:Avatar:The Legend of Aidan (Chapter One: Life in the Northern Water Tribe)
Author's Note
Hey guys! This is my first Fanon on Avatar Wiki and I'm reallly excited to share this story with you all. In real life I have co-written a published book and I absolutely love to write. My dream one day is to possibly become a published author. I'm always ready for ideas and suggestions, so either comment or inbox me. I sincerely hope you like my story and enjoy!
Want to Subscribe to Avatar:Legend of Aidan
Like this story? Leave your username down below and you'll be alerted on anything new in the Legend of Aiden saga, with new chapters and sneak peeks!
Comments and Suggestions?
I'm always looking for feedback on my writing! Something doesn't make sense? Tell me about it! Have an idea for a new plot? I'm more than happy to put your ideas in my story!
New Character
I'm taking ideas for Aidan's Airbending master and Earthbending master. I'd prefer that the earthbending master would be a guy, in his early twenties, and I'm okay with a boy or girl for an airbending master, as long as they're in their late 40's...
Inbox me with your ideas like this,
Master:
Guy or Girl
Age:
Appearance:
Personality: (And anything else you find important!)
Thanks!
See more
For the collective works of the author, go here.
Ad blocker interference detected!
Wikia is a free-to-use site that makes money from advertising. We have a modified experience for viewers using ad blockers

Wikia is not accessible if you've made further modifications. Remove the custom ad blocker rule(s) and the page will load as expected.