Fanon:Anurna (Avatar: Neo Revolution)
Comments

0
8,324pages on
this wiki
Anurna
Biographical information
Birth place

Unknown

Residence

Nomadic; temporary residence in Gao Lin

Age

18

Born

403 ASC

Physical description
Gender

Female

Build

Athletic

Hair color

Crimson

Eye color

Brown

Personal information
Bending style(s)
Family

Unknown

Allies
Enemies

The Clandestines, McKay, Diego

Chronological and political information
First appearance
Anurna is one of the main protagonists of Avatar: Neo Revolution.
Early Life
Edit
Little is known about Anurna's childhood. It is known that she has been traveling the world for a while before meeting Dover, Sedgley and Erik.
Journey to Haven
Edit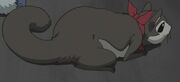 Anurna met Dover and Sedgley in a
Gao Lin
store. She overheard them talking about the Avatar and later asked if she could join them on their quest to Haven. She has many connections over the place and managed to sneak them out of Gao Lin through a tunnel in
Chapter 3
, so she has proven herself helpful.
On her way to Chan Dai, Anurna met a family from the Northern Water Tribe and shared the campsite with them. After an argument with Erik and the rest of the group, she sought advice from her father, who encouraged her to prove her trustworthiness to them. When a flash blizzard brewed, she used her fire bending to keep them safe and warm, regaining their trust.
Her pet squirrel-glider, Miko, was introduced to the group in Gao Lin, where it was welcomed as their token fuzzy member.
Personality
Edit
Anurna is a trivial girl. At times she appears mysterious and distrustful, others genuine and caring - especially so when expressing what could only be described as a guttural need to aid the boys.
Most of the time she appears a bit off-colour though. For instance, she steals (a necklace in The Firebender), somehow has contacts with undesirable people like McKay and Diego, and doesn't believe in spirits - evident when, as Molipedes approached her and her friends in the Gao Lin Tunnel, she stated, "I don't think praying is going to help us..."
She also spends a lot of time on her phone, which some of the others find unnerving for some reason. In Chapter 4, it was shown that she deeply relied on the advice of her father, almost living off it. She also showed signs of remorse and sadness that the boys didn't trust her, revealing the she had never had any real friends and did not want to fail them and herself.
Some time during her travels she must have taken in Miko, showing a more caring side.
Abilities
Edit
Firebending
Edit
Anurna is depicted as a proficient firebender - assumed to have gained experience on her travels. She can perform various acrobatic-style techniques involving arcs, whips and streams of fire. She is capable of blocking other firebending attacks as well. An example of her prodigious firebending skills involves her channeling fire into the gunpowder of a policeman's gun, rendering it useless. She was also able to increase the flames of a torch and turn it into a whip of fire.
Anurna displays considerable martial arts abilities - utilising this in her firebending. Her strength and nimble poise makes her a worthy opponent in any hand-to-hand combat.
'Anurna' is an original name.
The writer promises good things for this character, even if she sits in the back for a bit
See more
For the collective works of the author, go here.